How To Succeed in Business By Napping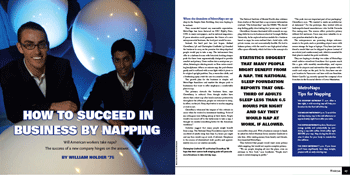 WHEN THE FOUNDERS OF METRONAPS SET UP SHOP IN THE EMPIRE STATE BUILDING, they were hoping to be noticed.
They succeeded beyond any reasonable expectation. MetroNaps has been featured on NBC Nightly News, CNN, in major newspapers, and in national magazines. If press attention could guarantee the future of a new entrepreneurial business, the hard part would be over.
Instead, the hard part has just begun. Arshad Chowdhury '98 and Christopher Lindholst '97 founded the business in 2003 on the premise that sleep-deprived people would pay to take a nap. The inducement they offer is a darkened room with futuristic looking sleeper pods that have been ergonomically designed to provide comfort and privacy. Users recline into a semi-prone position, listening to relaxing music on Bose noise-canceling headphones. After a 20-minute nap, the pod vibrates gently and is suffused with a rose light while it pivots to its original upright position. Tea, a warm face cloth, and a freshening spray await the user in a nearby room.
The growth plan for the business is simple: sell MetroNaps franchises and market the sleeper pods to businesses that want to offer employees a comfortable place to nap.
The primary obstacle the business faces, says Chowdhury, is cultural. Even though studies have shown that a short nap after lunch sustains productivity throughout the afternoon, people are reluctant to sleep, in effect, on the job. Sleep deprivation is macho; napping at work is not.
Chowdhury witnessed the impact of this attitude in 2000 when he worked in investment banking. "A lot of my colleagues were falling asleep at their desks. People would even sneak off to the bathrooms to take a nap. I thought we needed something better for the American workforce."
Statistics suggest that many people might benefit from a nap. The National Sleep Foundation reports that one-third of adults sleep less than 6.5 hours per night and say they would nap at work, if allowed. Sleepiness is the source of diminished work quality and approximately 100,000 car crashes annually.
Christopher Lindholst '97 and Arshad Chowdhury '98 hope that their custom-built sleeping pods will persuade more Americans to take mid-day naps.
The National Institute of Mental Health cites evidence from studies at Harvard that a nap reverses information overload. "The bottom line," says the NIMH: "We should stop feeling guilty about taking that 'power nap' at work."
Chowdhury became fascinated with research on napping while he was in business school at Carnegie Mellon University. As he explored various models for a business based on naps, he soon realized that a hotel style, with private rooms, was not economically feasible. He had to balance privacy with the need to use high-priced urban office space efficiently, which led him to the concept of a cocoon-like sleep pod. With a business concept in hand, he asked his fellow Mystical Seven member Lindholst to join him. After raising money from family and friends, they launched MetroNaps.
They believed that people would want some privacy while napping, but would not require complete privacy.
"We see people sleeping all over the place, even on subways in New York," says Lindholst. "People don't seem to mind sleeping in public."
"The pods were an important part of our packaging," Chowdhury says. "We wanted to make an architectural statement." For the prototype, they worked with an Indianapolis-based manufacturer who builds Formula One racing cars. The cocoon offers protective privacy without full enclosure. Users may store valuables in secure pouches attached to the pods.
The entrepreneurs are pursuing design enhancements to the pods, such as providing airport users with secure storage for bags or laptops. They have just introduced a model that can be shipped in pieces instead of as a whole (and cumbersome) unit, which is essential for their plan to market the pods worldwide.
They are hoping to develop two styles of MetroNaps retail outlets?storefront franchises that operate much like a gym with monthly memberships, and express models for airports and universities that operate with a credit card swipe on the pod. So far, they have one airport location in Vancouver and have sold one franchise. Robert Carrillo '99 recently opened the company's first franchise in the financial district of lower Manhattan.
Download a PDF of the complete article HERE