A NATIONAL LIBERAL ARTS UNIVERSITY EMERGES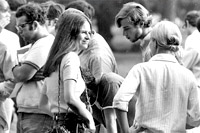 Women students were just beginning to arrive on campus in 1969, capping a decade of change at Wesleyan described in David Potts's second volume of Wesleyan history.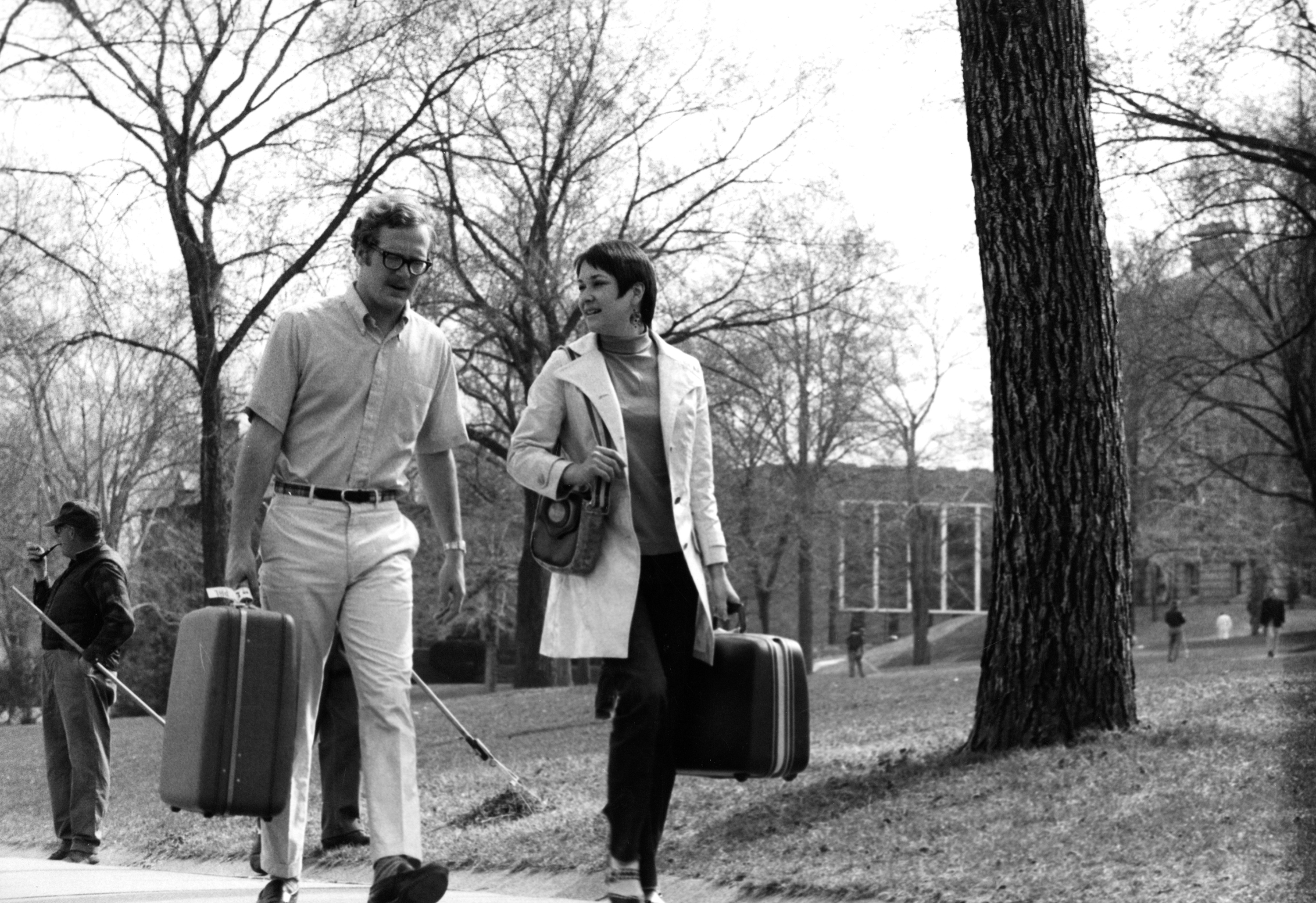 When historian David B. Potts '60 published his first history of Wesleyan—Wesleyan University, 1831–1910: Collegiate Enterprise in New England—in 1992, it was met with critical acclaim. Stanley N. Katz, president of the American Council of Learned Societies, declared it to be "the best college history to appear in many years" and noted that "Potts manages to cover all of the interesting topics, from students and football to curriculum and trustees, without ever dropping a thread in the narrative fabric. Wesleyan University is full of new insights for students of higher education, and yet at the same time it is an exceptionally good read."
Now, more than two decades later, Potts has published that book's long-awaited companion volume, Wesleyan University, 1910–1970: Academic Ambition and Middle-Class America (Wesleyan University Press, 2015). Another highly accomplished American historian, hired by the first volume's publisher, also reviewed the second volume, reporting that "this one is even better." Every bit as readable as the first book, Potts's new volume offers thought-provoking insights into the University's departure from denominational identity; its enterprising acquisition of great wealth; and the burst of enthusiastic aspirations, in the 1950s and '60s, that initiated an era of financial stress. Potts recently spoke with Wesleyan magazine about his new book.
JIM SMITH: In the preface you note that Wesleyan's archival collections documenting its history fill more than a mile of shelf space. The prospect of digging through it must have been daunting. So, what inspired you to undertake this task?
DAVID POTTS: I greatly underestimated the magnitude of this task. I engaged in it for a variety of reasons, personal and professional. But there was one key moment. At my 25th Reunion I had a chance encounter with Jack Paton '49. In 1952 he had become Wesleyan's first director of public relations, and for several years he also had edited the alumni magazine. His love for and loyalty to Wesleyan ran as deep as that of any alumnus I had known. During that 1985 encounter with him, I learned how discouraged he was with progress on a project to produce a two-volume history of Wesleyan. He was about three years away from retirement. At the time, I was a historian of American higher education who served as dean of the faculty at Gettysburg College. I was grateful for the life-changing Wesleyan education that I pursued as a full-scholarship student. I volunteered to help. A chain of steps quickly led to my devoting the greater part of the next three decades to production of my two volumes.
JS: Your new book begins in 1910. Is that year a key demarcation in the University's history or simply a convenient date to separate volume one from volume two?
DP: Volume one ends with Wesleyan achieving recognition in 1910 by the Carnegie Foundation as no longer a denominationally controlled college and thus worthy of membership in the Carnegie faculty pension plan. This marked a second shift in institutional identity. The first was in 1870, when Wesleyan moved from its origins as a local enterprise of Middletown citizens and the Methodist denomination into a four-decade identity period as a regional Methodist college. My second volume covers the developments that followed from the 1910 Carnegie membership moment that brought Wesleyan into the top rank of New England liberal arts colleges.
JS: In what respects were the challenges of writing the second book different from those you encountered researching and writing the first volume?
DP: The multitude of sources, including almost 150 interview opportunities, was foremost. Among the alumni, I was able to go as far back as the late Mansfield Freeman, Class of 1916. Most of those interviews were conducted by telephone, and for additional information I returned to several key players up to a dozen times. For an American historian whose prior research focused on the 19th century, this was a challenging and valuable new experience. To a much larger extent than with volume one, I also had to explore sources related to Wesleyan in foundation, corporate, and college archives located far from Middletown.
JS: During the time you covered, how has Wesleyan set or bucked trends in higher education?
DP: Wesleyan in the late 1950s and the 1960s powerfully exemplifies the trend toward university values of specialization in teaching and research. That period is sometimes referred to as the "golden age" of faculty mobility and influence. Many professors directed their attention to issues that affected their own professional development. A wave of federal and private-foundation funding for individual research, much of it sparked by the Soviet launch of Sputnik in 1957, fostered heady times for the professoriate. It was a trend that greatly troubled President Butterfield's concluding years in office.
Butterfield's understanding of a liberal arts education was strongly grounded in breadth as well as depth. He championed this idea with his College Plan. He was a strong proponent for an education that, particularly in the first two of the four years, fostered a commitment to social responsibility rooted in the study of the humanities and social sciences. Influential members of the faculty, meanwhile, began to question that emphasis. They wanted an early start for student acquisition of specialized knowledge in a major. These diverging views stirred debates that were not resolved until shortly after Butterfield retired.
JS: A compelling reason for writing an institutional history—certainly a two-volume history spanning 140 years—is to shed light on the institution's past in order to help contemporary readers with an interest in the institution's future avoid past pitfalls or plan with the benefit of past leaders' insights. How does your new book accomplish those goals?
DP: There is much wisdom in the mission of Colonial Williamsburg: "That the future may learn from the past." Authors have no way of knowing what questions readers will bring to their books. But historical analysis can provide reference points that give clarity to discussions of present issues and future aspirations, often in ways unanticipated by the author. In my book, I try to explain the major events that shaped Wesleyan from 1910 to 1970. There are no simple lessons in my book; I did not try to create any. Yet I hope my text will at least inform thinking on the hazards of long-term planning and the importance of constant attention to educational mission and results.
JS: During the six decades covered by your book, what institutional changes have most shaped Wesleyan as it exists today?
DP: My book looks at the impact of World War II in great detail, because of the way it enabled a major change in the presidency and augmented the financial fortunes of Wesleyan in a particularly dramatic way. The major decision to become a "little university" is equally important and required a multi-faceted historical explanation. The thinking that led to the "little university" decision, made in the late fall of 1962, was fostered by a growth in income and endowment. That surge in assets resulted from untaxed profits generated by the Wesleyan-owned publishing enterprise that produced such school publications as My Weekly Reader. When a long-standing threat from the IRS was settled in late 1960, the "little university" movement took flight. I think readers will find smaller incremental changes that also had a shaping effect.
JS: Does a single person emerge from your research as the greatest agent of change or progress during the University's 20th-century history?
DP: Among several strong candidates, I would pick George Davison, Class of 1892, trustee for four decades, and board president from 1928 to 1943. He brought Stuart Hedden, Class of 1919, onto the board in 1937, with game-changing consequences for the college's financial prosperity. Davison also hired Vic Butterfield as president in 1943 and made the largest bequest in Wesleyan's history. I think it noteworthy that his wife, Harriet, was a partner in their philanthropy.
JS: Of the many cultural changes that affected collegiate America during the 1960s, which had the most dramatic and/or enduring influence on Wesleyan?
DP: The civil rights movement had a powerful impact on the changing demography of Wesleyan's student body. Wesleyan responded with vigorous and successful recruitment of African American students, which can be closely connected to major growth in the percentage of Jewish students and the return to coeducation.
JS: You've had an opportunity to contemplate the careers of most Wesleyan presidents. What makes a great institutional leader?
DP: Different periods have called for different qualities of leadership. James McConaughy came with much-needed talents as an administrator. Butterfield brought an intensity of focus on faculty recruitment and institutional mission. Despite his losses in a few tussles with faculty, he gave Wesleyan a strong and enduring reputation for first-rate liberal education.
JS: You write extensively about Butterfield, who served as the University's president for 25 years. What were his greatest accomplishments as Wesleyan's president?
DP: His faculty recruitment achievements were outstanding. Well before World War II ended, Butterfield was planning for the post-war period. When peace came, he had a card file with the names and key credentials of some 200 promising teacher-scholar recruits representing almost every discipline.
Butterfield gathered those names through effective networking with respected professors under whom he had studied, distinguished faculty members among Wesleyan alumni, contacts with the Guggenheim Foundation, friends at major universities, and acquaintances made through "cold call" visits to the nation's best graduate programs. After the war, he immediately began using the files to acquire a new generation of bright young professors, who by 1953, constituted more than 25 percent of the entire faculty.
Carl Schorske was one of the first recruited. He came to Wesleyan after wartime service with the OSS, a precursor of the CIA. In 1960 he moved on to teach European history at Berkeley and then Princeton. Schorske won a Pulitzer Prize in 1981 for his book, Fin-de-Siècle Vienna: Politics and Culture. He was a Butterfield superstar.
Norman O. Brown was another. He too came out of the OSS ranks. He combined his training in classics with an intellectual migration from Marx to Freud and a public profession of disbelief in traditional religion. Brown had a remarkable capacity to connect seemingly disparate subjects and form new insights.
The recruitment of these bright young professors dramatically enhanced the curriculum. As noted in the book: "Mutual benefit linked recruiting to the staffing of humanities courses. Drawing on his experience as a current teacher in the course, Butterfield could probe each candidate's level of interest in and suitability for colleagueship in the enterprise. He could also gain a sense of the candidate's more general inclination to venture beyond disciplinary boundaries in search of additional cultural breadth. Use of this line of inquiry as a filter, in turn, enabled interdisciplinary programs to obtain sufficient staffing. A student might find his humanities instructor to be the geneticist Ernst Caspari, the anthropologist David McAllester, or the composer Richard Winslow."
JS: What most surprised you as you researched the book? Did you discover significant events, programs, or people that had been lost in the dust of the past?
DP: Surprises are a historian's reward for due diligence. Tracing the role of Stuart Hedden in creating Wesleyan's financial prosperity brought delicious "finds." Baby boomer nickels plus his leadership of the trustee finance committee yielded a gain of about $150 million in assets. In today's dollars, that would be about a billion bucks. Earlier surprises for Wesleyan were also uncovered. In the depths of the Great Depression, for example, a totally unanticipated bequest from outside the Wesleyan family boosted the endowment by more than 50 percent and staved off imminent pay cuts for the faculty. Building an ever-stronger institution requires large portions of pluck. But luck also plays an important role. Wesleyan reaped significant benefits from the totally unanticipated occurrence of such remotely connected events.