BY LARRY GETLEN | PHOTOGRAPHY BY BILL BURKHART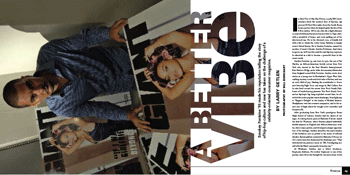 IN BEAT THIS: A HIP-HOP HISTORY, a 1984 BBC documentary about the seminal days of hip-hop, rap pioneer DJ Kool Herc talks about the South Bronx house parties where he helped ignite the fire of the B-Boy nation. Off to one side sits a light-skinned, 10-year-old African-American boy in a blue Le Tigre shirt, with a mouthful of braces, and curls spilling out of his side-turned cap. He is the director's son, a friendly kid with a life in which the writer James Baldwin is simply mom's friend Jimmy. He is Smokey Fontaine, named for another of mom's friends, Smokey Robinson. And when he grows up, he'll use the creativity and hip-hop exposure he absorbed as a kid to become a powerful force in the music world.
Smokey Fontaine '93 was born in 1972, the son of Pat Hartley, an African-American Jewish actress from New York who starred in the Jimi Hendrix fantasy/concert film Rainbow Bridge, and a white documentary filmmaker from England named Dick Fontaine. Smokey wrote short stories as a young teen in Manhattan's Upper West Side, crafting mystery novels and dark tales of fiction, and was an early child of pop, blasting the soundtracks to Grease and Saturday Night Fever and songs by Phil Collins. But he also lived around the corner from Rock Steady Park, home of break-dancing pioneers The Rock Steady Crew, and as hip-hop's big bang exploded around him, he absorbed the entire popular music landscape, from light pop to "Rapper's Delight" to the heyday of Michael Jackson. Headphones were his constant companion, and in his senior year of high school he bought a few turntables and became a DJ.
After graduating from New York's prestigious Bronx High School of Science, Smokey had his choice of colleges. A rocking house party at Malcolm X house sealed the deal for Wesleyan, where Smokey played basketball, double-majored in English and African-American studies, threw many parties, and developed a deeper appreciation of his heritage. Smokey describes the racial tension of his freshman year as pivotal to his sense of cultural identity. Racial epithets scrawled in Malcolm X House set off a controversy that dominated his freshman year. "That kick-started my personal sense of, 'OK, I'm aligning myself with the Black community from day one.'"
At Wesleyan, Smokey met a fellow freshman, Stephanie Addison. He invited Stephanie to one of his parties, and at first she thought he was just a loud, brash kid. As Smokey pursued her, that changed. "We'd have these long talks about politics, and I realized he was pretty smart," recalls Stephanie. They began dating in December of freshman year—"a big Wesleyan love story" says Smokey—and Stephanie is now his wife and the mother of their two children.
Following graduation, he spent two years teaching inner city kids in Baltimore as part of the Teach for America program, then came back to New York and got an internship at Vibe magazine, "the first magazine written and edited by and for the hip-hop generation," as he describes it. He worked for the magazine's senior editor, Scott Poulson-Bryant, who says he admired Smokey's ability to "balance the academic with the street." The two became close friends and soon shared a critical judgment of Vibe, which Smokey says they increasingly considered to be "watered down, all corny and soft." Smokey started writing on the side for a British hip-hop magazine called True, which was wonderfully photographed, intelligently written, and, in Smokey's eyes, "much cooler" than Vibe, and he soon became its New York editor. When Poulson-Bryant left Vibe soon afterward, Smokey followed him out the door and focused his efforts on launching True in the United States.
Smokey was soon interviewing stars such as Mary J. Blige and Puff Daddy, and it was at True—rechristened Trace during his tenure—that he developed relationships with some of the brightest stars in hip-hop, and also tasted the stress of the magazine world. "I convinced Puffy to give me access to him for a week," he says of the artist now known as Diddy. The only condition Puffy insisted on was that he not be photographed with his hair in a mess.
Smokey hired a photographer and the two spent a week with Puff Daddy, after which he wrote a 5,000-word "opus," and the pictures came back with problems. Smokey "almost started crying" when he saw the photos, and had no choice but to run one with Puffy's hair in shambles on the cover. Luckily, Puffy was understanding, and the relationship was salvaged.
Poulson-Bryant, who had intended to retire from journalism until Smokey persuaded him to write at Trace, notes that Smokey's work there brought his talents as an editor to light. "When he was editing me, that's when I got to see just how smart he was in terms of building a piece," says Poulson-Bryant. "He had, and continues to have, a really keen eye for what a story is. He talks about them from the inside out, rather than from the outside in. He has a real gift for structure, for the architecture of an article. I've had editors who had double the experience he had who didn't have that gift."
At one point, Trace ran a story on a band of Puffy's called Total, and Puffy's company used a picture from the magazine's photo shoot for the band's CD cover without Trace's permission. What followed was an essential lesson for Smokey in the ways of hip-hop.
The head of Bad Boy, Puffy's company, called Smokey. "He said, 'We had to run the picture, it was a misunderstanding, but how can we make this right?'" recalls Smokey. "He said, 'let's throw a party together. We love you, we think you're the future.' A very Bad Boy, win-win scenario. Hustling.
"That's a very hip-hop way to get down," says Smokey. "We were certainly being hustled, but in all hustles, there has to be a counter-hustle, and if you don't have your counter-hustle game right you don't need to be in this business, because it's all about the counter-hustle. The counter-hustle should have been, 'You know what, Puffy, you throw Trace magazine a party, this little magazine with no money and no marketing, and we invite all our clients and ride your coattails.'"
Trace's editor-in-chief, however, didn't get it. He rejected the offer of the party, and threatened to sue. "I didn't know what the best answer was," says Smokey, "but I did know that wasn't the answer. That's just a lose-lose." So when Smokey was offered the position of features editor at The Source, a magazine so hot it was outselling Rolling Stone, he said goodbye to Trace, and hit the next step up hip-hop's evolutionary ladder.
Shortly after taking the job, Smokey was assigned to write the magazine's first cover story on DMX, one of the hottest rappers in the world at the time, after another writer found DMX's partying too heavy. Smokey arranged to meet DMX at his recording studio at 6 p.m. that night. Smokey arrived on time, and by 7, the rapper still hadn't showed. Nor by 8. Nor by 9. Nor by 10. DMX's embarrassed publicist grew increasingly apologetic, and by 11 surely most writers would have left. Smokey did not.
He sat there for six hours.
Suddenly, around midnight, a massive pit bull ran full charge into the studio, barking ferociously, followed on his tail by another dog just as wild. An entourage of people joined the canine chaos, and finally, bringing up the rear, in came Earl Simmons, the rapper known as DMX.
"What up, dawg?" He nodded in Smokey's direction, then kept on walking, headed toward a room in the back.
The publicist brought Smokey into DMX's lair, where he sat surrounded by the entourage of at least 20, not counting the dogs. Introductions were made, and DMX told Smokey that even after six hours, the interview would have to wait.
"We can't do it now," said DMX. "I gotta watch The Simpsons."
Smokey was stunned.
"Right now?" he asked.
"Yeah man, we gotta watch The Simpsons right now," DMX replied. "You're in the way. Sit down."
So Smokey sat down and watched DMX watch The Simpsons, laughing at Bart and Homer and their cartoon crew until the first commercial came on. DMX invited Smokey to ask a question.
As the entourage looked on, Smokey asked whatever he could until the program came back on, and all went silent again as the room flickered yellow and blue, with Smokey asking questions during the commercials for three straight episodes. Finally, the Simpsons marathon ended, and what followed was the beginning of a key relationship in Smokey's life.
"We got into a really deep conversation about his life and what his music meant, what he felt he meant to young black kids and who he was and what his music was about," says Smokey. "He gave me a depth of character that I have never had in the interviews I'd done previously, and we really bonded as much as someone can in the first meeting. It was a really moving conversation. We spoke for hours, and it ended up being a great story."
Smokey subsequently asked DMX for permission to write a book proposal for an autobiography, received it, and sold the book to HarperCollins. It was a huge opportunity, and Smokey and Stephanie were elated.
Now there was only the matter of how the book would be written. Smokey met with DMX, and told him news of the book deal.
"He said, 'good, this is hot,'" recalls Smokey. "I said, 'how should we do it? Should we meet every day at 4:00?' And he said, 'What are you talking about? You're just gonna have to get the story, Smoke. I don't know when I'm gonna feel like talking. You're just gonna have to be there. You're just gonna have to catch it without catching it.' You can imagine the gulp that put in my throat."
Instead of arranging formal interviews, Smokey became part of DMX's posse. He spent the better part of the next two years with DMX and his crew, a mini-disc recorder in his pocket at all times with a microphone clipped on the outside. Smokey rode everywhere with DMX—usually white-knuckled in the passenger seat, as the rapper often drove over 100 m.p.h.—and whenever DMX began discussing his life, Smokey surreptitiously turned on the recorder.
"I wound up with 350 hours of non-exclusive, non-quiet, totally in the middle of a bowling alley, recording studio, film set, on the street, in the car dialogue, with, to me, the most interesting rapper who's ever lived," says Smokey. "And that's how I got the story."
The resulting tome, Earl: The Autobiography of DMX, was wonderfully reviewed, and served as what Smokey would call "the culmination of the first chapter of my hip-hop journalism career."
Chapter two would be America magazine.
Smokey got the idea around 2000, wanting to create a magazine that would make a statement about the integration of hip-hop into mainstream pop culture.
"The name America was statement of identity," he says. "I wanted to represent young people and bold young talent. It wasn't trying to be flag-waving, but about how American culture so dominates global culture, and in some ways there's a huge responsibility there, so let's explore that."
The editor-in-chief of The Source hooked him up with Damon Dash, Jay-Z's manager and mastermind of the Roc-a-Fella empire. Dash had wanted to start a magazine, believing that the current hip-hop press didn't give his artists their due. After agreeing that Smokey would maintain complete creative control, Dash agreed to finance America.
Smokey spent three years getting the magazine off the ground. The 184-page first issue of the glossy, 10-by-12-inch magazine came out in spring 2004 with Alicia Keys on the cover, and advertisers such as Calvin Klein, Diesel, Marc Jacobs, Absolut, Sean John, Phat Farm, and Mercedes-Benz.
As with all his endeavors, running a magazine presented unique obstacles. "All the challenges of the magazine came to a head at the Alicia Keys photo shoot," says Smokey, who had hired a top fashion photographer to shoot Keys in a glamorous Brigitte Bardot motif. The singer's management declared early on that she would not remove her trademark braids. The photographer thought they made her look like a schoolgirl and refused to shoot her until she removed them. A tense, three-hour series of negotiations followed. Smokey brokered a compromise wherein Keys would remove some of her braids, but not all. The resulting cover featured a tight shot on her face that made her look positively luminescent. "I showed her the pictures and she was like, 'Smokey, oh my god, I've never looked more beautiful,'" he says, noting that Keys has not put the braids back in since.
Poulson-Bryant feels that America worked because of Smokey's ability to perceive accurately the nature of hip-hop's role in our culture, and role of journalism in reflecting on it. "Hip-hop, in a lot of ways, is about glamour and self-creation, and America gets that. A lot of other magazines don't," he says. "A lot of hip-hop magazines want to be part of the hip-hop game rather than report on it, and I don't know if you can be effective that way anymore. Smokey gets that this is the mainstream culture, not just a corner. It's the dominant youth culture, and it needs to be celebrated and examined that way."
As always, Smokey has faced varying degrees of challenge, including those way beyond what might have been foreseen. On the day he was scheduled for a second interview for this article, Smokey had a meeting with Dash to discuss the magazine's finances, and about half an hour into the meeting, Smokey says, Dash erupted.
"He was screaming and cursing at me, getting nose to nose basically, and he wanted to egg me on into a fight," says Smokey, who says the confrontation suddenly turned violent. "He just kinda decked me in my chest as I was standing in front of his couch, and I fell over."
The meeting ended soon after, and as the pain in his chest intensified over the next few hours, Smokey drove himself to the emergency room. The doctors found an abnormal EKG and an elevated set of cardiac enzymes, and Smokey was admitted to the hospital, where he stayed for several days.
Not long after, Smokey met Jamie Hooper, founder and president of Giant, a mass-market entertainment magazine that had some of the same goals as America but lacked elements that Smokey had developed: top photography, outstanding design, and celebrity focus. Giant, however, had strong circulation and a good advertising base. Hooper and Smokey saw opportunity, so Smokey moved in 2006 from America to become Giant's new editor-in-chief.
"I was given full creative control to make, in my mind, a commercial version of America magazine," he says.
At $3.99 per copy, it's on newsstands nationwide and remains faithful to the celebrity energy of America, but designed for mass circulation. Smokey believes that too many magazine editors have been scared by the Internet into ill-advised attempts to emulate Web style with charts, lists, and lots of data.
"You will never be able to compete with the immediacy of online," he says. "But I can win as a magazine editor by creating a beautiful printed piece."
His first issue featured Beyonce on the cover in hair curlers—a far cry from her usual glamour shots. The issue, released in August, has become Giant's most successful ever on the newsstand. MTV debuted the cover, and a blizzard of media coverage followed with attention on Entertainment Tonight, the E Channel, the Jay Leno Show, and the Today Show.
That's great for the new Giant and for Smokey, who says, "I'm here to give Rolling Stone and Vibe a run for their money."
Larry Getlen is a freelance writer living in New York City who previously wrote about DNA databases for Wesleyan.