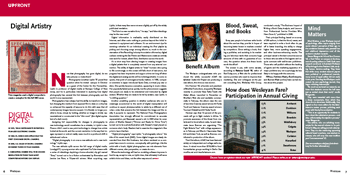 Now that photography has gone digital, do we take pictures or make them?
Photographer Jonathan Lipkin '91 posed that question when he visited campus in October as a guest of the Center for the Humanities. Lipkin is professor of digital media at Ramapo College of New Jersey, and he is particularly interested in exploring how digital photography has severed the link between photography and the world it once represented.
Photographers have always had the ability to transform images, but changing the medium from exposed film to data on a chip has so enhanced the capacity of anyone to do this with ease that all contemporary images become suspect. It is literally no longer possible to know, simply by looking, whether an image is strictly representational or constructed in the "dim room" (the digital equivalent of a dark room).
Assigning full responsibility for changes in photography to new technology would nonetheless be a mistake, in Lipkin's view. Picasso didn't need a new paint technology to change how artists looked at the world, and the current revolution in the way that images represent or subvert reality owes much to a profound shift in attitude and culture.
"Digital photography is at once a new attitude and a new technology," Lipkin says.
The new attitude spills across the full range of digital media. Lonelygirl15, a young woman who captivated YouTube viewers with a series of videoblogs depicting a home-schooled, shy girl named "Bree," turned out to be a fiction orchestrated by filmmakers and Jessica Lee Rose, a 19-year-old actress. Most surprising, says Lipkin, is that many fans were not even slightly put off by the widely publicized revelation.
"YouTube is a new narrative form," he says, "and fake videoblogs may be the new novel."
Digital information is malleable, easily distributed on the Internet, and often costs nothing to produce beyond the initial investment in equipment and software. It's an environment ripe for remixing—whether it's an individual creating his iPod playlist by picking and choosing songs among albums or, much to the consternation of the Recording Industry Association of America, digital outlaws remixing the Sex Pistols and Madonna to create an entirely new work for instant, albeit illicit, distribution across the world.
It's a short step from altering images to creating images from a digital palette that is completely severed from any external connection. The ability of digital artists to "draw" humans who spring to life convincingly on the screen still falls short of real actors, but progress has been impressive and augurs a time not long off when the digital and analog worlds will be indistinguishable. In some respects, that point of convergence hardly matters. In 1996, computer scientists in Japan introduced Kyoto Date, a virtual pop star or idoru. She quickly became a sensation, appearing in music videos. Her popularity faded just as quickly, but the phenomenon suggests that people are ready to be entertained and instructed by digital avatars. Whether they are ready to be led by avatars, says Lipkin, is "a chilling question."
Another unsettling question is whether audiences who are increasingly accustomed to the world of digital manipulation will continue to expect photojournalists to abide by a different set of rules—rules that preserve the link between the image and the reality it purports to represent. The National Press Photographers Association has strongly affirmed its commitment to accurate representation, yet Newsweek caused a stir in 2005 when its cover photo of Martha Stewart ("Thinner and Ready for Prime Time") turned out to be a photoillustration with Stewart's head placed on someone else's body. Readers had to examine the magazine's fine print to learn that fact.
"Digital photography," says Lipkin, "is photography reborn," the title of his recent book (2005). Some digital images are clearly descended from their film forebears, but others rendered on a computer have more in common, conceptually, with paintings. Like the artist with a brush, digital photographers can mix elements from different scenes, alter perspective, or create de novo.
Where the technology will lead as modeling software improves is hard to say, except to note, as Lipkin does, that ultimately it will serve artistic vision and ideas, not the other way around.
DIGITAL FACTS:
IN 1972, TEXAS INSTRUMENTS PATENTED A FILM-LESS ELECTRONIC CAMERA.
IN 1994–95, KODAK AND APPLE SOLD THE FIRST CONSUMER DIGITAL CAMERAS.
IN 2003, U.S. SALES OF DIGITAL CAMERAS EXCEEDED THOSE OF FILM CAMERAS.
A 3-MEGAPIXEL CAMERA WILL TAKE HIGHER-RESOLUTION PICTURES THAN MOST COMPUTER MONITORS CAN DISPLAY.