HISTORICAL ROW: KEEPING WESLEYAN HISTORY ALIVE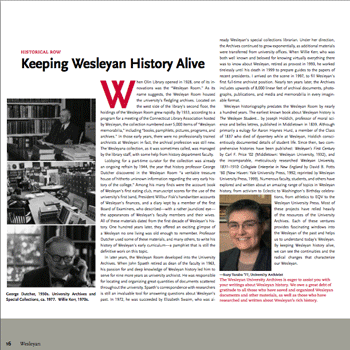 When Olin Library opened in 1928, one of its innovations was the "Wesleyan Room." As its name suggests, the Wesleyan Room housed the university's fledgling archives. Located on the west side of the library's second floor, the holdings of the Wesleyan Room grew rapidly. By 1933, according to a program for a meeting of the Connecticut Library Association hosted by Wesleyan, the collection numbered over 5,000 items of "Wesleyan memorabilia," including "books, pamphlets, pictures, programs, and archives." In those early years, there were no professionally trained archivists at Wesleyan: in fact, the archival profession was still new. The Wesleyana collection, as it was sometimes called, was managed by the library staff, with some help from history department faculty.
Lobbying for a part-time curator for the collection was already an ongoing refrain by 1944, the year that history professor George Dutcher discovered in the Wesleyan Room "a veritable treasure house of hitherto unknown information regarding the very early history of the college." Among his many finds were the account book of Wesleyan's first eating club, manuscript scores for the use of the university's first band, President Willbur Fisk's handwritten accounts of Wesleyan's finances, and a diary kept by a member of the first Board of Examiners, who described—with a rather jaundiced eye—the appearances of Wesleyan's faculty members and their wives. All of these materials dated from the first decade of Wesleyan's history. One hundred years later, they offered an exciting glimpse of a Wesleyan no one living was old enough to remember. Professor Dutcher used some of these materials, and many others, to write his history of Wesleyan's early curriculum—a pamphlet that is still the definitive work on this topic.
In later years, the Wesleyan Room developed into the University Archives. When John Spaeth retired as dean of the faculty in 1963, his passion for and deep knowledge of Wesleyan history led him to serve for nine more years as university archivist. He was responsible for locating and organizing great quantities of documents scattered throughout the university. Spaeth's correspondence with researchers is still an invaluable tool for answering questions about Wesleyan's past. In 1972, he was succeeded by Elizabeth Swaim, who was already Wesleyan's special collections librarian. Under her direction, the Archives continued to grow exponentially, as additional materials were transferred from university offices. When Willie Kerr, who was both well known and beloved for knowing virtually everything there was to know about Wesleyan, retired as provost in 1993, he worked tirelessly until his death in 1999 to prepare guides to the papers of recent presidents. I arrived on the scene in 1997, to fill Wesleyan's first full-time archivist position. Nearly ten years later, the Archives includes upwards of 8,000 linear feet of archival documents, photographs, publications, and media and memorabilia in every imaginable format.
Wesleyan historiography predates the Wesleyan Room by nearly a hundred years. The earliest known book about Wesleyan history is The Wesleyan Student? by Joseph Holdich, professor of moral science and belles lettres, published in Middletown in 1839. Although primarily a eulogy for Aaron Haynes Hurd, a member of the Class of 1837 who died of dysentery while at Wesleyan, Holdich conscientiously documented details of student life. Since then, two comprehensive histories have been published: Wesleyan's First Century by Carl F. Price '02 (Middletown: Wesleyan University, 1932), and the incomparable, meticulously researched Wesleyan University, 1831–1910: Collegiate Enterprise in New England by David B. Potts '60 (New Haven: Yale University Press, 1992; reprinted by Wesleyan University Press, 1999). Numerous faculty, students, and others have explored and written about an amazing range of topics in Wesleyan history, from activism to Eclectic to Washington's Birthday celebrations, from athletics to EQV to the Wesleyan University Press. Most of these projects have relied heavily of the resources of the University Archives. Each of these ventures provides fascinating windows into the Wesleyan of the past and helps us to understand today's Wesleyan. By keeping Wesleyan history alive, we can see the continuities and the radical changes that characterize our Wesleyan.