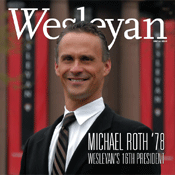 AT 3:45 P.M., MICHAEL ROTH '78 WAS HURRYING TO FINISH HIS LUNCH, an orange-colored soup in a plastic take-out container. Finding any time at all to eat had been difficult that day because he had flown from Los Angeles back home to Oakland, where appointments awaited him in his office at the California College of the Arts. As he settled in to talk, pushing aside the unfinished soup, he said that the trip was the result of an invitation he had received to celebrate the 20th anniversary of the Scripps College Humanities Institute, which he founded in 1986 and modeled after Wesleyan's Center for the Humanities.
Like its Wesleyan counterpart, the institute at Scripps provides a kind of academic mixer where faculty from disparate fields can study, talk, and develop productive collaborations. This interdisciplinary commingling may be Roth's favorite professional pursuit. It speaks to his love of intellectual adventure, his desire for constant learning, and his delight in watching academic strangers discover, sometimes to their surprise, that they have something to say to each other.
The Scripps institute, still thriving long after Roth's departure, also speaks to his accomplishments as a leader and builder of institutions. Anyone who followed his undergraduate years might have wagered on his later success in the academy as he raced through a difficult university major in the history of psychological theory, graduating summa cum laude and Phi Beta Kappa in three years. His success as an administrator was less foreseeable.
Roth asserts that he did not feel destined for an academic career and confesses that he felt less well prepared than many of his classmates. He grew up on Long Island with a father who was a furrier and a mother who was a singer; neither had a college degree. He assumed that college would lead to some "practical" profession—a lawyer or, perhaps, a psychologist. But right from the start, a different side of Wesleyan appealed to him.
"When I first visited Wesleyan as a high school student, the admission office sent me to lunch at Alpha Delt because I was interested in creative writing and had written some stories and poems. When I went to AD, I thought I had died and gone to heaven. I just did not know people who argued that passionately about literature or theater. Then, Nat Needle '76 sat down and played the piano and sang. This was a typical lunch."
Alpha Delta Phi became his home. Jane Polin 80 recalls the signature atmosphere of this unusual coed fraternity, marked by impassioned discussions on topics ranging from Rousseau to running the house. Conversation would last until 2 or 3 a.m., with Roth acting as a consensus builder.
"Michael was the star," she says. "He was not just a serious academic, but also a lot of fun. He had many passions and interests. He was curious, engaged with people, not just with ideas."
His other home was the classroom. Roth was capable of interacting with faculty at a high level and made the most of it. Whether in a seminar with the philosopher Victor Gourevitch, where "we read more Hegel than a young person should be allowed to read," or with Hayden White, whom he calls "the most important theorist of history in the last 50 years," Roth gained an appreciation for the way faculty infused problem-oriented research into teaching. This exposure ignited his intellectual curiosity and informed the intellectual principles that have guided his professional life. He would later co-edit the correspondence of Leo Strauss and Alexandre Kojeve with Gourevitch and write about White in his book The Ironist's Cage.
Steve Rosenman '79 was a freshman enrolled in an introductory philosophy course in 1975, along with Roth. He recalls his astonishment at the nature of the questions Roth would pose to Michael Davis, a visiting professor.
"Whereas for many of us this course was our first delving into the works of the giants of Western thought (Aristotle, Plato, Descartes, Rousseau, etc.), for Michael the class seemed to be a vehicle for relating Professor Davis' lectures to non-syllabus reading that Michael had done, engaging the professor as a peer in discussions of Heidegger, Kierkegaard, and others. I found these exchanges truly amazing."
Richard Vann, professor of history and letters emeritus, taught Roth in a History and Prophecy seminar, and was impressed by both his imagination and his analytical skills. "It became clear enough that his knowledge of Hegel and of Freud challenged mine," he says. "What really impressed me, though, was his response to somewhat weirder works that he was encountering for the first time. You don't often meet someone who can be equally dexterous in writing about Hegel and Norman O. Brown."
Roth tells a story that reveals his appreciation of scholarship. The late Wesleyan philosopher Louis Mink had spent decades working on a gazetteer of Finnegans Wake. "It seemed an obsessive, crazy project," Roth says, "but Mink was an exemplary professor so dedicated to scholarship that it was a kind of ecstasy for him. The book finally came out and I asked him how it felt to have completed it. He told me, 'The other day I met this very interesting man who had read the book, and we had a great conversation. I never would have met him if I hadn't written this book. It was a wonderful thing.'" Roth thought this was a model of scholarship—"a passionate devotion to getting things right, to understanding something deeply. That was enough. You might meet an interesting person if that happened."
Neither White nor Gourevitch ran their seminars by the clock. In one seminar, Gourevitch would talk with Roth and two other students for as long as they could hold up. "There was no question about what time the class was supposed to be over," Roth says. "It was all about how far you could get into the work."
Roth's epiphany about his career came after his junior year when he was spending a summer in Berkeley. He hurt his back and, unable to leave his apartment near Telegraph Avenue, he devoted his time to reading the history of philosophy. He realized that nothing would make him happier than reading and writing for his professional life, so he turned down a good job offer at Yale-New Haven Psychiatric Hospital to go to graduate school at Princeton.
"I'll always remember going to tell my father that I wanted to continue my studies," he says. "He didn't understand what I was doing at Wesleyan, but he told me something that changed my life: 'If you don't try this, you will always wonder whether you should have done it.'" The elder Roth also urged his son not to let lack of money stand in the way of his intellectual interests.
Roth discovered his love of teaching at Princeton, where he obtained a doctorate under the tutelage of Carl Schorske, a highly regarded intellectual historian who had taught at Wesleyan. The seminars that Roth led were popular, and through them he found that he enjoyed the performance aspect of teaching, the give-and-take with his audience.
After living in France and working on the history of French philosophy with Michel Foucault, Claude Lefort, and Jacob Fleischmann, in 1983 Roth accepted a position at Scripps College, a women's college that is part of the Claremont system near Los Angeles. Word of his teaching ability spread quickly through the small student body, according to Crystal Jones, now associate director of development at UCLA. Jones took his course in Psychoanalysis and Politics not long after Roth joined the faculty—and she kept on taking courses with him until she graduated.
"He had this ability to connect to his students," she says. "He was so confident of his own intelligence, so secure in who he was, but he wasn't arrogant. He valued my mind." She described his approach to the world of ideas as one of humility rooted in a secure personal foundation. She and Roth have remained friends during the intervening decades, and she still has the papers she wrote for him.
Roth became known as a leader on the faculty, Jones says. He cemented that reputation with his founding of the Scripps Humanities Institute. Like its Wesleyan counterpart, the Scripps institute presents a thematic program in the humanities each semester. It also provides students the opportunity to participate as junior fellows—the same opportunity that Roth took advantage of at Wesleyan's Center for the Humanities when he was a student.
If Roth had earlier been slow to acknowledge that his career lay in academics, he was similarly hesitant to see himself as an administrator. He ran the Scripps Humanities Institute with an assistant, inviting some of the greatest scholars and artists in the world to visit the tiny campus with fewer than 600 students at that time. "I never thought I was administering anything, but I was. I raised an endowment. I just went on with my work, which was teaching and scholarship combined. That's what I had learned at Wesleyan."
His next step toward administration took place at the Getty Research Institute, which he first attended in 1994 on an invitational grant. Two years later he returned to run the scholars and seminars program and in 1997 he became associate director of this world-renowned study center.
From the Getty's stunning hilltop location west of downtown Los Angeles, Roth extended his reach to a wider group of scholars and to the public. In many respects, the Getty was an ideal venue for someone whose life's work had been devoted to making sense of the past. He reshaped the scholars program to focus on topics such as history, architecture, and arts in Los Angeles. He started a lecture series entitled "The Construction of Historical Meaning," very much building on the foundation in intellectual history he discovered at Wesleyan working with Professor of English Henry Abelove, whom he recalls as "a most remarkable and inspiring teacher." He built partnerships with cultural organizations in the East and South Central sections of the city. As he had at Scripps, he took pleasure in bringing scholars with diverse backgrounds together.
In the cultural scene of southern California, the Getty and its scholars program are very important, notes Nancy Troy '74, professor of art history at the University of Southern California. She had been a resident scholar at the Getty and got to know Roth during his tenure there.
"Not being trained as an art historian, he brought a different view than some others might have had," she says. "That was extremely refreshing. What I really found impressive is that Michael became interested in the issues that art historians and those involved with visual culture study; he really applied himself to understanding these things and becoming engaged."
Charles Salas, MA '85, head of research and education at the Getty Research Institute, had studied with Roth at Claremont graduate school and subsequently worked with him on numerous projects at the Getty. He describes Roth as remarkably adept at corralling the large egos of well-known scholars so that seminar discussions would proceed constructively.
"Michael could help people with talent move to a new level," he says. Salas cites the video artist Bill Viola, who participated in a scholars program devoted to the representations of human passions in art. Viola evidently absorbed his 1998 year of conversation with Roth and others: in 2003 he produced a major exhibition titled The Passions, which was shown at the Getty and elsewhere.
These scholarly ventures were often, but not always, successful. Roth does not hesitate to acknowledge failure. Absence of occasional failure, in his view, implies an unwillingness to experiment. One problematic venture was a program on neuroscience and the arts. In collaboration with the Center for Advanced Study in the Behavioral Sciences at Stanford, the Getty brought together neuroscientists, artists, art historians, and other scholars to assess areas of mutual interest in understanding visual perception and visual judgment.
"They couldn't find a common language," Roth says. "It was premature; they couldn't identify why it was useful to be together. Interdisciplinarity works only if you need the other person's point of view."
The concept of intermixing scientists and artists was premature, but not necessarily wrong. After Roth became president of the California College of the Arts, Kari Weil, his wife and chair of CCA's program in critical studies, began melding science and artistic vision. Physicists, for example, have worked with holograms to teach the physics of light to photography students. Weil's department at CCA has offered classes in biomimicry because modern design is influenced not only by issues of sustainability and ecology, but also by an understanding of the design elements of life forms. In this context, scientists and artists have something to say to each other.
Roth's tenure at the Getty coincided with another professional venture—his controversial Freud exhibition at the Library of Congress (see sidebar page 9). Wesleyan Associate Professor of History and Letters Ethan Kleinberg says the exhibition demonstrated his capability for making issues relevant and accessible while preserving a high intellectual tenor. "He was able to take Freud and present him in multiple ways, making us think about his impact on the 20th century," he says.
The key themes of the Freud exhibition actually grew out of Roth's Wesleyan honors thesis. The exhibit, Kleinberg suggests, was a manifestation of Roth's broader scholarly work. Roth had become widely known in his field for showing how intellectual history, once considered to have an antiquated canon, could be made culturally relevant and important, all the while demonstrating its connections to significant and contemporary public issues.
College Avenue in Berkeley runs into the enormous, sprawling campus of the University of California. At the avenue's opposite end, in Oakland, it runs into the California College of the Arts, an enclave of 10 small buildings on four acres lush with vegetation and towering redwood trees. Prior to Roth's arrival, it was regarded as one of the best-kept secrets in arts education. Now, the secret is out.
With his move to the presidency of CCA in July of 2000, Roth became a full-time administrator committed to institution building. He approached the presidency as a self-described agent of change and immediately took on one of the more dramatic transformations any organization can face: adopting a new name.
The institution had been known for decades as the California College of Arts and Crafts. Not only did the name have a place in the hearts of loyal alumni throughout the Bay Area and beyond, it also underscored the school's origins in the arts and crafts movement. Briefly and too simply put, the movement flourished in the late 19th and early 20th centuries as a critical assertion of the role of traditional crafts in a world turning toward industrialization.
By the time Roth arrived, the "crafts" designation seemed to have outlived its usefulness. The question had roiled the college; Roth was determined to settle the issue. He commissioned research, which suggested that the name was inhibiting an understanding of the college's contemporary mission in the arts. He also visited the oldest living former president of the college to "get a sense of the cultural DNA of the place." Within a few years, the Board adopted his recommendation for change. Although the heat was off, the issue remained contentious throughout his presidency and required sensitive diplomacy. "We respond to both names," Roth says. "We're not trying to flee our past."
In his first year Roth also took on an element of institutional structure—the division of CCA into schools of architecture, design, and fine arts. After discussions with the faculty, he concluded that the divisions inhibited collaboration without conferring any offsetting value. He abolished them and put in place a process for developing a cross-college curriculum with interdisciplinary options and a liberal arts focus.
Under his leadership, CCA has flourished. Roth led fundraising efforts for new facilities, programs, and endowment that tripled the institution's fundraising record from a similar period in the 1990s. Undergraduate enrollment increased by 50 percent to 1,600; graduate enrollment rose from 97 to 300. In 2003, a new graduate center opened in San Francisco, and CCA is now in the process of expanding its facilities there. In the seven years under his leadership, the institution has become "one of the most progressive arts education institutions in the country," according to the San Francisco Chronicle.
Judy Timken, former chair of the board at CCA and currently chair of the institution's $25 million Centennial Campaign, describes Roth as a consummate fundraiser. The college has not only raised 80 percent of its campaign goal, but also has increased the number of donors from 300 to 1,300. Roth secured the single largest gift in CCA history: a $5 million gift to endowment.
"He comes with great passion for his job," she says. "He didn't just lead our institution; he was creating a new institution. That's what was so remarkable. He was taking an almost 100-year-old college and making it into an institution that was still focused on the arts and design, but with a more liberal-arts bent.
"When he came to CCA, he embraced the school's culture of art and design, but soon realized that that culture needed to expand to reflect a vision of the future and take advantage of place, namely Silicon Valley and San Francisco. There is enormous creativity and diversity in the Bay Area, and Michael wanted the college to reflect those influences. He has made great strides in making that happen."
Caitlin Lang '99 says she became a fan of Roth "a few minutes into my first day as a graduate student at CCA." Not all of his decisions were popular with students, but she says he was always highly visible on campus and engaged with students. "It was not unusual to see him sitting in on daily class critiques, attending lectures, and chatting with students at various campus events. I know that CCA greatly benefited from his hands-on style of leadership."
Roth has placed high importance on outreach to Oakland neighborhoods, both the challenged and the privileged. From the outset of his presidency he fostered development of the college's Center for Art and Public Life, which was a fresh concept for the institution.
Among the more noteworthy projects was "100 Families Oakland: Art & Social Change." For 10 consecutive weeks in 2007, this program brought selected local artists and CCA artists to various neighborhood sites where they worked with families, many of them intergenerational—hundreds of people—in hopes that the process of imagining and creating would stimulate new relationships and possibilities.
On San Francisco's KQED radio show Forum, Roth described the center as "a natural extension of the arts and crafts movement philosophy that art can make an enormous difference in a community, that art can change people's lives. Making art is making meaning, and making meaning is the opposite of violence."
The center's Executive Director Sonia Ma?jon says Roth has pushed her to articulate how outreach programs relate to the mission of the college, how they would benefit the public and the institution.
This commitment to outreach led CCA to establish an interdisciplinary BFA degree in community art, a program described as emphasizing service-learning, civic engagement, and issues in diversity.
Throughout his tenure at CCA, Roth has taught one course each semester. He hopes to teach at Wesleyan because he believes that doing so provides a president with insights into the workings of an institution that cannot be gained in other ways.
"You hear from students in a much less mediated way," he says. "You get a sense of what they care about, what they are afraid of, what they long for, what their ambitions are. You get a sense of the facilities, the support staff, logistical issues—all of which are so important when you are leading an institution because it's so easy not to get detailed, textured information. Teaching also gives me a sense of what faculty members are up against. I teach because I really love doing it, but happily, it's also instructive for my administrative work."
Roth remains an active scholar, as evidenced by publications this past year in Bookforum, the San Francisco Chronicle and the Los Angeles Times Sunday book reviews, The Columbia History of Twentieth-Century French Thought, and Wesleyan's History and Theory. His contributions to History and Theory reach back to 1981 and include major articles, review essays, and reviews of books.
The importance he attaches to scholarship and teaching has resonated with Wesleyan faculty members. Professor of Russian Language and Literature Susanne Fusso, for example, sees him as a public intellectual who will clearly communicate the excitement of Wesleyan's mission. "He is always trying to make connections to the personal, the political, the world that surrounds us every day," she says. "Yet his work is on a high level of intellectual sophistication. He is a masterly writer, very clear without being simplistic. To me, his writing is a model of what academics should strive for."
Professor of Classical Studies Andy Szegedy-Maszak describes him as "genuinely brilliant." That was his impression of Roth in 1978 when Szegedy-Maszak, then in his fourth year at Wesleyan, was a faculty fellow at the Center for the Humanities and Roth was a Wesleyan senior with a student fellowship at the center. Roth's scholarly contributions have lived up to that early promise, says Szegedy-Maszak.
"He has the gift of being able to take very complex ideas and present them clearly—not diluting them or dumbing them down. He's done a great deal of administrative work, but he's kept up his scholarly life and that is exciting to me."
Roth has not had much experience with research-oriented science as it is practiced at Wesleyan, but he is eager to take on the challenge of becoming an effective advocate for the science division. Since the need for Wesleyan to make a major investment in a new science building looms on the near horizon, he will be engaged with science from the outset.
"We see this as a time for the sciences to blossom and grow," says Professor of Biology Laura Grabel. "Michael might need to be given the details of why science at Wesleyan is outstanding, but he's a quick study. I see him as being terrific at going out and talking about science and saying why students who are thinking about studying science at a liberal arts school should put us at the top of their lists."
Roth says he is committed to making that happen. He believes that Wesleyan cannot sit still and retain its place as one of America's great liberal arts institutions. Wesleyan needs to augment its financial resources, and it has to spotlight its curricular strengths and the achievements of its students, faculty, and alumni.
"I will continue the work that Doug and the university community have been doing to make the reputation of Wesleyan as strong and distinctive as possible," he says. "I think there is some reputation building to do, especially away from the Northeast."
Consonant with his background and his undergraduate experiences, he wants students to feel that they are in contact with the vital energy of the culture. He wants to ensure that Wesleyan is doing everything it can to tap into the strengths of the region, to be on the itinerary of the best minds traveling in the Northeast. He will be a tireless proponent of educational innovation and of interdisciplinary programs. He will ask the faculty to consider what may be missing from the curriculum now. That is the hardest question for universities to answer, in his view.
"I love Wesleyan," he says, "and want to join with my colleagues to help it remain one of the great schools in the United States and to realize its potential as a leader in American higher education. I come to the job as a teacher and a scholar; that's important for me. I come to it as a professor, a curator, and an organizer who has enormous ambitions for the place. I feel honored to be asked to do this. It's thrilling for me to be given this opportunity and responsibility. I'm very much looking forward to it."
The editor gratefully acknowledges the contributions of Cynthia Rockwell and Elan Barnehama to this article, and the archives of the Middletown chapter of Alpha Delta Phi Society.