CONNECTICUT PROFESSOR OF THE YEAR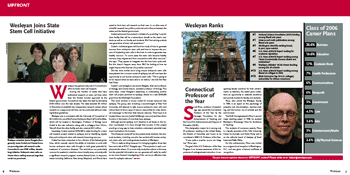 This designation means he is among only 43 professors working in the United States, the District of Columbia, and Guam to be considered a 2006 U.S. Professor of the Year.
"It was quite a surprise, as you can imagine," Plous says.
The goal of the U.S. Professors of the Year Program is to increase awareness of the importance of undergraduate instruction. In recognizing faculty members for their achievements as teachers, the award gives institutions an opportunity to celebrate excellence and provide models for faculty and students.
Plous, who joined the Wesleyan faculty in 1990, is an expert on the psychology of prejudice and discrimination, decision-making, and the human use of animals and the environment.
The CASE-Carnegie award is Plous's second major teaching award. In 1998, he received Wesleyan's Binswanger Prize for Excellence in Teaching.
The recipient of numerous awards, Plous is a faculty associate of the Tufts University Center for Animals and Public Policy and is on the editorial board of Analyses of Social Issues and Public Policy.
For this achievement, Plous was invited to a congressional reception in Washington, D.C., and was given a framed certificate of recognition.