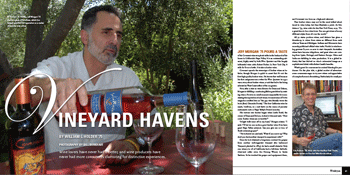 JEFF MORGAN '75 POURS A TASTE OF HIS COVENANT WINE at a picnic table in the backyard of his home in California's Napa Valley. It is an outstanding cabernet, highly rated by both Wine Spectator and the hugely influential wine critic Robert Parker. In New York City, it sells for $100 a bottle. It is also a kosher wine.
Covenant upends the stereotype of kosher wines as inferior, though Morgan is quick to assert that it's not the first high-quality kosher wine. He knows that well because his first assignment as a writer for Wine Spectator in 1992 was a story about kosher wines, a task that led to his being selected as West Coast editor of the magazine.
Now, after a stint as wine director for Dean and Deluca, Morgan is fulfilling a continuing lifelong ambition by making wines. He is in no small measure responsible for resuscitating the reputation of rose wines. A recent issue of Forbes magazine credited him as "the guy who literally wrote the book (Rose, Chronicle Books)." The first California wine he made, SoloRosa, is a rose that's on the menu of premier restaurants such as Napa Valley's French Laundry.
His venture into kosher began when Leslie Rudd, the owner of Dean and DeLuca, looked at him and said, "How come Kosher wines are so terrible?"
"A light bulb went off in my head," Morgan relates. "I said, 'I'll bet we can make a great kosher wine if we have great Napa Valley cabernet. Can you give me 10 tons of Rudd cabernet grapes?"
"He looked at me and said, 'What if you screw up? Why don't you find another vineyard to experiment with?'"
Once he had obtained a long-term contract for grapes from another well-regarded vineyard (the Larkmead Vineyard, planted in 1889), he had a small obstacle: Only one winery in all of California had a full-time Sabbath-observant cellar crew, the Herzog Winery in Santa Barbara. So he trucked his grapes and equipment there, and Covenant was born as a high-end cabernet.
Fine kosher wines may not be the most talked about trend in wine today, but they illustrate a point. As Eric Asimov '79, wine critic for the New York Times, says, "It's a great time to be a wine lover. You can get wines of many different styles from all over the world."
All 50 states produce wines, and Asimov has given a thumbs-up to wines from states as different from each other as Texas and Michigan. Indiana and Minnesota have recently publicized official wine trails. Florida is reimbursing growers $1,000 an acre to start vineyards. Australian wines have become ubiquitous, and great wines are coming from Spain, Portugal, and Eastern Europe. China and India are dabbling in wine production. It is a global industry that has thrived on wine's reinvented image as a sophisticated drink with distinct health benefits.
What's great for consumers is a mixed blessing for producers. On the plus side, a global market of adventuresome consumers eager to try new wines and appreciative of complex flavors is flourishing. Particularly for small producers, however, getting one's label in front of consumers can be a formidable task.
For Ariel Rubissow Okamoto '81, more is at stake than finding a market for her fine cabernets. On the side of Mount Veeder, she manages a family vineyard purchased by her father, a biophysicist and businessman, in the early 1980s. The view from the front porch of the farmhouse is stunning: rolling hills covered with grasses and clumps of trees that descend toward the Napa Valley, a river of flat, fertile land. In the early morning, colorful hot-air balloons hang over the valley. The air is still, not a sound is heard.
"When I took over," she says, "helicopters dusted the vineyard with all kinds of things. That was California farming the good old way. There's nothing wrong with it. I just didn't like it; I didn't want to work in a cloud of chemicals or send my guys to work in it. Being an environmentalist from my Wesleyan days, I wanted to put us on a healthier path. We don't put anything on the vineyard that isn't certified organic. We apply volcanic cinder, humic acids, oyster shell flour, kelp, fish powder, and compost every year, most of it by tractor or bucket. Right now we're applying rock milk, which is mineral extracts in water."
The vineyard is a labor of love—not an easy love. The rootstock planted by her father turned out to be susceptible to Phylloxera, tiny sap-sucking insects that have destroyed countless acres of vineyards in Europe and the United States. Over time, the family ripped out all the original rootstock and planted new types, including French clones that had not been previously available.
The vineyard is labor intensive. At harvest in October, even the three-acre block immediately in front of the farmhouse has several microclimates that require careful selection to ensure the grapes are at their peak of flavor.
"Over a three-week period, we'll have a picking every few days," she says. "I spend that time tasting grapes and getting stomachaches. You have to crunch on the grapes, spit the seed and skin out, then judge how sweet or sour, veggie or fruity, flat or complex the flavors are. Now and then you crunch on a seed itself, which should taste like cedar and vanilla, kind of nutty rather than green. You train your palette to taste all these things."
Grapes on the hillsides get less water and fight harder for nutrients than those in the valley. The vines produce fruit that is only blueberry size, but this struggle yields intense flavors. Mount Veeder in particular is known for grapes that have a desirably high acid content. Though wine-making styles vary from one vineyard to the next, Rubissow maintains that there is a commonality among Mount Veeder cabernets, characterized by hints of sage, lavender, cherry, and blackberry.
Farming on the hillsides cost a third to half again as much as farming in the valley. The small size of her vineyard, producing just 3,000 cases per year, combined with her desire to charge no more than $40 to $70 a bottle, means that the operation breaks even more than it makes money. Rubissow is also a science writer, and she lives in San Francisco with her husband, an architect.
She and her brother sell their wines by mailing list and to shops and restaurants in 15 states, and their label is on the wine list at the famed Chez Panisse in Berkeley, L'Espalier in Boston, and Gramercy Tavern in New York. Nonetheless, the vineyard's remote location leaves them well off the limo-path for tastings. Marketing requires inventive thinking. Fortunately for them, the industry is changing in ways that may help.
SINCE PROHIBITION ENDED, the sale of wine has depended upon a three-tier system involving producers, distributors, and retailers (including restaurants). For decades, a small number of big producers such as Gallo dominated the industry. In more recent years, however, the number of producers has exploded while distributors have consolidated. Throughout most of the country, wineries were prevented by law from selling directly to consumers out-of-state.
In 2005, the U.S. Supreme Court found that those states which permit in-state wineries to sell directly to consumers, but ban out-of-state wineries from doing the same, are violating the Commerce Clause of the Constitution. The result is that consumers in many states can now order by mail from out-of-state wineries, and the Internet business in wine is thriving.
No one pushed harder for this change than Lesley Berglund '84.
Berglund comes to the wine business naturally. In 1948, her grandparents acquired 880 acres just north of Napa, including a house modeled after Oak Alley Plantation near New Orleans. Following graduation from Wesleyan, though, she worked in consumer sales for Procter & Gamble and then for Clorox. At Harvard Business School in 1991 she undertook a study of how to market a multi-million-dollar collection of aged Napa and Sonoma cabernets. Her research into wine distribution channels led her to conclude that selling wine directly to consumers in the four states that then allowed interstate shipment (California, Colorado, Oregon, and New Mexico) would be a viable business. She packed up, drove across country, and together with her co-founders (brother Greg Berglund '89 and future sister-in-law Lisa Mangano Berglund) created Ambrosia, one of the first U.S. direct wine merchants.
They quickly learned that paying a mail house to put labels on 50,000 catalogs would be money well spent. In the beginning, the three entrepreneurs spent eight days doing it themselves.
Berglund also learned that most wineries were woefully unskilled in direct marketing. Their databases consisted of shoeboxes full of pages from guest books. While Ambrosia was still in its startup phase, she augmented her work by consulting with wineries, and she helped them start wine-of-the-month clubs for direct consumer sales.
Meanwhile, her work with Ambrosia was taking her deeper into the fulfillment side of the business: picking, packing, and shipping. Fulfillment requires sophisticated use of technology. Sales representatives must be able to tell customers instantly that a particular bottle of wine is available in the warehouse for shipping that day via an overnight carrier. It is in many ways the least sexy side of marketing wine, and for years she tried to find a vendor who could do it for her.
Ambrosia, which evolved into one of many divisions of the Winetasting Network, acquired a reputation for handling fulfillment better than anyone. That, plus the company's commitment to working with customers to ensure satisfaction with their purchase of high-end wines, earned it an accolade as "the Tiffany of wine retailers" from Winetoday.com, a former New York Times site.
Before long, wineries were begging her to handle their fulfillment.
"A lot of wineries where we started wine clubs had exploded in volume of sales," she says. "They couldn't keep up with demand." The Winetasting Network, which she sold in late 2004 to 1-800-Flowers.com, took over fulfillment for 150 wineries and wine retailers.
Berglund had established a reputation as an energetic, highly successful entrepreneur and, in the process, had developed an extensive network of contacts in the wine industry. Over a decade ago, when interstate direct marketing of wine rose as a legal issue, she helped to organize the winery industry as a co-founder of the "Free the Grapes!" trade association.
The issue of interstate direct marketing had lain dormant even though many producers were flagrantly violating the law and shipping their wine all over the United States. As direct sales began to grow, wholesale distributors took notice of the threat to their business and sprung into action. They persuaded many states to pass laws making direct sales a felony.
When the crackdown came, Berglund decided to take no risks. Overnight, the Winetasting Network dropped 40 percent of its business due to legal risks.
"It was the best thing we ever did," she says. "Thirsty, angry customers have a lot of power in their state legislatures. We cut off the state of Louisiana. In it, we had as customers a state Supreme Court justice, two state senators, and the brother-in-law of the governor. We had model direct shipping legislation passed in Louisiana within 60 days."
Berglund was present in December 2004 when oral arguments were made at the U.S. Supreme Court. The resulting decision in May 2005 radically altered the legal standing of direct marketing, but it did not force states to allow the practice. The decision merely required that states treat in-state direct sellers the same as out-of-state sellers. Today, 37 states allow such shipments for wineries, but the costs of licenses and the paperwork requirements vary sufficiently that smaller producers often choose to operate only in the larger markets.
Direct marketing, she says, is having a significant impact on small wineries. Not only can producers capture a much more significant share of profit margin by selling directly to consumers, they can manage their brands without relying on wholesale distributors, who often are ill-equipped to do this well. The catch, she points out, is that as more and more wineries ramp up their direct marketing, the sophistication required to interact effectively with consumers increases. Direct marketing talent is in short supply in the wine industry.
The court decision delighted Asimov, who recounted in one of his columns the pleasure of a visit to the Peay Vineyards on the Sonoma coast and now being able to order the vineyard's syrahs, pinot noirs, and Rhone-style wines from the comfort of his own computer.
The ability to reach out to consumers unencumbered by middlemen gives small wineries an important marketing tool, but it is no panacea, he says. A good score from Robert Parker or Wine Spectator can make an unknown wine an overnight sensation. Lack of attention can turn the effort to get shelf space into a hard slog.
"Wine is expensive," says Asimov. "Many people don't feel confident of their own tastes or don't feel they can afford to spend enough money to figure out what they like best. It puts a lot of power in the hands of critics."
Asimov, of course, is one of those influential critics. Through his print and online writing for the New York Times, he uses his influence to challenge conventional wisdom and steer readers toward wines they would not otherwise choose.
He also fights against practices he sees as inimical to the interests of most consumers. For example, the U.S. market has seen a trend toward allowing grapes to ripen longer on the vine, which produces wines that can be 20 percent higher in alcohol content than traditional ones. These wines tend to be softer, less acidic, and somewhat sweeter. They have bolder flavors that stand out in the rating systems. Asimov doesn't like them, despite their critical acclaim.
"A lot of these wines are overwhelming to food," he says. "Often, I find them undrinkable."
He believes that high-alcohol wines will fall out of favor, much as Chardonnays made in a loud, oak-flavored style have given way to ones that are leaner and more subtle.
Asimov has strong opinions about what makes a good wine.
"You don't want to create a wine in the laboratory of the cellar," he says. "There are techniques you can use to manufacture the flavors and textures that you want, basically creating a kind of Frankenstein wine. That is a way to make palatable wine. The way to make a great wine is to practice labor-intensive, costly agriculture. Then, as a knowledgeable winemaker, use natural techniques to allow the vineyard to express itself through the wine."
With the exception of some California vineyards, most American producers don't have enough history to make credible claims about the relationship of the land to the wine—what the French call terroir. They can't compare their histories to European wines from vineyards that have been active for centuries. But that will change as the art of winemaking develops in this country and as consumers become more open-minded about where they get their wine.
Asimov has faith that discerning consumers will resist much-talked-about trends toward globalization and homogenization of wine. People who don't want wines that fit the profile of commercial tastes may be a minority, but they are being catered to as never before, and they are responsible for a global boom in fine wines.
These consumers create the market for winemakers such as Morgan, who buys expensive French oak barrels every year as part of his exacting cellar technique. Despite the efforts of scientists to unravel the chemistry of wine, winemaking remains very much an art. Two winemakers, he points out, can take exactly the same grapes and produce very different wines.
The allure of this art leads Rubissow back from her busy life in San Francisco to the vineyard in the hills.
"The shapes and secrets of the land have become familiar to me," she says. She knows the dry spots where the leaves turn brown early in the season, the wet spots with too many grapes for good quality wine, and the dips where early frosts can set grapes back.
"These days it's hard to keep up a small family farm," she says. "It's hard to pass a dream from one generation to the next. But I have come to love this land and this life at nature's whim."
For more information, please see:
www.rubissowsargent.com
www.solorosawines.com/
www.thepour.blogs.nytimes.com/
www.bouchaine.com/
www.chandon.com/
lberglund@mba1991.hbs.edu (Lesley Berglund invites
e-mail inquiries.)