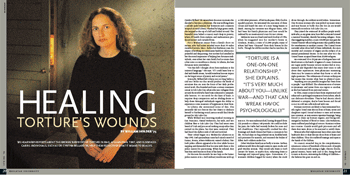 CYNTHIA WILLARD '88 REMEMBERS THE EXACT MOMENT she decided to become a physician. She was walking down a red-dirt path between her dormitory and a mission hospital in rural Liberia. Flanked by large green reeds, she stopped at the top of a hill and looked around. The beautiful vista belied a country sunk deep in poverty, where ill health from malaria and malnutrition produced misery and curtailed lives.
For a Wesleyan junior from a family short on money, who had never traveled more than 30 miles outside Danvers, Mass., before her freshman year, the impact of working on community health in Liberia was powerful and disquieting. Her mother had instilled in her the moral imperative of helping less fortunate individuals, even when her own family had no more than a few coins to contribute to charity. In Liberia, the less fortunate were everywhere.
"On that hill I thought about how medicine is the universal language," she says. "If I could learn how to deal with health issues, I would somehow have an impact on the larger issues of poverty and social justice."
Ironically, Willard left Liberia not too long before a civil war broke out that would produce the kinds of atrocities that are now the focus of her daily professional work. She founded and runs a torture treatment center in Salt Lake City, where she sees refugees from around the world who have been subjected to unspeakable horrors. It's not work for the faint of heart. It requires deep compassion and an abiding desire to help these damaged individuals regain the ability to experience some measure of happiness in their lives.
In Liberia she envisioned none of this. She assuredly did not foresee that her desire to dedicate herself to furthering social justice would find fertile ground in Salt Lake City.
While Willard was receiving medical training in San Francisco, Kemal Mehinovic, his wife, and two children flew to Salt Lake City. They had never even heard of Utah and possessed nothing except what they carried on the plane, but they were overjoyed. They had faced the darkest side of evil and survived.
Their ordeal began on a Wednesday afternoon in May 1992. Serb paramilitary units had seized control of Samac, Bosnia, where Mehinovic owned a bakery. Two Serb police officers appeared at his door while he was napping and demanded that he come with them to the police station for questioning. When he refused, they beat him with batons in front of his family.
For the next five months he was kept at the Samac police station or in a Serb military warehouse with up to 300 other prisoners, all fed inadequate, filthy food in squalid quarters. He witnessed the execution of three Croats and heard the cries of a man being beaten to death. Among his torturers was Blagoje Simic, who had been his family physician and later would be indicted by an international court for war crimes.
Mehinovic was not freed until mid-October of 1994, when he staggered into his mother's home in Gradacac, Bosnia, a town of 55,000 people, many of whom had been "cleansed" from their homes by the Serbs. Though he told his mother that he was fine, he was not. He was malnourished, having dropped from 225 pounds to a skinny 140 pounds. He could not hide his pain; the Serbs had recently broken his nose and left cheekbone. They repeatedly cracked his ribs. Beatings and death threats had been a constant in his life. He had slept on bug-infested straw, huddled with sick prisoners for warmth, and retrieved the bodies of fallen Serb soldiers under fire.
Other Muslims fared just as badly or worse. Serbian soldiers would drive through towns in open trucks and grab Muslim women. They would take them to Serb centers for hours, or maybe days, subjecting them to beatings and repeated gang rapes. Sometimes, if a woman's children begged for mercy when the truck drove through, the soldiers would relent. Sometimes. One Bosnian woman who was picked up many times and was beaten so badly that she lost an eye would eventually resettle in Salt Lake City, too.
They joined the estimated 20 million people worldwide who, at any given time, have fled a crisis and crossed a national boundary, thereby becoming refugees. From that staggering number, a scant 150,000 per year gain the United Nations' official refugee status that qualifies them for resettlement in another country. The United States currently takes about half of these individuals; the exact number and countries of origins are the subject of an annual presidential decree. In the year after 9/11 the United States accepted fewer than 20,000 refugees.
An estimated 10 to 30 percent of refugees have suffered torture at the hands of agents of a state. Estimates are vague partly because torture victims feel so traumatized and degraded that many don't want to talk about their experiences. Even physicians examining them may be unaware unless they know to ask the right questions. The refinement of torture techniques has meant that victims often bear no physical scars.
"Anything you can possibly imagine has been done to people," says Willard. The administration of torture is systematic and varies from one region to another, as she has learned from personal stories.
In Tibet, many activists have been imprisoned and subjected to prolonged suspension from rafters, which can dislocate shoulders. They've had electric shock delivered to armpits; they've been beaten and forced to stay in cold wet cells infested with rats.
Bosnian survivors are likely to have witnessed horrific sights: loved ones shot in front of them; wives and daughters raped. Sexual violence to men and women was common, as were severe repetitive beatings, being forced to clean up human organs, and being submerged in buckets of blood or vomit. Like Mehinovic, many suffered psychological torture. Russian roulette was routine. Guards would grab prisoners and tell them they were about to be executed to terrify them.
Women who fled Afghanistan have often seen their husbands shot or their throats slit in front of them and their children. They also suffered beatings and rapes at the hands of the Taliban.
No country exceeded Iraq in the comprehensive, systematic torture of hundreds of thousands of people whose stories are still coming to light. Electric shocks, genital trauma, burns with acid or fire, being forced to stare at the sun, witnessing the killing of children—the hideous list goes on and on.
Torture is not the most efficient way to extract information from people, Willard points out. Its real impact is to degrade and silence. In Bosnia, the random taking of people terrorized whole communities.
Organized treatment of torture victims dates to the early 1970s with the establishment of the Rehabilitation and Research Centre for Torture Victims in Copenhagen. Not until 1985 did the United States acquire its first clinic when the Center for Victims of Torture opened in Minneapolis, then only the third center in the world. Today there are 30 U.S. groups, large and small, that specialize in torture treatment. They all have long waiting lists. No one knows the full extent of need among refugees.
"The goal with the torture treatment movement," says Willard, "is not just to work with individual clients. It's always been to shed light on an issue that really gets marginalized. There is something so stigmatizing about what occurs in torture settings that individuals and communities often stay silent. In this way, torture is perpetuated."
At first glance Salt Lake City may seem like an unlikely home for refugees. Flung throughout a high basin at the foot of the Wasatch mountain range, the city is overwhelmingly white and has no historical tradition of being a locus for immigrants. Until 150 years ago, only roaming bands of Ute Indians had any interest in the land, but in 1847 Brigham Young, leader of the Church of Jesus Christ of Latter-day Saints (LDS) decided that this remote spot would be the home for his followers. The Mormons' imposing granite Temple is the city's most striking historic landmark, and behind its symbolism lies a connection to the city's modern-day influx of refugees. Mormon outreach spans the globe; many people in Salt Lake City have lived among different cultures. According to Willard, this diversity of experience has promoted acceptance of refugees.
Salt Lake City also is one of America's fastest growing urban areas. Unemployment and the cost of living are low. These traits led the U.S. State Department to consider it a desirable area for resettlement of refugees, and since 1994 more than 6,000 have arrived.
Willard moved to Salt Lake City in 1999 because her husband, David Igler '88, an academic historian, took a job at the University of Utah. Her own career was in flux. She had received her M.D. degree from Stanford University. During her residency at San Francisco General Hospital, which included a rotation in the Refugee Health Center, she worked with refugees from all over the world—from Vietnam to Afghanistan to Haiti. She empathized with displaced people who faced the imperative of adapting to life in the United States with no preparation. During the summer of 1999, she worked with Kosovan refugees, providing medical care on helicopter and cargo flights. Knowing little about Salt Lake City, she wondered whether she would be able to practice medicine for the reason that still motivated her: to advance a social justice agenda.
She became a staff physician at the University of Utah Community Clinics. To her surprise, she saw many refugees. With her past experience, she knew to ask whether they had survived torture. She also asked whether anyone else had posed that question.
"The answer," she says, "was always 'no.' Nobody else was even asking the question. I realized that education of the healthcare community was needed. Perhaps a clinic, too."
Creating a clinic required expertise she didn't have, so Willard returned to the Bay Area for a year to obtain a master's in public health degree from the University of California at Berkeley. She also needed financial backing and found it through Echoing Green in New York. Lara Galinsky '96, Echoing Green's vice president of strategy, says the foundation acts as an "angel investor" in the social sector, seeking to provide start-up capital and assistance to people with bold ideas for social change.
"Cynthia's organization was one of 12 out of 1,000 applicants we supported in 2002," she says. "We believed that she had an innovative and comprehensive response to a growing problem that has not been adequately addressed: caring for refugee survivors of political torture. We were particularly impressed by her vision that rehabilitation needs to work on the individual, family, and community level."
The clinic—the Utah Health & Human Rights Project—employs six part-time staff and another 25 volunteer professionals in medicine, psychology, nursing, social work, and massage. They saw 20 clients in 2003, the clinic's first year, and obtained additional funding, including a grant from the United Nations that helped them gain recognition as one of the nation's designated torture treatment clinics.
Mehinovic was one of the patients Willard saw in her primary care practice before she started the clinic. "Our program was started for him, in part," she says. "His experience in the concentration camp was worse than any I had heard, and I did not have anywhere to send him for specialized care."
Mehinovic was among the lucky—he survived and eventually reached a safe haven in the United States. After he found his mother, he remained stuck for a month in Gradacac, which was under constant attack from Serb artillery. His wife and children were in a town just 15 miles away, but Serb-controlled territory lay between them. To get there, he had to make an 800-mile journey through central and western Bosnia and part of Croatia, hitchhiking, taking buses, and praying that no one asked for his papers because he had none.
Finally, an hour before midnight, he knocked on his family's front door. His wife and children were amazed and ecstatic. Within 20 minutes, news of his arrival had spread through the refugee community. The party lasted all night.
Since coming to Salt Lake City, Mehinovic has worked in building maintenance and as a delivery driver. Permanent physical and emotional injuries have limited his ability to work, but not his ability to assist others. He is a leader in the Bosnian community and has helped 100 of his neighbors to flee Bosnia.
As the first client of Willard's clinic, he arrived with a high public profile. In 1999 the Salt Lake Tribune published an eight-part series based on a trip he took with two Tribune reporters to retrace his 10-week journey in search of his wife and children. He later testified against men indicted for war crimes at the Hague before the International Criminal Tribunal, and he testified in a civil suit against a Bosnian Serb living in Atlanta.
All of Willard's clients face a huge adaptation to life in the United States. She has been working, for example, with a community of about 200 Afghan women in Salt Lake City who were tortured by the Taliban. Most are now single heads of household, which is a startling role reversal for them.
"They are so socially isolated," Willard says. "They don't speak English, they don't read or write; they have no financial resources; they don't drive. Many of these women have never held a pencil or written in their own language. They are expected to come here and within a couple of months have a job and be self-supporting. It's astonishing when you think about it. It's mind-boggling."
Willard's clinic has assembled a model program that, in addition to treating their torture-related problems, provides these women with a six-month course in navigating the city's public transportation, handling personal finance and banking with an ATM, obtaining housing, applying for jobs, and finding ESL programs.
"We're hoping that by having them meet together they will develop a community, and that's happening," Willard observes.
When you work with torture survivors, she says, you quickly learn not to say, "You've got to be kidding." No matter how bad the story, expressing any kind of disbelief or giving any hint that you might not be able to handle it destroys trust. And restoring trust is the holy grail of the therapeutic relationship.
"Torture is a one-on-one relationship," she explains. "It's very much about you—unlike war—and that can wreak havoc psychologically. Most survivors don't trust their own perceptions of the world; they can't maintain trusting relationships with people or institutions. They often don't feel anything when they're around family or friends. Most torture treatment programs think that the number one thing you can hope to accomplish is to form a trusting relationship."
Torture survivors are often worried about permanent physical damage. They have chronic pain, headaches, and bowel problems. They need reassurance, where possible, that the physical manifestations of their ordeal are not permanent. They also suffer numerous symptoms of post-traumatic stress disorder. They have ongoing nightmares; they suffer from anxiety and depression. Some of Willard's clients fear their nightmares so much that they rarely get more than a few hours of sleep and are constantly exhausted.
Hearing the stories can be traumatic for caregivers. Willard makes sure that any particular caregiver has no more than a couple of clients at any one time. Willard's own difficulties were compounded by giving birth to a baby boy just as she was setting up the clinic, a concordance of events that she hadn't planned.
"When you have children, you become more vulnerable," she says. "You are more emotionally wrought. Stories involving disruption of the parent-child bond were extremely difficult for me. I had a lot of nightmares. Thank God we did not have any clients who had witnessed torture of their children, though that does happen. I feared hearing those stories."
Then there are the victories, all of them small, but poignant. An Iraqi client who had fought in the Iran-Iraq war, only to be imprisoned in one of Saddam's torture chambers, would rant and rave when he first came to the clinic. He trusted no one. He left having rediscovered his ability to trust and informed Willard recently that he had taken a job with Halliburton and was planning to return to Iraq.
The Bosnian woman who lost her eye from beatings, a mother of four, had physical pain and nightmares. She unexpectedly became pregnant last year and gave birth, triggering awful emotions connected to bringing a life into a horrific world. She would come into the clinic and not want to hold her baby. Willard's staff matched her with professional help as well as with a woman her own age who also had a baby.
"She came into our office about three weeks ago," Willard relates, "holding her baby and bouncing him up and down. She had just had her hair done and was wearing makeup for the first time. She brought a cake for all of us. It was a great moment for the staff."
Despite the successes, confronting evil is hard.
"I've gone through dark moments in the last couple of years," she says. "We feel we're helping our clients, but you can't give them back the person they once were, the life they once had. My worldview is a little darker from being immersed in the worst possible stories of human existence."
[Editor's note: The Salt Lake City Tribune's account of Kemal Mehinovic's ordeal is available at:http://www.cja.org/forSurvivors/MehinovicSLCTribuneseries.shtml.Information on Echoing Green is available at echoinggreen.org.]