Indies in the Crosshairs?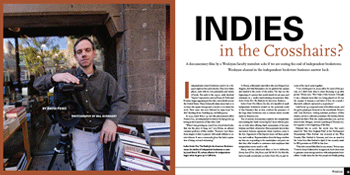 INDEPENDENTLY-OWNED BOOKSTORES USED TO BE A FREQUENT SIGHT IN CITIES AND SUBURBS. They were funky places, each with its own personality and variety of books. But early in the 1990s, eerily identical "big box" superstores, such as Barnes & Noble and Borders, began appearing in the cities and suburbs across the United States. These behemoth chain stores had 10 to 20 times the square footage and as much as 100 times the stock. Their onset was soon followed by many local "indies" shutting down, boarding up, and fading away.
In 1999, Jacob Bricca '93 saw this phenomenon affect Printers Inc., an independent bookstore he had grown up loving in his hometown of Palo Alto, Calif.
"When I was growing up, even if you weren't into books, that was the place to hang out," says Bricca, an adjunct assistant professor of film studies. "Everyone went there, from singles to kids to parents with small children to senior citizens. It was a community place that had a reputation of being cool and welcoming."
So Bricca, a filmmaker and editor who was living in Los Angeles, did what filmmakers do: he grabbed his camera and headed to the center of the action. The trip was the beginning of a project that would stretch for six years and culminate in a multi-award-winning documentary film, Indies Under Fire: The Battle for the American Bookstore.
Indies Under Fire follows the fate of a handful of small independent bookstores located on the peninsula south of San Francisco Bay as they confront the pressures of the large chain bookstores and, to a lesser extent, inroads made by Amazon.com.
The 56-minute documentary explores the complexities surrounding the "indie versus big box" issue with key players on both sides offering frank assessments of the marketplace and their adversaries. Bricca presents face-to-face encounters between opponents whose emotions come to the fore. Opponents of the big box stores call them predatory and soulless. Representatives from the large retailers say they are responding to the marketplace and point out that they offer benefits to customers and employees that independents never could or will.
Bricca, who has edited such films as Lost in LaMancha, Jimmy Scott If You Only Knew, and Tell Me Do You Miss Me, had to handle several jobs on Indies Under Fire, in part because of the way it came together.
"I was working in L.A. as an editor for most of the process, so I didn't have time to chase financing or go after grants," Bricca says. "But I kept at this because I thought it was a dynamic issue that was being played out all over the country. It became a real labor of love. As a result, I directed it, edited it, and acted as co-producer."
Josh Ferrar '93 composed some of the film's music, and his guitar playing is featured on the soundtrack. Bricca's wife, Lisa Molomot, visiting assistant professor of film studies, served as editorial consultant. His brother, David, created the film's Web site, indiesunderfire.com, and his sister-in-law, Morgan, created a painting of Printers Inc. that appears at the beginning of the film.
Released late in 2006, the movie won that year's award for "Best New England Film" at the Newburyport Documentary Film Festival, was screened at the Wine Country Film Festival in Sonoma, and won an award at the Santa Cruz film festival in April. It also recently made its PBS premiere on KTEH in San Jose.
"This isn't a monolithic film by any means," Bricca says. "I tried to keep it balanced in its approach, but it does seem to generate some strong emotions with independent booksellers. I really enjoy the fact that people are finally getting to see it. It was a lot of work. It's nice to know it's resonating with audiences."
The film portrays an extremely tough business landscape for independent bookstores that looks to become even more of a challenge in the future. But are indies, caught between the big boxes and the behemoth of Amazon.com, headed for extinction?
In a 2006 article in USA Today, a representative from the American Bookseller's Association stated that during the 1990s, indies comprised more than "4,500 merchants with 7,000 locations. Today: 1,800 with 2,500 stores." Although there has been a bit of a rebound during the last few years, the article says closings still outnumber new store openings.
"It is very difficult out there for independent booksellers," says Dick Noyes '52. Noyes is the former owner and manager of The Chinook Bookshop of Colorado Springs, Colo. He closed the store in 2004, retiring after 45 years in the business. Noyes said that the first 40 years were very successful. But with the advent of the big box stores and Amazon.com, turning a profit became much more difficult.
"We had more than 10,000 square feet, and our staff comprised dedicated, competent people who were knowledgeable about books and what our customers liked. We had an extensive stock of book titles. We'd also stock titles that may not have high turnover but that were necessary to make each section complete."
Noyes says that the big chain stores and Amazon received discounts on stock he could never get and could make huge price cuts that he couldn't afford.
"If I hadn't been ready to retire, I probably would have been considering it because it was getting to be too much work just trying to turn a modest profit."
This isn't to say it can't be done, says Hamilton "Tony" Allen '59, owner of Barrington Books in Barrington, R.I. "Being an independent bookseller is a tough business; that's for sure, but you can be successful in the current environment."
Allen speaks from more than 20 years of experience. He began his career as a bookseller in 1986 when the terms "Internet" and "big box stores" were virtually unknown. While the competition has become much more intense with the ascension of the megastores and Amazon, he's been able to stay in business and grow by paying attention to "the important things."
"You have to really be invested in customer service," he says. "We have customers who have been with us since the beginning. That doesn't happen by accident. A big part of that is training your staff properly and retaining good people. People on my staff have been with me for an average of nine years. They know our customers and work hard to know what they like."
The approach is essential, Allen says, with a Barnes & Noble close by, and Amazon.com just a click away.
"Of the two, Amazon has affected our business more, I think. But it's also produced some positive effects, as well," he says. "Our customers have learned we can get special orders for them in one to two days, and usually at prices very competitive with Amazon's once you add in their shipping costs. Often they call us with a book from Amazon on their computer screen asking if we can get it for them. A couple of days later they are in the store picking it up."
Allen also has responded by providing services for used and rare books that his customer might otherwise find online.
Like the large retailers, Allen hosts events designed to bring people into his store, including a "Harry Potter Night" this past summer that was timed with the release of the final book in J.K. Rowling's popular series. More than 300 people came in for the midnight event. And Allen is always looking for additional ways to add new customers.
"I started carrying magazines a few years ago, more than 800 titles," he says. "That brings people to the store who may never have come in before. Next thing you know they are buying books, too."
As for the predatory practices of the big chains, Allen admits they are aggressive. But he says that's just business.
"What they do is done in every business," he says. "You see a McDonald's go up and right near it comes a Burger King, a Wendy's, a Taco Bell. Sure those big stores have 10 times the square footage and stock that I have. It just makes us work harder. And so far, it's paid off. In fact we've not only been surviving, business has been good."
Business has been good for Crawford Doyle Booksellers, an independent bookstore on Madison Avenue in New York City managed by Thomas Talbot '91. New York City was once a haven for independent booksellers, but with the growth of Barnes & Noble throughout the city, as well as rising real estate prices, many of the city's indies have gone under.
"Actually, business has been increasing for us over the last few years," says Talbot, who has managed the bookstore for roughly half of its 12 years.
This is true despite the presence of a Barnes & Noble just a few blocks away. He also notes that Crawford Doyle, though comprising only about 750 square feet and stocking about 10,000 books, never discounts prices or has special events such as book signings or author readings. Still business is good, largely thanks to the store's location and customer service.
"We are in a neighborhood where the people are serious about their books," Talbot says. "We also get a good walk-in business from tourists because we are near the Metropolitan Museum of Art and other Upper East Side museums. We have a knowledgeable staff of 'book people' who are devoted to their work and our customers. We also have titles here that might not be readily found at some of the big box stores, especially in serious fiction, nonfiction, literature, and poetry. It's pretty clear what the store's focus is when you come in."
The store, however, has been affected by Amazon.com. "New Yorkers want what they want as quickly as possible," he says. "If we don't have a specific title on hand, some of our customers will go online. But they still come back to the store the next time they want a book. I think a lot of our customers see us as part of the neighborhood."
Eve P. Sheehan '90 believes independent bookstore dealers succeed precisely because of the competition from other retailers.
"If you are making it as an independent dealer, that's because you are a good business person who is taking the time and the energy needed to be successful."
Sheehan is the senior buyer for Pendragon Books and Pegasus Books, a three-store operation in the California's Bay Area that has been around for more than 35 years. Sheehan began with Pendragon and Pegasus soon after graduating from Wesleyan and has worked in virtually every position in the business, including store manager.
"There seems to be a stereotype about independent booksellers that we are sort of the meek little mom-and-pop stores that the big box goliaths and Amazon are waiting to gobble up," she says. "In fact, those of us who are successful are smart, strategically thinking businesspeople who pay attention to our customers' needs and what's happening in the marketplace. We know what we are doing and work hard at it."
The Pendragon and Pegasus stores have been able to differentiate themselves from competitors by selling carefully selected new and used books. They also focus on knowing their customers' tastes and employing staff who are passionate about books and reading. This goes a long way, especially when competition comes in close.
"Barnes & Noble opened one of their big box stores right across the street from our Berkeley store about seven years ago," she says. "They shut it down last year, but our store is still going strong. I'm not saying we put them out of business, but we were able to grow while they had problems getting traction."
Grey Angell '89 owns and operates Bookends, an independent bookstore near Northampton, Mass., located in a building that used to house a small bowling alley. Angell sells some new books, but the bulk of his trade is in used books, along with a small assortment of used CDs, DVDs, and videos. He says the big box stores haven't affected his business as much as the online retailers.
"But the Internet gives as much as it takes away," Angell says. "I sell a lot of books online as well."
Angell says customers are drawn to his store because he stocks more than 30,000 different titles, and that the rapid turnover in stock brings people back, along with his customer service.
"I've had customers come in looking for a book saying Barnes & Noble told them it wasn't available," Angell says. "What that usually means is Barnes & Noble didn't have it in their warehouse. But whatever it is, I can usually get it for them."
Angell believes independent bookstores of all types will continue to survive as long as there are people who are willing to run them.
"No one will get rich doing this, but you can make a living because people who love books are still drawn to places run by people who know their names and who love books, too. I think there is a certain feeling you get at a store like this that you can't get at a superstore or online. It's like a little piece of the community, a friendly neighbor with a comfortable place to come and browse and see the broad variety of titles offered. I think certain people will always respond to that and want to be around it."