Making Her Own Luck: Michele Barnwell '89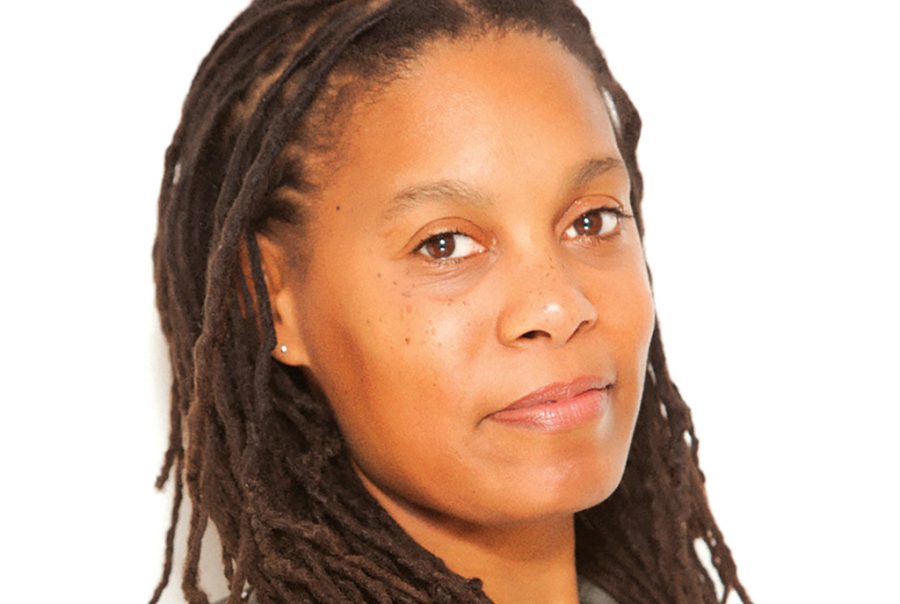 A formative early experience inspired Michele Barnwell '89 to support others in taking charge of their personal narratives. Years later, she came to terms with her own.
When Michele Barnwell was a child, she wrote down everything. She practically lived inside her one thesaurus, engaged by word nuances. The way her mother, Marilyn Scudder Barnwell, remembers it, Michele made a habit of writing and leaving notes around the house for her mother, just tidbits scribbled on pieces of paper. "One such note," Scudder Barnwell recalls, "simply said, 'You're doing a good job.' She was maybe nine years old. She's always had an insightful sensibility, the ability to key into the stories of people around her and a clear voice. Even at nine, she was this way."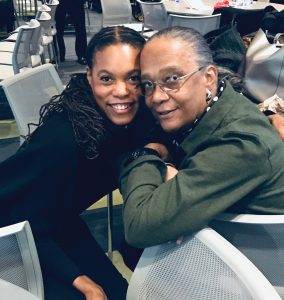 "I'm her mother," she said, "but she's my role model."
Argue and then Go Eat
Michele Barnwell took her childhood certainty that every human being has their own uniquely meaningful story and parlayed it into a thriving career producing documentary and unscripted content, story consulting, and also writing/scripting the stories she hopes to see. Authentic storytelling, Barnwell believes, has the power to catalyze empathy across communities.
"If you emotionally connect with someone whose life choices or experiences you don't understand, or deeply disagree with, chances are you'll see their humanity and hopefully begin challenging your own core beliefs," she said.
Barnwell's work includes thoughtful, provocative pieces like Netflix's Flint Town, an eight-part docuseries that premiered in 2018 and looks at policing in America through the eyes of Flint, Michigan's cops and its community. The series received two Critics Choice Documentary Award nominations, an International Documentary Association nomination, and a great amount of praise. The Guardian called it an "incredible portrait of a town in crisis" and Vogue said it was a "mesmerizing and troubling portrait of police and race in small-city America."
Through her own production company, Reel Roost, she produced Party Girls: Exploring Politics Across America, a short-form nonfiction web series that followed six first-time voters—a Republican, an Independent, an undecided and three Democrats, all young women of color—as they traversed the country debating the issues and honing their positions in advance of the 2016 presidential election. Barnwell created the project to provide a platform for a voting bloc that she says "everyone was pandering to, yet few were actually listening to at all. It was an opportunity to amplify their voices and also create conversation across party lines and political beliefs."
She first grew to love this sort of dynamic during her days as an undergrad at Wesleyan.
"At Wes, I sometimes had those intellectual sparring matches that lasted all night," she said. "Then the sun comes up and it's, 'Oh, let's see what's open, let's go eat.' The idea that you could passionately disagree, make your case, and still (usually) be friends was such a Wesleyan thing."
From Wes to TED
But Barnwell almost didn't get into Wesleyan. As a high school senior, the dedicated student, a self-described nerd, was puzzled when she began receiving a spate of college rejections. It wasn't until she and her mother drove up from Manhattan to meet with a Wesleyan admission officer that they discovered what really had happened: Her guidance counselor, who had already attempted to steer Barnwell toward "less rigorous" schools than Wes, had handwritten in and submitted significantly lower grades on Barnwell's high school transcripts, giving way to disastrous results. As Barnwell later put it, "I believe, that in the world of college admissions, and in our media landscape, there are sometimes people making decisions for you about where you belong."
"This is a common story," Scudder Barnwell said. "The only thing that's different about her story is Wesleyan." After Barnwell and her mother left Wesleyan that day, the admission officer investigated, calling her high school guidance counselor to get to the bottom of things. The guidance counselor admitted to sending in the wrong grades, sent in the correct grades, and that night Wesleyan made a call to Barnwell. She was accepted into the Class of 1989, just before the semester started. "Wesleyan never hesitated to pursue the matter, reconsider, and then reverse their [rejection] decision as soon as they saw what happened," Scudder Barnwell said. "It was a moment we'll never forget."
Though Barnwell's undergraduate experience impacted her current sensibility, she held close her brush with an alternate destiny—one where she didn't spend four formative years exploring her own creative and intellectual sensibilities at Wesleyan—until she took the stage at a TEDx event in Washington, D.C., on December 5 of last year and shared her story publicly for the first time.
She gave a TEDx talk that focused her college admissions experience toward inspiring listeners to push back against the false narratives others assign to you or your community and to seek out "your real reality or your true potential," disempowering falsely constructed racist, xenophobic, and otherwise damaging narratives that only serve the interests of others.
As her mom and four Wesleyan friends watched from the audience, Barnwell told her story and laid down a burden she had spent decades subconsciously carrying.
"The second I stepped off of that stage, I seriously wanted to burst into (happy) tears. Sounds corny, but I felt free. A weight was lifted. I felt empowered. It was as if I had taken back my story."
Barnwell's college bestie, Jacqueline Wheeler Lee '89, was in the audience for the TEDx and says, "When I saw her senior thesis play, that was my first glimpse of Michele as a storyteller. It doesn't surprise me that she has become a master of story professionally because she has always been interested in understanding people in a way that impresses me."
They met at the beginning of freshman year, purchasing textbooks together, at what was Atticus Bookstore back then, and have been friends from that day.
Thirty-four years later, Lee watched her friend take the stage.
"Because we're so close, I experienced what she was experiencing vicariously," Lee said. "The nerves, how big it all felt, the desire to remember every word. I was very tense throughout her talk and looked around at people's reactions. I felt very protective of her in that moment."
Scudder Barnwell was having a similar experience.
"It blew me away to watch her that day. It felt like a full circle moment. I had never gotten emotional about her experience of getting into her dream school after all of what she went through at the time. I think I was just Mama Bear protecting her cub, but when I got to hear her link that experience together and call us all to action, so to speak, by asking those questions that get in the way . . . I was a mess (of tears)," she said.
Full Circle
Their reactions were understandable. It took Barnwell months of emotional work before she felt ready to display the vulnerability necessary to become the center of her own production.
"When I was prepping for the TEDx, I felt everything but courageous—especially when I heard there would be no teleprompters nor confidence monitors to help me remember everything. I mean, I come home and two minutes later I don't remember where I put my phone down. Oh but now you want me to remember an entire speech AND deliver it conversationally? Just, nope. I was scared for sure."
"First thing I did," Barnwell recalls, "was to sign up for improv classes—figuring, I need to make an epic fool of myself here first." Then, she began working with a voice/public speaking coach. Weeks into her work with the coach, they realized they were Wesleyan classmates (who hadn't known each other at Wesleyan).
"It was straight-crazy, absolutely symbolic, and so very special too. We'd already bonded, so having the Wes connection was extra grounding."
Barnwell's voice/public speaking coach, Saul Kotzubei '89, reflects back on the same moment and their work together:
"We had cultivated a shared sensibility, sensitivity, and mutual respect. The work with Michele—watching her explore her boundaries in ways that truly humbled me—was so touching and enjoyable. She's a force, capable of profound depth and nuance. That was clear. Then discovering that we both had gone to Wes, and were classmates, that was a jaw-is-now-dropping-to-the-floor moment. But it also made me smile because it somehow made perfect sense."
"As surprising as that was to learn that Saul and I were classmates" Barnwell added, "it was also comforting. I've found so much Wesleyan everywhere I go in the real world post-college. Either you find your people or your people find you. But either way, no matter what, finding Wesleyan people out in the world seems to always feel like I've found my way back home."
Read more from Michele Barnwell on How to Take Charge of Your Own Story.