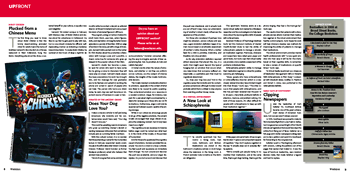 The first thing you need to know about Robot Chicken is that this Emmy Award-winning animated show for adults bears the name of Matthew Senreich's favorite dish at a Chinese restaurant in West Hollywood, Kung Pao Bistro. Everything else about the show, a sustained takeoff on pop culture, is equally crazy and delightful.
Senreich '96 visited campus in February with hilarious clips of Robot Chicken and stories about his adventures in Hollywood. He likes to say that he gets paid to play with toys, but no one should mistake his offhand, self-deprecating manner as indicating a tendency toward slouchdom. To create Robot Chicken, he survived on two hours of sleep a night for six months while he worked a day job as editorial director at Wizard Entertainment and pursued his vision of animated figures in off-hours.
The program, airing on Cartoon Network's Adult Swim block, uses toys, action figures, dolls, and claymation. Among the better known episodes is a parody of Star Wars. With an edge of wonder in his voice, yet with a tinge of chutzpah, Senreich told a packed room in the Center for Film Studies about his productive collaboration with George Lucas and Lucasfilm, a dream come true for someone who grew up steeped in the popular culture of Star Wars.
Senreich's studio has become a popular spot for actors who want to have some fun by giving a voice to characters they will never play on screen. Senreich clearly enjoys the many associations his work has brought him, and his message for new graduates was to be fearless and patient in working the phone and e-mail in search of people who can help. The person who turns you down today, he said, may very well become an important source of business in a year or two.
Download  a PDF of the complete article HERE