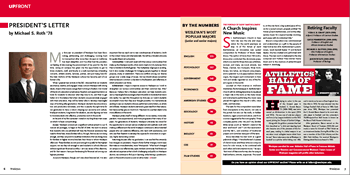 Helping to usher in the use of the forward pass in football, C. Everett Bacon '13 (1890–1989) was twice named an All-American in the sport (1910 and 1912). He was one of only two players not from an Ivy League institution on the 1912 squad, joining Jim Thorpe of Carlisle College.
Along with his gridiron prowess that had him described as "a slick and dazzling back who became one of the pioneers of the forward pass, making it a lethal weapon in an era when most collegiate teams shied from its use," Bacon also was a star at Wesleyan in baseball as a pitcher while hitting over .400, and in tennis as he won a New England doubles title in 1910. He was inducted into the College Football Hall of Fame in 1966. Each year since 1936, Wesleyan has presented the C. Everett Bacon Award to its most valuable player in football, and the university's 70,000-square-foot field house is known as the Bacon Field House in his honor.
After graduation, Bacon served on the Wesleyan Board of Trustees (1933–60) and made a name for himself on Wall Street as an investment banker. During World War I, he was a member of the 312th Infantry and the 48th Field Artillery. He received Wesleyan's Distinguished Alumnus Award in 1965.