THE PORTALS OF SAINT BARTHOLOMEW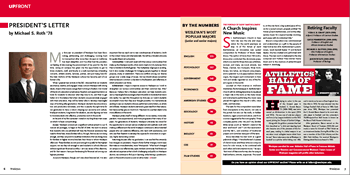 St. Bartholomew's Church in New York City was the site and inspiration for the world premiere on May 14 of The Portals of Saint Bartholomew, an innovative new spatial composition by Professor of Music Neely Bruce. The author of more than 700 works, Bruce also conducted the 40-minute piece, which is scored for three choruses (children, women, and men), six vocal soloists, two flutes, clarinet, two trumpets, three trombones, two tubas, six timpani (one player), and a splendid 12,422-pipe Aeolian-Skinner organ, the largest such instrument in New York and widely regarded as one of the finest organs in the world.
Located on Park Avenue in midtown Manhattan, the Romanesque St. Bartholomew's Church with its striking Byzantine dome played a major role in the work, as the many voices and instruments performing the music were placed throughout the church's lofts, choir stalls, and balconies.
The texts for the composition were taken from inscriptions in the church, not only in the portals but also on the walls, in hidden locations, signs around and about, and from sources suggested by the iconography. Three complete psalms (100, 148, and 150), familiar Bible verses (such as "Behold I stand at the door and knock" and "I am the resurrection and the life"), and snatches of traditional prayers and canticles were part of the texts.
Bruce describes his new work as a giant polytonal collage. "I have fashioned 23 pieces of choral music and three virtuoso compositions for solo voices, to be combined with each other and instrumental music," he says. "But most of these works may also be sung as brief anthems, introits, responses. The result is, on the one hand, a big spatial piece of music for a sacred concert, properly entitled The Portals of Saint Bartholomew, and on the other, service music for a typical Sunday morning, each piece with its individual title."
Bruce's composition was commissioned and underwritten as a gift to the people of New York by two of St. Bartholomew's parishioners, Sarah Kendall Bayles '77 and Richard Bayles. She has studied and performed with Bruce. The new work is dedicated to the late composer and Pulitzer Prize winner Henry Brant and to the memory of philanthropist Robert H. Brimberg.