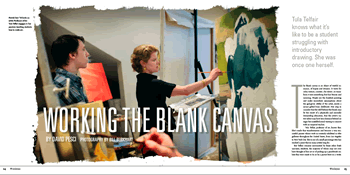 The blank canvas is an object of wistful romance, of hopes and dreams. It waits for color, texture, context—for talent—to transform it into something that has beauty and meaning. People see the finished painting and make immediate assumptions about the god-given ability of the artist, surely a savant gifted from childhood. Few stop to consider that the skill behind the brush may be the result of a physically and mentally demanding education, that the artist's native talent may have lain dormant behind an eager but unskilled mind waiting to connect with an inspired teacher.
Tula Telfair, professor of art, knows this. She's made that transformation and become a very successful painter whose work is routinely exhibited in elite galleries throughout the United States, from Los Angeles to New York City. She is one of a small percentage who has reached a point that so many artists long for.
But Telfair remains surrounded by those other fresh canvases, students, the majority of whom may not ever have thought of fine art or of picking up a paintbrush unless they were made to do so by a parent bent on a weekend of home improvement. These are the "non-savants," students who don't intend to major in art, who may never have drawn anything beyond a stick figure, but who signed up for an introductory drawing class because it sounded cool or?well, why not? Or perhaps found themselves in her class because it fit their schedule that semester.
In short, these are the students that faculty at so many other institutions don't have time for, and leave for graduate students to teach in "Art 101" classes.
Yet these are the very students whom Tula Telfair craves. In fact, she was one of them once herself. Well, except for the part where they willingly signed up for the course.
"In order to graduate from high school, I was required to take my first serious art class," Telfair says. "I was sure I would fail miserably and be perceived as completely incompetent and inept."
But as soon as she picked up a pencil, her talent arose. People were shocked and amazed at her incredible natural ability—right?
"All my fears were fully realized in the first week. There was no doubt in anyone's mind that I was one of the least skilled in the class."
An honors student all through school, she was now bringing up the rear in a general-level course in a huge public high school. Even hardcore C and D students were doing significantly better than she was. Telfair was miserable.
"I was too embarrassed to ask for help, so I decided that, somehow, some way, I was going to figure out how to gain the skills necessary to make work that other people could appreciate."
She went to the library and checked out books of drawings by the only two artists she knew of at the time: Leonardo da Vinci and Michelangelo. They would be her teachers.
She began by tracing their drawings, and then moved to freehand copying. Her first attempts, by her own accounts, were "pathetic," but she persisted. Within a few months she became the go-to person for peers in her class who needed help. By the end of the year, her teacher, who did graphic design jobs on the side for large companies like DuPont, was subcontracting Telfair to produce some of the designs. That summer, she was also selected to attend the prestigious Pennsylvania Governor's School for the Arts. By her senior year, Telfair was considering art as a career.
"I was deciding between engineering and either scientific or medical illustration," she says. "Ultimately, I decided to go to art school to be a medical illustrator. After graduating from art school, I would attend medical school to finish the training. That was the plan."
Of course, there's that thing about plans: as soon as we make them, life usually intervenes and alters them. This happened to Telfair during her first year of college when, on the advice of her drawing professor, she decided to become a painting major instead.
"I never considered fine art a career option. It was completely off my radar. I thought that in art schools students primarily focused on learning the necessary skills for careers in commercial art. The first real painter I met was my drawing professor. His discussions about the subject were captivating. I discovered that painting was something I could choose to do, and something completely different from commercial art," Telfair says, her voice rising a bit with wonder. "Painters don't do 'jobs' for anyone else, they work for themselves and on their own. They work entirely from scratch!"
That prospect was scary. It also presented tremendous challenges. Naturally, she became intrigued.
Painting contains an undeniable physicality that Telfair found exciting. She loved the problem-solving component: all a painter had to work with was paint, tools with which to apply it, and a support. These limited materials offer multitudes of options for artists. They can represent what is observed, what is felt, they can ask questions, they can be formal objects, and they can express conditions and explore the deepest universal questions, ones Telfair had studied in her philosophy classes. She knew that the challenges she would face would be significant, and that she would need to find an audience for her work.
"It's not easy to define what 'rules' you will set for yourself as a painter," she says. "Making the thoughtful independent judgments necessary to create meaningful work requires a self-critical nature. You ask yourself many questions: what will I say, and how can I best express it with paint? How do I create something that people will want to look at and spend time with? Can it reflect the time we live in, and yet be universal? How can I make work that will move people?"
Telfair was persistent in her studies, and her skills developed quickly as a result. She also had the essential attribute that most artists contend can't be taught—a sense of color, shape, proportion, and composition that's known as "a good eye." She believed that the life of a painter would be much more interesting and challenging than that of a work-for-hire commercial artist. However, there would be fewer guarantees and no safety net.
"I was excited when I decided I wanted to become a painter."
The hardest part, however, might be breaking the news to her mother, a single parent with conventional views. Telfair had the advantage of having been awarded a full academic scholarship to college, but the leverage that provided was limited.
"Although I knew that telling my mother I wanted to become a painter wouldn't make her happy, I had no idea just how upset she would get." Telfair says. "She didn't handle well the fact that her daughter was going to do something that had no practical application. She was concerned that I wouldn't be able to support myself and didn't want to witness the results of my choice. It was a very difficult time for us. As the years went by, it became apparent to her that I wasn't going to change my mind about being a painter. When she could see that my work was gaining respect and that I would probably be able to 'survive,' she breathed a sigh of relief and became a fan."
When Telfair told her father, a geological mining engineer, with whom she hadn't had much interaction over the years, he was thrilled.
"Actually, he told me years later that he wept with joy after he heard the news," Telfair says. "I was surprised to discover that when he was young, he too wanted to be an artist. But before World War II, smart boys had to attend excellent universities and gain a practical education. Luckily, he passionately loved the work he pursued, and it was a goal of mine to love what I would do as much."
Observing her professors, she realized that she might enjoy teaching on a university level, so attending graduate school would be essential.
"The majority of contemporary artists, whose work I respected at the time, taught on the university level and seemed to enjoy it," she says. "I was also aware that the odds of my being able to support myself on my work alone would be slim to none. I thought then, and now know, that it is indeed a privilege to be in a position to help young people realize their potential as artists."
Throughout undergraduate and graduate school, Telfair was selling her work to collectors and winning awards. Her paintings and drawings were included in group exhibitions in established galleries. One of those galleries decided to represent her, and she had her first large solo exhibition in New York City.
"I was lucky," Telfair says. "Expressionism was very hot at the time, so when I started showing my work, it stood out as very different. It was extremely theatrical and very realistic."
It was also different from what Telfair does today. In fact, virtually all of her early work was figurative, focusing on the human form, or complex industrial still lifes. Most of her time in the studio was focused on her own work, but occasionally she accepted portrait commissions. Around the time of her first solo exhibition, she was hired by a community college in Dutchess County, N.Y., to teach several studio courses.
"I loved it. I felt that I was really good at it, and that I could teach almost anyone to draw who wanted to put the time and effort in to learn."
Unfortunately, the job was part-time.
"I wanted to teach full-time, be part of an academic community, and there were simply no opportunities in the area. Professionally, I was busy painting and exhibiting, but the prospects for finding a tenure-track position in painting within a two-hour driving distance from where I lived were nonexistent. I was miserable and getting frustrated. At one point, I was actually considering giving it all up and going back to school."
Then Wesleyan University posted two position openings in the Department of Art and Art History, one for the Sullivan Visiting Artist in drawing; the other was for a tenure-track professor in painting. Telfair thought she was qualified for both, but worried that her experience working part-time at a community college would probably eliminate her chances of being selected for the tenure-track job. She decided she wouldn't exclude herself.
"I sent them a letter and some slides saying I was applying for the position. I didn't specify which one."
The slides included a number of drawings and a few of her paintings. The search committee informed her that she was being considered for both positions. She thought she had a great interview and believed she was a leading candidate for the visiting artist position. A few weeks later she received a call and was informed that someone else had been hired for that job. Then she was told that she was a finalist for the tenure-track slot.
"Her work was beautiful—both the underlying drawing and the incredible facility with paint, especially evident in quick landscape oil sketches, and she was very articulate," says David Schorr, professor of art, who was on the hiring committee. "It seemed a somewhat risky hire. Painting is, after all, harder to teach than any other medium. Its quicksilver nature means that a student has to be getting it right all the time, or it eludes. But, of course, Tula does it brilliantly."
Not only was she a success in the classroom, she received tenure and was promoted early to associate professor.
Around the time Telfair was tenured, a gallery owner saw dozens of small landscape studies drying on the floor in her studio. These were oil-on-paper color studies for her larger paintings. The dealer was visibly excited and invited Telfair to be one of three artists in a landscape exhibition in her gallery later that year.
"She asked if I would be interested. 'Of course not,' I told her," Telfair says. "They were just quick studies, not finished work. And I didn't 'do' landscapes. That was not the work I exhibit."
The art dealer insisted that they were powerful and unique images, that they would make quite an impression on collectors. Telfair learned in school that artists should never change their "style," especially once they're established, so she was hesitant to agree. This was a step beyond a mere change in style. She'd be leaving the human form behind for a subject she'd never taken very seriously: the landscape.
"I was concerned about how the work would be understood and received. Would it do what I wanted it to? It was a completely different way of seeing, and a new way of working. In short, a whole different world," she says. "I felt that if I exhibited these landscape paintings, there might be no going back. I'd be taking a huge risk. I was nervous, and my dealers were nervous, but the more I considered it, the more I thought, 'why not.'"
The art dealer's hunch about Telfair's landscape paintings started to pay off—literally. The paintings began selling almost as soon as they went on exhibit and drew critical acclaim. And yet the landscapes, which she does on large canvases, are not renderings of real places. They are completely drawn from her imagination.
"They're places that are alternately welcoming and forbidding," she says. "It's very much about the epic, and the awe that nature inspires, of weather, and of the poetic. I paint grand and solitary places."
Her success escalated, and within a few years, Telfair was in a position that most artists can only dream of—she could leave her university job and teaching behind forever and live quite comfortably.
But that was not what Telfair wanted to do.
"I love teaching as much as I love painting," she says.
And that's not just a university professor blithely uttering the university line. Telfair now has a studio and a home in Manhattan. Shows of her work, like her most recent at the Forum Gallery in Beverly Hills this past spring, draw collectors from all over the world and typically sell out. Even though she could easily paint full-time, she gladly makes the commute up to Middletown from New York City three to four times a week, and more if necessary.
She has her thesis students and her intermediate and advanced painting students, but she also teaches Introduction to Drawing and Introduction to Painting, courses that many tenured art professors tend to shun. These are the courses in which a significant majority of students either are nonmajors or have no previous art experience to speak of.
"That's exactly what I like," Telfair says. "No bad habits and no bad technique."
She starts the class by giving all the students a few minutes to do a self-portrait on a 3 x 5 inch card. The results cover the spectrum from relatively recognizable to stick figures. By the end of the semester, however, they draw like art majors, although she never tells them it will be easy.
"This class is challenging, frustrating and rewarding for every student, even the ones with experience. Occasionally, I've witnessed tears—typically from the most determined and dedicated ones," she says. "But they all succeed in the end. I love teaching Wesleyan students because they're so smart and eager to learn. This is ideal, because I work them very, very hard, and push them further than they ever thought they could go. Their reward for the hard work is becoming fluent in another language, the language of art. Even for non-art majors, this class will change their view of the world."
Henry Kiely '11 signed up for Telfair's Introduction to Drawing class as a frosh, thinking it might be easy. After all, the art class in his high school—which he never took —was widely acknowledged as an easy "A."
"I did not expect the class to be as intense as it was," Kiely says. "I can honestly say that I was scared of Tula. However, I was most surprised at how much she really cared about the class improving. When the class did something right, it was clear that she was pleased with our work. Another big surprise was how much I improved. I really didn't expect to become as accomplished as I felt I was when the class ended."
Stephanie Calvert '08 had a similar reaction.
"I wasn't too sure what else to expect because I had never taken an art class or heard of Professor Telfair," Calvert says. "I was surprised at how rigorous the class was and how much energy, consideration, and time it took. Tula was a demanding professor, and I wasn't used to teachers who really challenged me."
Calvert went on to major in studio art and had Telfair serve as her thesis advisor. Kiely, who told friends when he first went to Wesleyan he would be majoring in anything besides "art or biology," is now planning on being an art major.
"She has incredible critical perception about other people's work, which is the key to great teaching," Schorr says. "She always zeroes right in on the crucial critical issues. She also balances toughness and affection. And her own work has blossomed and grown, we like to think in the university, hand-in-hand with her teaching."
Still, many artists who have reached her level of commercial success might question why she teaches given the amount of time and energy it takes—Telfair often doesn't get home until after midnight on days she has classes. At the very least, she could go easier on herself and only work with upper-level students and put more time into her work. But Telfair says anyone thinking that would be missing the point.
"I love that first day of a large freshman drawing class, facing students who have no idea how hard they're about to work, as much as I love beginning a new painting," she says. "I have my skills, my knowledge, and my tools, and I'm starting fresh both in the studio and in the classroom. That's both challenging and really exciting. I can't imagine doing one without the other."