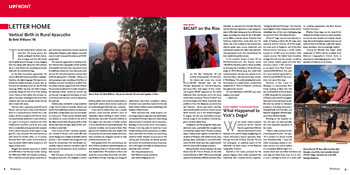 Last fall, Ben Goldwasser '05 and Andrew Vanwyngarden '05, who form the electro-rock music duo named MGMT, released their new CD, Oracular Spectacular on Columbia Records, and since then, their legion of fans continues to grow. MGMT appeared on The David Letterman Show last January and in the same month their recording "Time to Pretend" was an iTunes Single of the Week. In July they were profiled in New York Magazine as a band who had "hotness … thrust upon them," and they have recently performed live in venues around North America and in the United Kingdom. In August, the duo was interviewed and performed songs on the Sundance Channel program Live from Abbey Road.
Goldwasser and Vanwyngarden draw upon electronic music, psychedelic folk, and glam rock to create their unique sound. The two musicians began making music together as freshman art students at Wesleyan with performances using backing tapes, synthesizers, and prerecorded vocals. By their senior year, they supplemented their live sound with backing musicians.
After graduation, the duo released a six-song electro-rock EP, Time to Pretend, on the indie Cantora Records in 2005. Their music eventually captured the attention of British producer Steve Lillywhite, an executive for Columbia Records, and the band was signed for a major long-term deal in 2006. After taking some time off, the duo began recording new songs for fun in Brooklyn on an MBox computer set-up. Producer Dave Fridmann helped them create their new CD, which uses more traditional rock instruments (electric guitar, bass, drums, keyboards, and synthesizers) played live, rather than electronically generated music that characterized the duo's earlier live performances.
In his positive review of their CD on Pitchforkmedia.com, Eric Harvey wrote: "MGMT find kindred spirits in Muse and Mew by dressing their melodies in the fanciful trappings of 1970s British prog, but unlike their contemporaries, the duo also weaves in lessons from disco, new-wave synth-pop, and early '90s Britpop. The understanding that youthful innocence is a potent force—a theme first established in 'Time to Pretend'—continues throughout the record."
For more information on MGMT, go to www.myspace.com/mgmt.
— David Low