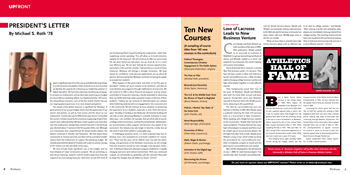 Born in Brest, France, before coming to the United States in 1940, Henri Salaun '49 graduated from Wesleyan as a two-time All-American on the soccer field while he also captured regional titles in tennis. But it was his squash talent that brought him the greatest fame after he left the university. Rising to the top in a sport he lettered in at Wesleyan, Salaun captured his first of four United States Open squash tournament titles in 1955. While repeating the feat in 1957, 1958, and 1961, he had a string of five consecutive appearances in the national championship match (1954–1958) and nine in total over a span of 14 years.
Also bringing home eight Canadian Open crowns during his heyday, Salaun was the inaugural winner of the North American Open Championship in 1954. He was inducted into the Squash Hall of Fame as a member of its first class in 2000.
Continuing his tennis game well into his 70s, he held the number-one ranking in New England at each level over more than a 50-year period, starting with Boys 15-and-under and continuing through Veterans 70-and-over. The United States Tennis Association New England inducted Henri into its Hall of Fame in 1991. His accomplishments in squash mirrored his success in tennis as he won at least four national squash titles at each playing level from Open Division through 70-and-over.
Salaun established Henri Salaun Sports, Inc., in 1969, a family business.