Unigo Takes on College Guidebooks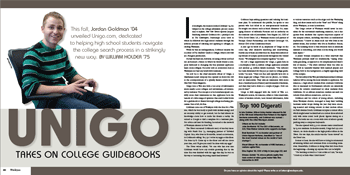 IN HINDSIGHT, THE INTEREST JORDAN GOLDMAN '04 DEVELOPED in the college admission process seems easy to explain. New York Times reporter Jacques Steinberg selected Goldman for a principal role in The Gatekeepers, Steinberg's 2002 book in which he followed five high school students through the arduous process of selecting and applying to colleges, including Wesleyan.
While he was an undergraduate, Goldman became the co-editor of The Students' Guide to Colleges, which sold well as a Penguin publication.
He had his heart set, however, on being a writer and had not envisioned a future in which he would found a company dedicated to changing the way potential applicants learn about colleges. He never took an economics class at Wesleyan nor had any brush with business.
Yet now he is the chief executive officer of Unigo, a Manhattan-based company that opened its doors this fall to the accompaniment of a splashy feature article in the New York Times Magazine.
Unigo runs a Web site with a vast array of information about nearly 2,000 colleges and universities–all submitted by students. The concept is to have students speak candidly about their institutions so that applicants have the benefit of a wide range of opinions that aren't boiled down for a guidebook or filtered through college marketing processes. Best of all, it's free.
Goldman came out of Wesleyan with the idea for a Web site, which he was ready to push with tireless energy and an uncanny ability to get noticed, but he had almost no knowledge about how to make his dream a reality. He turned to Google to find a template for a business plan. For advice and later for funding, he turned to the network of Wesleyan alumni in New York.
The Times recounted Goldman's story of one key meeting with Frank Sica '73, managing partner of Tailwind Capital. Sica, who lives in Bronxville, issued an invitation, in Goldman's telling: "At 7:30 I order my eggs at this diner. I'm done by 8. Come up to the diner and tell me about your idea, and I'll give you until I'm done with my eggs."
The Times writer added, "No one who has ever met Goldman would have any trouble guessing that by the time Sica was finished with his eggs that day, he was on his way to becoming the young man's lead investor."
Goldman kept asking questions and refining his business plan. To understand the pitfalls, he spoke to one person who had failed in an entrepreneurial business. He sought out alumni such as Mark Edmiston '66, managing director of AdMedia Partners and an authority on the business side of journalism; Tom Rogers '76, CEO of TiVo; David Olson '78, a Wesleyan trustee and partner of Yucaipa Global Partnership; and Richard Cavanagh '68, former CEO of the Conference Board.
A year ago he hired all 25 employees of Unigo on the same day, after extensive searching and interviewing. Hardly any of them are older than he. Many were editors or top writers of campus publications throughout the United States. "We designed the company together," he says.
He saw a huge opportunity for Unigo, a giant hole in a marketplace with 15 million college applicants annually and another 45 million family members. "The industry has been dominated for the past 50 years by college guidebooks," he says. "They cost $20 and typically have two to three pages per college. There are no photos, no videos, and no interactivity. They take an institution with more than a hundred years of history and thousands of students, and then they boil it down to a couple of pages. How can you do that?"
Unigo is fully engaged with the world of Web 2.0. Wesleyan's section, for instance, offers 10 video interviews, scores of student reviews, basic factual information, links to various resources such as the Argus and the Wesleying blog, and short items such as the "Best" and "Worst" thing about Wesleyan, as seen by students.
The Unigo review of Wesleyan would never be mistaken for the university's marketing materials, but it has quotes from students that capture important aspects of the campus culture, including this from an unidentified sophomore: "I know an Asian track star who lives in the Jewish house, frat brothers who live in Buddhist House, etc. The unifying factor is that everyone here is extremely talented at something, and often it is the thing you would least expect."
A junior woman complains in a video interview that Wesleyan portrays itself too idealistically, "saying everybody gets along, as opposed to: it's complicated and there's lots of nuance?" The short informal video was shot on Foss Hill in beautiful weather with baseball players and College Row in the background—a highly appealing view of the campus.
The versatility of the Web provides features that Goldman believes will be among the most valuable to applicants. For instance, a high school student from southern California who is interested in Northeastern schools can selectively search for reviews contributed by other students from California. Or an African American student can seek out reviews from African Americans, and so on.
Goldman and his cohort of young editors, including three Wesleyan alumni, managed to keep their budding business under wraps during the year they were amassing material and writing reviews in their modest offices on Park Avenue South. Goldman occupies a corner office, which might better be described as a corner closet adorned only with some comic book plastic figures sitting on a shelf. He looks out on a room with rows of editors quietly pecking away at computer keyboards.
The site opened with 35,000 content items contributed by 15,000 students. In the first month, Unigo had 250,000 visitors, no doubt thanks to the high-profile rollout in the Times. For two days, the article was the "most viewed" on theTimes' site.
Sooner or later, the site will have to bring in substantial advertising dollars and revenues from co-branding initiatives. Meanwhile, Goldman is doing what he's done from the beginning—chatting up anyone who can be helpful.
"I'm learning as much as I can as fast as I can," he says. "I don't try to hide what I don't know."