BY LYNDSEY LAYTON '86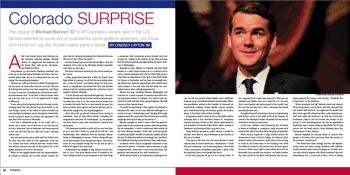 After a key Senate vote in early February on the economic stimulus package, Michael Bennet '87 stepped into the cloakroom off the Senate floor, took out his cell phone, and dialed his father.
Doug Bennet '59, the former Wesleyan president, was in his car on the New Jersey Turnpike and at first, the connection wasn't clear. But as he realized what his son was saying, the moment grew poignant.
Michael was calling to thank his father for giving him the best piece of career advice he ever received. "He said find things that interest you, that compel you, and when it's time to move on, something else will present itself," Michael Bennet said. "In the end, it doesn't matter what job a person ends up in, if it's an opportunity to make a difference."
It was advice that had guided Michael through a wideroaming work life and allowed him the freedom to try new things, certain in his ability to think critically and meet multiple challenges across disciplines. Essentially, he was living the ideals of a liberal arts education—the type they both received at Wesleyan.
"I've had a checkered career, if you could call it a career, and I think a lot of that has to do with the liberal arts education I got at Wesleyan and being exposed to the idea that the life you lead isn't linear," Michael Bennet said.
His unconventional career path took the wildest turn yet early this year when he was appointed to fill the U.S. Senate seat from Colorado that was vacated when Ken Salazar became Secretary of the Interior. He is the eighth alumnus to serve in the Senate.
When he was tapped, Bennet was the superintendent of schools in Denver and so little known around the state that his selection prompted the ColoradoPols.com Web site to ask: "What the hell?!?"
Michael Bennet had never held elected office—with the exception of his stint in the Wesleyan Student Assembly more than 20 years ago.
But those who know Bennet say the choice made perfect sense.
"Other people who knew him at Wes, his friends from high school, to a person, we all had the same feeling about this—it was ?of course'," said Naomi Mezey '87, now a professor at Georgetown Law School who first met Michael when he was her teaching assistant for a literature course taught by Richard Ohmann.
"I'm not entirely sure why we all thought that," she said. "Except that he has always had this idealistic old man quality about him, even at 21, this sense that he knows how to remake the world, that he is wise beyond his years. He knew so much about politics and history and was very intellectually engaged but also deeply pragmatic."
Ritter chose the 44–year–old Democrat from among 15 candidates, most of them better known, including two congressmen and John W. Hickenlooper '74, the popular two–term Denver mayor who was Bennet's onetime boss and mentor.
"The dominant emotion is pride and joy over how happy he is and what I think is a great job he will do," said Hickenlooper, who celebrated with the extended Bennet family in Washington in January. "There's always that part of you that wonders about the path not taken. . .But we humans are very complex beings and we can feel joy and a little bit of regret at the same time."
Hickenlooper has pledged to help Bennet run for election in 2010. That gives Bennet about 18 months to become well–grounded in issues important to the state, forge a connection with constituents across Colorado and raise at least $12 million to $15 million, all the while learning how the Senate operates and representing the state's interests in Washington.
Republican party officials in Colorado say they think Bennet is a weak choice because he is a political novice and too closely identified with Denver. They think he provides them an opportunity to win back a state which broke for Obama in November and has been increasingly leaning Democratic. Bennet's appointment also rankled some Latino leaders in the state, who felt that Ritter has overlooked Latinos when making appointments.
Bennet has been shuttling between Washington and Colorado on a manic mission to introduce himself to voters and power brokers. In between, he's tried to carve out time for his wife and their three young daughters, who will remain in their Denver home.
"It would be daunting for other people, but Michael is someone who takes on the most difficult challenges as a matter of course," Hickenlooper said. "He gets all the right people around him and creates that circumstance in which people get fired up and they go out and do it."
Bennet emerged as Ritter's choice after the governor spoke with current and former senators about the qualities the job demanded. "I tried to understand what makes for the most effective senators," Ritter said. "And one quality is intellectual depth. Michael is absolutely capable and has the kind of ability that tells me he belongs. He's handled a lot of different learning curves that have been really steep."
In Bennet, Ritter said he recognized similarities to his own start in politics. "I became a district attorney in 1993 by appointment," Ritter said. "I was a total dark horse. The governor saw potential in me, and it worked out."
While Bennet's path to the Senate was anything but direct, his life has pointed toward politics since childhood. He grew up in a household centered around public affairs. His grandfather worked in the Franklin D. Roosevelt administration, helping Chester Bowles oversee wartime price controls and rations of consumer goods. His brother, James, is the editor of the Atlantic Monthly.
Doug Bennet held a variety of jobs in the public sphere, including aide to Vice President Hubert H. Humphrey, assistant secretary of state in the Clinton administration, and president of National Public Radio, before serving as Wesleyan's 15th president from 1995 until 2007.
Doug Bennet's peripatetic career became a model for Michael, who chose to attend Wesleyan in part because of the mix of students.
"The place at the time was a lot more diverse in many respects than its sister institutions," Michael said. "I think that was broadening. I just loved being there. I don't think I had a particularly remarkable experience; I think I had the experience that a lot of people had there."
In his first semester, he got a D in a science class. "It was supposed to be a really easy class and I didn't pay any attention and seldom went and I deserved a D," he said. "But I was shocked and embarrassed by the results. And that was the last time that I had a transcript that looked remotely like that one."
He applied himself, majoring in history and graduating with honors. Active in the political life of the campus, he served in the Wesleyan Student Assembly and was elected coordinator during his senior year.
At the time, students were pressuring the university to divest its holdings in companies doing business with South Africa, which was then still in the grips of apartheid.
When Bennet organized a large student protest for divestment in front of South College, the Physical Plant workers asked if the students could refrain from writing in chalk on the brownstone of the building. The chalk was difficult to remove, the janitors said. Michael agreed because it didn't seem right to make additional work for those who clean up after the students, said John DiPaolo '89, who served on the WSA with Bennet. But the protesters ignored the request, even writing "&%$#@! the brownstone" on the building.
"When everybody had left, Michael stayed and cleaned off the brownstone," said DiPaolo, who later attended Yale Law School with Michael. "He organized the protest and also was the guy who cleaned up after, so the maintenance staff, who really had nothing to do with the University's investment policies, did not become the victims of the protest. It said something about the way he approached leadership, that it means taking responsibility for the big picture and the small picture, about thinking about the consequences of your actions."
Bennet displayed an unusual ability to connect with people at all levels of the university, from the janitors to the president, DiPaolo said.
"We would have these strategy sessions and Michael would come into them having conferred with different faculty members about what was going on," DiPaolo said. "He had a level of rapport with faculty members that was extraordinary for a 22–year–old student. He'd be having very real, frank conversations with people that for most of us were a little bit lofty and admired."
Colin G. Campbell, the university's president at the time, remembered lengthy talks with Bennet. "He was very willing to sit down with me and to talk things through and not to feel as if he were selling out students in the process," Campbell said. "He was a good listener and strong advocate."
"I dealt with a lot of Argus< editors and WSA coordinators and there were a number that were very able and impressive," Campbell said. "But none more so than Michael Bennet."
Bennet collected friends with ease, Mezey said.
"He straddled what seemed to be very extreme social groups that never intermingled except at Psi U parties," said Mezey, who is married to Matt Paul '87. "My husband was a jock–y government major and I was an artsy pretentious College of Letters major. It was highly unlikely that we would meet each other. But we both became friends with Michael independently of each other."
After Wesleyan, Bennet worked as an aide to Ohio Gov. Richard F. Celeste, a family friend. He went to Yale Law School, where he edited the law review, before working in the Clinton Justice Department. He followed his wife, an environmental lawyer named Susan Daggett, to Colorado.
Looking for work, Bennet wrote to two people: Philip Anschutz, the conservative Colorado mogul, and Hickenlooper, then a Denver businessman with a chain of successful brewpubs. Anschutz invited him for an interview; Hickenlooper didn't respond—a miscommunication that both men laugh about now.
Although Bennet had never worked in finance and couldn't read a balance statement, Anschutz hired him. Bennet became an expert at buying distressed businesses and restoring them to profitability. He earned millions for himself and Anschutz.
He also got to know Hickenlooper and informally advised him on his mayoral run. After Hickenlooper cruised to victory in 2002, Bennet left his lucrative job with Anschutz and served as Hickenlooper's chief of staff. He forfeited $5 million in unvested stock that would have been his if he stayed with Anschutz another two years.
"Very, very few people in this world would make that kind of sacrifice," Hickenlooper said.
Bennet says that he was simply following his father's directive to seize new opportunities.
Together, Hickenlooper and Bennet balanced the budget after a historic deficit, renegotiated labor contracts, and improved police oversight.
"We are in many ways very different and yet we share so many of the essential core values that kind of direct our lives," Hickenlooper said. "People joke in Denver whether I was his mentor or he was mine. He understood what government was and how it worked far beyond what I understood when I was first elected. He was invaluable in helping me grow into that job."
Two years later, Bennet applied for school superintendent, despite having no background in education. He said he was drawn by the challenge of trying to narrow the achievement gap between poor and middle–class children in a city where 66 percent of students qualify for free or reduced–price lunches.
"Everyone thought I was crazy," Bennet said. "But I was raised in a family that believed it has an obligation to make the world better for another generation. It sounds hokey, but it's true."
As superintendent, Bennet closed a number of underused schools, drawing the ire of parents and students. He shepherded through a merit–pay system for teachers that has drawn national attention. He met regularly with principals, teachers, and students—many of whom had his cellphone number—to learn how his attempts at school reform were playing in the classroom.
"He came in and pretty quickly got a big–picture view of what was going on and started producing ideas out of Denver that people around the country are taking a look at," said DiPaolo, who now runs a nonprofit in New York that operates two charter schools for economically disadvantaged children. "His ability to learn and start operating in such a powerful way is really amazing."
Enrollment in the Denver schools is now at a 30–year high, and test scores are up.
An enthusiastic supporter of Obama, Bennet was on a weekly conference call of education advisers to Obama during the early months of the presidential campaign. After the election, he was considered by Obama for secretary of education. Although Chicago schools chief Arne Duncan got that job, Bennet's profile was elevated at the moment Ritter was looking for a new senator.
Bennet sees himself as a public servant in the style of Obama and Hickenlooper. "My career has been in many ways about trying to find pragmatic solutions that can survive disagreements that groups of people legitimately hold," he said.
He'll have ample opportunity to deploy those skills in Washington.
Two weeks into the job, Bennet found himself involved in high stakes negotiations over the stimulus package, immersed in the struggle to resuscitate an economy that is in the worst straits in 80 years.
"It just strikes me what a singular time we're living in and how enormous the challenges are and how deep the ditch is that we're in," said Bennet, who is serving on the committees on banking, agriculture and homeland security and government affairs. "It's frightening—the level of dislocation in the economy and the seriousness of where we find ourselves. The gravity of where we are is much more apparent than it was even a month ago."
On the day Bennet took the oath of office, a large contingent of his friends and family filed into the visitors' gallery in the Senate to watch.
"The Senate chamber is not that large," said DiPaolo, one of several Wesleyan friends who was there. "It was remarkable to look down and see all these people you see on TV. After a while, Michael appeared in the back of the chamber. And he looked like a senator. He just looked like he belonged there. We were clapping, but to see the whole U.S. Senate applaud him—it was thrilling. You realize what a small group this is. And Michael is among them, dealing with some of the biggest problems we've faced in decades."
Lyndsey Layton '86 is a national staff writer for the Washington Post.