PRISON UNIVERSITY PROJECT AT SAN QUENTIN
"The crisis of criminal justice we are facing is a problem of dehumanization," says Jody Lewen '86, co-founder and executive direct of the project. Education, she says, transforms the lives of those incarcerated—but she seeks something further.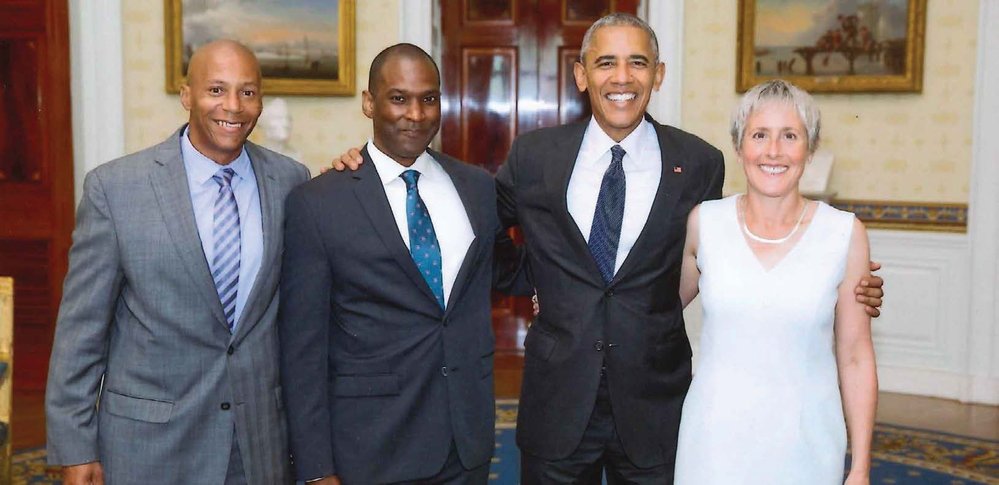 NATIONAL HUMANITIES MEDAL
---
Pictured: Jody Lewen '86, together with her colleagues (and former PUP students) Pat Mims and David Cowan, accepted a 2015 National Humanities Medal from President Barack Obama on behalf of the Prison University Project last fall. The award honors individuals and organizations whose work has "deepened the nation's understanding of the human experience…."
As a child in Manhattan, Jody Lewen '86 watched people in business suits step over others in rags sleeping on subway grates.
"I remember wondering, 'Why isn't everyone rushing over to help? What is it about that person that makes him not matter?' "
As an adult, Lewen, founder and executive director of the Prison University Project (PUP), brings college level courses into a prison—and she's still raising questions. She spoke at this year's Shasha Seminar for Human Concerns on campus this fall.
"I have a lot of faith in simple questions," Lewen says, "Sometimes, a seemingly simple question has the best chance of getting people to pause and reflect." Lewen found out about The College Program at San Quentin "only by accident," she says, as a Berkeley PhD candidate in rhetoric. A woman who had worked with the program was sitting at Lewen's lunch table at a conference. "Higher education—located at a prison… I need to find out more about that!" Lewen told herself.
Before long Lewen became the leader of the volunteer program and transformed it into the Prison University Project (PUP). Today, PUP's mission, she says, is "to provide excellent higher education programs to people incarcerated at San Quentin State Prison, to create a replicable model … and to stimulate public awareness and meaningful dialogue about higher education acces and criminal justice in California."
In 2012, PUP completed an analysis of the recidivism rates among College Program graduates and comparative groups. This analysis found that recidivism for new o. enses and parole violations was 17 percent for PUP graduates, while it was 65 percent overall for people released by the California Department of Corrections and Rehabilitation (CDCR). For new o.enses only, PUP graduates were at just 4 percent, compared to 19 percent for CDCR overall.
She started by establishing two full-time sta. Positions, and then turned to the challenge of academic standards. The work is labor-intensive and Lewen had observed that volunteerism carried a "culture of self-congratulations: 'Aren't we lucky that we are doing anything at all for them!'"
She began focusing on academic standards: "In the early years, students were learning a great deal and the discussion of ideas was tremendous, but their writing skills were generally far below what would be expected on a legitimate college campus. I kept wondering, why shouldn't we expect these students to write as well as our students at Cal?
"That was one of the most formative questions I encountered," says Lewen, "because I began to understand that the challenge of academic standards is both material and political: clear, grammatically correct, logical, persuasive writing is the gateway to academic and professional success, and thus to social, economic, and political power. But the program at the time lacked the resources to provide the remedial education that most students needed.
"Our students were clearly capable," says Lewen, "but I realized that some teachers were afraid they were not going to be able to meet more rigorous standards, so they weren't pushing them. Or in some cases, the teachers themselves didn't know how to teach basic skills. My attitude was, we have a responsibility to provide a high quality education, so if we don't have the skills to teach them what they need to know, we have to go find those who do."
So the program recruited more teachers for remedial classes—including high school teachers—developed curricula, and poured resources into a college prep program, where PUP students now spend about a year on average before enrolling in the college-level classes, and eventually earning an associate of arts degree.
Lewen also views her role as a bridge between prison staff and outside educators: "There is a lot of resentment and bitterness at a place like San Quentin."
She tells her staff and instructors, "Take the time to get to know prison staff; to talk, to learn people's names. Listen to their stories and really demonstrate that you care, that you don't want to make their jobs more difficult or threaten security. Eventually, prison staff will tell you their concerns and even support the program, for example by sharing the problems they see coming down the pike."
It's an attitude Lewen models: "Early on I heard that the California correctional o.cers' union was this highly reactionary force. So I decided to make an effort to get to know them. I reached out to the president of the union to see if he would talk to us.
"And he turned out to be perfectly friendly—though certainly mindful that some of his members were quite opposed to what we do. I began to follow him around like a duckling, just to learn—going to their conventions, introducing him and his colleagues to my academic friends and getting them on panels—because I thought their perspectives were important."
In return, they became Lewen's unlikely allies, explaining the regulatory and legislative process, the culture, and the Byzantine bureaucracy of the prison, and including her in meetings, events, and even legislative hearings.
"Ironically, I think they got me on the political map; people thought I had some super powers because I had suddenly 'tamed' the union," she confides.
Lewen's goal goes beyond high-quality education in prison. It's "to drastically reduce the prison population, to transform the culture, and to change the way we operate as a society."
And what would that look like? "Most fundamentally what I always want is for people to consider that what they believe about people who are incarcerated might not be grounded in reality. I want them to wonder about what their lives have been like, and how they got to where they are.
"That's what I'm trying to figure out: How do we reignite our curiosity?"