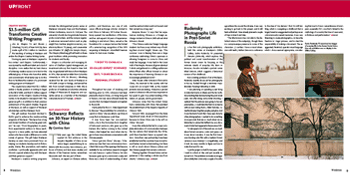 John M. Shapiro '74 and Shonni J. Silverberg '76, MD, of New York City, have made a gift of $3.5 million to transform the teaching of writing at Wesleyan and endow the Shapiro Creative Writing Center.
"During my years at Wesleyan I aspired to be a writer," said Shapiro. "Unfortunately, I was stymied by insufficient talent and a lack of discipline. I now realize that my best chance of achieving creative success is to bask in the reflected glory of those who have that ability and commitment. What better way to do this than to facilitate the creation of a prominent writing program at Wesleyan?"
The couple have asked that $2.5 million endow a faculty position in writing to begin in the fall of 2009, and that $1 million support renovation of the Shapiro Creative Writing Center, to be situated in Davenport Hall. This generous gift is in addition to their previous endowment of the Jewish Studies Program at Wesleyan, as well as support of Wesleyan scholarships and the Wesleyan Fund.
This gift realizes President Michael S. Roth's goal to enhance the creative writing programs at Wesleyan. "Wesleyan has a long and storied tradition of nurturing great writers," he says. "From biographers to poets, from experimental authors to those reaching out to a mass public, we have educated writers who have made a difference in a wide variety of genres. This gift helps Wesleyan develop an even more prominent focus on helping our students develop work in fiction, poetry, drama, film, journalism, and creative nonfiction. I profoundly appreciate John and Shonni's special relationship with Wesleyan and their generous support."
Wesleyan's creative writing programs include the distinguished poetry series at Wesleyan University Press and the Wesleyan Writers Conference, now in its 53rd year. The university's faculty has long included dynamic professional writers, and the campus regularly welcomes renowned visitors such as playwright Tony Kushner (Angels in America), novelist Amy Bloom '75 (Away), and screenwriter Joss Whedon '87 (Buffy the Vampire Slayer). The Shapiro/Silverberg gift will build on these great traditions while promoting innovation for students and faculty.
Shapiro is cofounder and managing director of Chieftain Capital Management, an investment advisory firm based in New York City. He graduated with honors from Wesleyan in 1974, then earned an MBA from Columbia University in 1978. Dr. Shonni J. Silverberg received her BA cum laude at Wesleyan in 1976 with a major in biology, and earned her MD from Cornell University in 1980. She is professor of medicine at Columbia University College of Physicians & Surgeons and currently serves as a member of the Wesleyan University Board of Trustees.