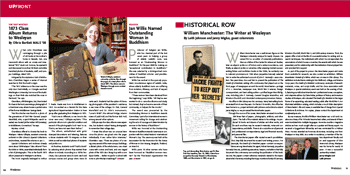 Professor of Religion Jan Willis, who has devoted part of the last seven years to helping a group of elderly Ladakhi nuns, was honored as an "Outstanding Woman in Buddhism" for the year 2009 for making an "exceptional contribution to Buddhism." She was selected by a distinguished committee of Buddhist scholars and practitioners for the award.
Willis has worked in the sparsely populated, mountainous region of Ladakh, India, where elderly Buddhist nuns are suffering from isolation, illiteracy, and lack of respect from their communities.
"These women have been devalued from the beginning," says Willis. "All they've ever wanted to do is serve the dharma and study, but instead, they've become servants of their community, or helpers for the monks."
The award was presented by the Outstanding Women in Buddhism Awards Committee, "part of an international women's movement calling for change and celebrating the acts of courage and determination by women in the history of Buddhism."
Willis was honored at the Outstanding Women in Buddhism Awards Ceremony in conjunction with the United Nations' International Women's Day. The ceremony was held at the Association for the Promotion for the Status of Women in Don Muang, Bangkok, Thailand, on March 6.
Willis joins 18 other women who have been honored as "Buddhist women masters" by the Thai–based organization this year.