BY KATHERINE JAMIESON '96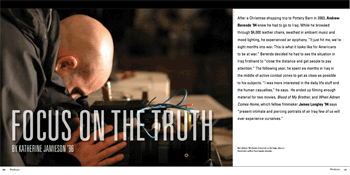 After a Christmas shopping trip to Pottery Barn in 2003, Andrew Berends '94 knew he had to go to Iraq. While he browsed through $4,000 leather chairs, swathed in ambient music and mood lighting, he experienced an epiphany. "It just hit me, we're eight months into war. This is what it looks like for Americans to be at war." Berends decided he had to see the situation in Iraq firsthand to "close the distance and get people to pay attention." The following year, he spent six months in Iraq in the middle of active combat zones to get as close as possible to his subjects. "I was more interested in the daily life stuff and the human casualties," he says. He ended up filming enough material for two movies, Blood of My Brother, and When Adnan Comes Home, which fellow filmmaker James Longley '94 says "present intimate and piercing portraits of an Iraq few of us will ever experience ourselves."
Berends' desire to draw attention to difficult realities is shared by many Wesleyan documentary filmmakers. Covering a wide range of issues from mental illness, immigration, and sweatshops to war and gang violence, their films rarely compete with major Hollywood releases. Yet, as Berends' work so powerfully illustrates, documentaries serve another significant role in the culture, as both an art form and a means for strong social commentary. "None of us are in the headlines; we're kind of in the shadows, which I think we prefer. But we're continually a complement to the Hollywood world," says Ben Selkow '96, director and producer of A Summer in the Cage, winner of the 2008 Prism Award from the Entertainment Council for Bipolar Disorder Depiction.
The shadows are becoming a lot lighter, and Wesleyan graduates have gained major recognition in the documentary world. In addition to winning for best cinematography, editing, and directing at the 2006 Sundance Film Festival, Longley's film Iraq in Fragments was also nominated for an Academy Award for best documentary film. After Innocence, a film by Jessica Sanders '99<'b>, won the 2005 Special Jury Prize at Sundance and was shortlisted for an Academy Award. Marc Levin '73 has won an Emmy and a CableACE award, and his movieSlam, a dramatic feature film blending documentary style with a narrative flow, garnered the Grand Jury Prize at the Sundance Film Festival and the Camera D'Or at Cannes in 1998. Documentaries by Roger Weisberg '75 have won more than 100 awards including Peabody, Emmy, and duPont-Columbia awards, and he received Academy Award nominations in 2000 and 2003.
For decades documentaries were considered less compelling than full-length features, but the techniques adopted by nonfiction filmmakers have helped to change public perception of this art form. No longer just the sole province of historians and scientists, modern documentaries often incorporate the techniques of mainstream movies, including character development, pacing, and dramatic tension. Jacob Bricca '93, a film editor and adjunct assistant professor of film studies at Wesleyan, points out that narrative is key to good documentaries. "You're not asking people to look through an archive; you're asking them to watch a story."
Weisberg, who has produced 30 documentaries for PBS, emphasizes that interesting stories and compelling characters are vital to pulling a film together. "There has to be a dramatic arc—a good issue does not a good film make," he says. Motivated initially by social concerns, he searches for subjects with fascinating stories to "put a human face" on pressing issues. His recent movies include profiles of sick and uninsured people trying to get health care in America, low-wage earners struggling to pull their families out of poverty, and teenagers who "age out" of the foster care system and are left to fend for themselves. Weisberg says he makes films to advance causes of social justice but insists on a "point of view with integrity" in all his work. "I won't put a piece of propaganda on air."
Others use documentary to uncover surprising and sometimes delightful cultural trends. Mary Robertson '01 is focusing on the drama of romance in her newest documentary about the "Missed Connections" section of Craigslist. "The qualities of the posts themselves pulled me to make this film. The finest Missed Connections postings tell a story that is brief and dense, a story that is communicated with economy," she says. A few choice examples that inspired her: "You come into my job on Wednesdays. The air ignites as you enter the room. My heart pounds and you wear flannel"; and "You were eating burgers in the back with two dorky looking guys and another woman. I love you."
Robertson began scanning thousands of messages and sending out hundreds of e-mails to find subjects. Exploring the romantic fantasies of young New Yorkers has led to various revelations, such as the secret desire many commuters harbor for their fellow passengers and the improbable role played by big-box stores such as Target in finding the love of one's life. Robertson hopes to mirror the evocative style of the posts in the film itself. "I want to craft a film with no wasted gesture, a film that is lush and rich with romance and fantasy, a film that suggests narratives beyond what we see."
Reviewers do pay attention to documentary films, and some receive lots of attention. In his review of Valentino: The Last Emperor, critic Stephen Holden of the New York Times says that watching it "is a little like gorging on chocolate and Champagne until that queasy moment arrives when you realize you've consumed far too much."
The film, produced and directed by Matt Tyrnauer '91, tells the story of the flamboyant Italian fashion designer Valentino, who created hundreds of gowns for the world's most glamorous women, among them Jacqueline Kennedy Onassis. The film, which focuses on Valentino's relationship with his longtime partner in life and business Ciancarlo Giammetti, was coproduced by Adam Leff '90 with Carter Burden '89 serving as executive director.
The origins of documentary filmmaking at Wesleyan are as old as the department itself, chaired by Jeanine Basinger, Corwin-Fuller Professor of Film Studies. Levin was at Wesleyan when the film program began, and he recounts nights hanging out with "Wesleyan lunatics" and—thanks to Basinger—famous filmmakers like Nicholas Ray (director, Rebel Without a Cause), Raoul Walsh (director, White Heat), and Alain Resnais (director, Last Year at Marienbad). He credits American Studies Professor Emeritus Richard Slotkin with giving him a lens to see the popular culture and chaos of the '60s in an intellectual framework, learning he soon put to use as an intern for David and Albert Maysles, founders of the cinéma vérité movement. Levin was enlisted to work on Gimme Shelter, which had been conceived as a simple promotional film for the Rolling Stones. But the movie's focus shifted when the filmmakers realized they had documented several Hell's Angels murdering a young black man with a gun during the concert. The project proved to be a turning point for Levin, as he was able to see firsthand how a film is created in the editing room. "I learned that the material will tell you where to go," he said, "and this has been my default position ever since."
Graduates consistently cite the university's encouragement to pursue a broad swath of learning as a springboard for their documentary careers. "Wesleyan fosters a voracious appetite to explore everything and anything you want, and making documentaries is a way to feed that," says Sascha Paladino '98. Wesleyan sensitized him to cross-cultural issues, which he drew on as he developed Throw Down Your Heart, a film about Béla Fleck's journey to Africa to learn about the roots of the banjo. "With a white filmmaker working on a film about African music, there were inherent traps and pitfalls. Wesleyan prepared me for what all of these things imply," says Paladino. The university taught him to "not just take from a culture but to respect it."
Ákos Östör, who has been teaching students the art of documentary filmmaking since 1988, says Wesleyan's strong department in filmmaking prepares students to develop material in either the documentary or fiction format. Students see a lot of films (essential for anyone who wants to make films), gain a mastery of the medium, and work with each other in a collegial way. Documentary filmmakers also share a characteristic found widely among Wesleyan students: They have a passion for making a difference in the world.
"No one film is likely to alter the course of world events," he says, "but without the documentary form we would have a much more impoverished world. Documentary filmmakers contribute to a richer human experience. They bring to our attention people who are neglected and excluded, and so films can act as a catalyst for change."
Sadia Shepard '97 also says that Wesleyan made her "interested in topics she had never considered before." For Shepard, the child of a white Protestant from Colorado and a Muslim mother from Pakistan, this included her own blended heritage. "I found a community that allowed me to become excited by the possibilities afforded by my background," she says. At age 13, she had discovered that her maternal grandmother was not Muslim like the rest of her Pakistani family, but had come from a tiny Jewish community in India that traces its origins to one of the lost tribes of Israel. Before her grandmother died, Shepard promised to go to India to learn about her origins. In 2001, she traveled there on a Fulbright Scholarship and ended up staying for two years. When tensions rose between India and Pakistan, she was evacuated, but she soon returned on another grant. Her research culminated in a film, In Search of the Bene Israel, a photo essay, and a book, The Girl from Foreign, published last year by Penguin and now out in paperback.
Some Wesleyan filmmakers take great personal risks to produce the films that have earned them acclaim in the field. This past September, Berends was charged with espionage and arrested while working on a new film about governmental corruption in the Niger Delta and the battle raging over oil rights in the region. Though no journalist had been allowed to stay for more than a single night in one of the militant camps, Berends gained access for a month, sharing a mattress with six young male rebels. He describes the experience as "surreal." More than 10 of the young men he met were killed during the six months he was there. Fortunately, by the time he was arrested, he had already sent back all the film he had shot, but he had to swallow his SIM card to protect his contacts. After a 10-day detainment, he was deported and is now back in the United States working on Delta Boys, which was just awarded a Gucci Tribeca Documentary Finishing Fund grant.
Ben Selkow's film, A Summer in the Cage, about a friend who suffers from bipolar disorder, posed a different set of challenges. Initially, he thought the film would be a short documentary, but when his friend Sam had another manic episode, Selkow became more involved in getting him psychiatric help. He continued editing and shooting the film, which he now thinks may have exacerbated Sam's condition. "I don't feel I was the cause; I was a witness to it. Still, I have to take responsibility for creating stress in his life." Selkow adds that he considered how to use the material respectfully and not for sensational purposes. His litmus test was, "What would Sam think of how I am using this footage?" Though Sam's family was appreciative of the approach Selkow took, Sam himself has never seen the film. "Part of me is holding out for him to see it and say I did right by him," he says.
For his next project, Buried Above Ground, a film about post-traumatic stress disorder, his self-imposed mandate is to avoid personal involvement in the story to the extent possible. Maintaining complete distance or an illusion of objectivity is nearly impossible, he says.
Levin has also found himself in numerous tight places in the name of his films, though he says visiting the Neo-Nazi headquarters in West Virginia for his filmThe Protocols of Zion (produced by Jennifer Tuft '01, founder of Foss Fund) was more of a "psychic" than physical risk. While working on another film,Bangin' in Little Rock, he and some of his crew were caught in a drive-by shooting. Fortunately, no one was harmed, but the incident had a profound impact. "That afternoon, a kid from the neighborhood said to me, 'See, now you know what it's like,' and then he asked, 'Are you ever going to make a real movie?'" Levin says this comment ultimately led him to make Slam, a feature-length movie that shows the transformation of a drug dealer who finds a creative way off the streets through poetry.
A more mundane problem for filmmakers is paying the rent. Until recently, documentary filmmaking, like all filmmaking, has been prohibitively expensive, though technology has begun to democratize the field for everybody. "Before, you either had to come from money or be just a little crazy. Now we have a different platform—the Internet—which has leveled the playing field a bit," says Angela Tucker '96, director of production at Arts Engine, a woman-owned and -run company. Regardless, most documentary filmmakers balance jobs in advertising, television, film, and teaching with their creative projects and still often end up in debt. Others find that even if they have been able to finance a film, they're left afterwards with no funding to promote it to a wider audience.
So why do they do it? When posed this question, Wesleyan filmmakers by and large talk about how film enables them to engage social issues, heighten awareness of injustice, and in some cases influence public policy. "I began to see film as a tangible way of communicating issues I cared about. Activism alone in the traditional sense would never reach as large an audience as film," says Annelise Wunderlich '94, senior production manager at Independent Television Service (ITVS), who was first drawn to the field while working for Amnesty International. Passionate about Latin American human rights and immigration issues, she coproduced a 2006 film called Maquilapolis, which exposed the labor conditions of women factory workers in Tijuana.
Tucker at Arts Engine finds that documentary merges her interest in the film industry and commitment to social causes "seamlessly." As an associate producer of Deadline, a film about Illinois Governor George Ryan's historic decision in 2003 to issue blanket clemency to all 167 death row inmates, she was involved with an outreach campaign to educate people nationwide about the death penalty. Events in seven states were organized to push for repeals and moratoriums, and a group of legislators in Albany who were given a private screening of the film later voted to suspend executions in New York. "It did seem to trigger something for them," she said. "I think documentaries can play a huge role in advocating for various social issues."
Wesleyan's blend of intellectual excellence and dedication to social issues provides a fertile environment for future documentary filmmakers, and Bricca confirms that interest from students is abundant. Classes like "Making the Science Documentary" in film studies and another on anthropological filmmaking offer interdisciplinary approaches to the field. In the spirit of the university, student filmmakers have managed to plumb controversial topics without even leaving campus. Last year, documentary senior thesis films focused on political activity at Wesleyan, past and present.
For all their time spent "skulking in the not so glitzy areas," as Selkow puts it, Wesleyan documentary filmmakers wouldn't have it any other way. Many point to the freedom to pursue stories with social and political meaning, though perhaps not commercial value, as a strong motivation to remain in the field. Others see themselves as among the few still able to provide an unbiased picture of the most controversial news stories of our time. Longley, who has been in the Middle East off and on over the past nine years, wrote in an e-mail from Iran about the challenge of working in the region (He was recently detained and then released during a demonstration in Tehran.) "We've started to be seen as political actors rather than neutral observers, and I think the death of journalism as exemplified by entities like Fox News and CNN, riding into Baghdad on tanks, is partly to blame for this trend." For his films Iraq in Fragments and Sari's Mother, Longley intentionally challenged the genre of the "war movie," choosing instead to focus on Iraqi people who are not in combat, an approach he was free to take as a documentary filmmaker. "I think it's healthy to be independent," he added.
Katherine Jamieson '96 is a freelance writer and professor of literature and communications in Western Massachusetts.