BY TRACEY O'SHAUGHNESSY, MALS '02 | PHOTOGRAPHY BY BILL BURKHART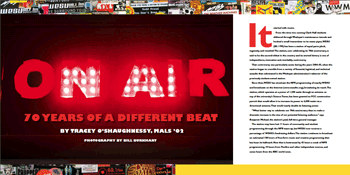 It started with moxie.
From the time two cunning Clark Hall students slithered through Wesleyan's maintenance tunnels and hooked a small transmitter to its water pipes, WESU (88.1 FM) has been a station of equal parts pluck, ingenuity, and mischief. The station, now celebrating its 70th anniversary, is said to be the second–oldest in the country and its storied history is one of independence, innovation and, inevitably, controversy.
That controversy was particularly acute during the years 2004–05, when the station began to crumble from a variety of financial, logistical, and technical assaults that culminated in the Wesleyan administration's takeover of the previously student–owned station.
Since then, WESU has simulcast the NPR programming of nearby WSHU and broadcasts on the Internet (www.wesufm.org), broadening its reach. The station, which operates at a power of 1,500 watts through an antenna on top of the university's Science Tower, has been granted an FCC construction permit that would allow it to increase its power to 6,000 watts via a directional antenna. That would nearly double its listening power.
"What better way to celebrate our 70th anniversary than to make a dramatic increase in the size of our potential listening audience," says Benjamin Michael, the station's paid, full–time general manager.
The station may have lost 11 hours of community and student programming through the NPR team–up, but WESU now receives a percentage of WSHU's fundraising dollars. The station continues to broadcast an estimated 100 hours of free–form music and creative programming that has been its hallmark. Now that is buttressed by 45 hours a week of NPR programming, 10 hours from Pacifica and other independent sources, and seven hours from the BBC world news.
"WESU is an amazing conduit between Wesleyan and the Middletown community," says Sonia BasSheva Ma?jon, vice president for diversity and strategic partnerships. The 70th anniversary is a perfect time, she points out, to acknowledge "more than 100 community DJs and Traverse Square youth working with Wesleyan students to produce provocative, entertaining, and thought–provoking shows."
WESU also produces about six hours of local public affairs in house, such asIndigenous Politics, a program hosted by Associate Professor of American Studies Kehaulani Kauanui. In addition, Associate Professor of Earth and Environmental Sciences Suzanne O'Connell offers a course in environmental justice in which students produce 10–minute pieces for a weekly broadcast.
WESU is among the most popular of student activities on campus. More students are currently staff members of WESU than at any other single student group and often what is aired on WESU will not be found elsewhere. Andrea Silenzi '07performed her senior thesis—a translation of a 1952 German radio drama—on the station. Most students, like Silenzi, join the station in their first year and learn audio recording and editing skills fast; they can be on air in December of their first year and can have creative control of their own radio program as early as their second semester.
Those who work at the station find that the experience can be transforming.Mary Longley '10, president of WESU, joined the WESU staff in her sophomore year, doing a show at 2 a.m. She spent this past summer as an intern with the influential radio and television news show Democracy Now!
"I loved the medium, and after spending more time at the station I realized I could pursue my political interests through radio as well," she says. "Last year I started creating a show called Use This News, which focuses on community–based organizations in the Middletown area. Through the show I've been able to meet and interview people doing some really exciting work in the region, from youth theater to queer healthcare to food distribution. Covering these projects and airing programming that listeners can put to use in their daily lives is a political project for me, as well as a community–building one."
Jorge Arevalo Mateus, a Ph.D. candidate in ethnomusicology and Grammy winner, says his show, La Pipa De La Paz, which broadcasts Colombian music in all its diversity, has been a touchstone for Connecticut's growing Latino population. "There are people out there who are really interested in learning about Latino culture," he says.
His program is part of the polyglot of Latino, rockabilly, alternative music that gives often–marginalized groups a chance to discover their roots, or, alternately, a passion for a genre seldom heard across broadcast radio. "You have this wonderful nexus of social interaction, so you can hear West Indian music, alternative, progressive, hip–hop, and then this older Italian guy who's been playing Italian popular music for years," he says. "You can actually have radio programming that is multigenerational and also multicultural."
For Aliza Simons '09, working at WESU launched her into a prestigious Watson Fellowship to research community radio around the world.
"On the radio at WESU," she says, "I found myself wondering about other community radio broadcasters outside the United States—how are their goals different or similar to DJs at WESU? What similarities exist between radio broadcasters? WESU DJs serve communities underserved by mainstream media, through a variety of music, arts, talk shows, you name it. Do community radio broadcasters at other stations do the same? These are the questions I'm asking—all of them motivated by the desire to learn about community radio that was sparked by working at WESU."
For many Wesleyan graduates and area listeners, WESU is more than a radio station. It is an independent voice howling in a corporate wilderness. Even with the recent addition of National Public Radio programming, most WESU devotees still believe that mission has been unaffected.
"I think we successfully changed the mission of the station to be one of the most magical pieces of the Wesleyan experience," says Luke Snelling '05. "You don't realize how lucky you are to go to a university with a student–run radio in a top–50 market. Boston University doesn't have that. Harvard doesn't have that."
Any discussion of the station's history will inspire debate. Indeed, the historical narrative of the station was one of the casualties of the station's 2000 move from Clark Hall, before its affiliation with NPR. Removal from the campus not only physically isolated the station from the heart of campus, but also caused technical upheaval.
"Things were wired very ad–hoc after the move," says Jesse Sommer '05, president of the station from 2004–05 and now its alumni coordinator. Among the collateral damages of the move was a loss of the station's music, as well as a substantial portion of its records and archives. "I'm pretty sure everything that was left behind made it to a dump," says Rick Sinkiewicz, a program manager at the station.
That makes piecing together the station's compelling–but–complex history a bit like an archeological dig—with living, and very opinionated, specimens. In a sense, that is to be expected at a college radio station, where turnover, transience, and transition are intrinsic to the process. "We lost our institutional memory over the years," Sommer says. "Records have been lost, moved, or thrown out."
In 1939, after two Clark Hall residents hooked a small transmitter to a phonograph and ultimately a transmitter up to the water pipes, the station was a haphazard nest of wires run illicitly through the basement. It was the second college radio station in the country, after Brown University, according to Louis M. Bloch Jr.'s The Gas Pipe Networks, an out–of–print history of college radio from 1936–39. Bloch reported that WES, The Cardinal Network at Wesleyan, made its first broadcast on Nov. 9, 1939, with a daily alarm clock wake–up program from 7:30 a.m. to 8:30 a.m., and the daily Jive at Five, at 5 p.m.—a program that continues to this day.
The Rev. Rollin S. Polk '43 used to run records from the Clark Hall station in its earliest years. WESU was where Polk, a Troy, N.Y., native who had come to Wesleyan as a philosophy major on the urging of his pastor, the Rev. Nelson Burroughs '22, first discovered jazz. "I didn't know anything about that kind of music until I got to Wesleyan," he says.
After Brown and Wesleyan, a dozen college radio stations took root among the nation's Northeast colleges. Brown University's Dr. George Abraham became president of the first Intercollegiate Broadcasting System in 1940. Colleges that sent delegates included Brown, Columbia, Cornell, Dartmouth, Harvard, M.I.T., Pembroke, Rhode Island State, the University of Connecticut, the University of New Hampshire, Wesleyan, and Williams.
WES's burgeoning popularity meant that more students wanted to hear it, an opportunity that required official university recognition. Sometime around 1941, the university granted the students official recognition, and the FCC gave them a license and the call letters WESU. It became an FM station in the late 1960s, when such a possibility became available. In 1967, the Wesleyan Broadcast Association incorporated as a 501(c)(3) nonprofit, meaning it could not allow advertising and was dependent on the Wesleyan student government for funding.
The station's subsequent growth was an inexorable accretion of audio equipment—most bought by students out of pocket—and an aerial antenna placed on top of the Wesleyan Science Tower.
It was makeshift, informal, beat–up, very hot, and impromptu. For years, WESU broadcast the kind of free–form radio for which college radio stations were renowned. Artists who would not ordinarily get airplay on top–40 or other independent stations could find their niche on college radio stations, with their more pantheistic embrace of genres. "Any indie–rock artist has first found support on college–rock radio," explains Parke Puterbaugh, a consultant to Cleveland's Rock and Roll Hall of Fame and Museum. "College radio is the last vestige of honest radio, where the student DJs play music they like, as opposed to mainstream radio DJs playing music they're told by corporate consultants who devise lowest–common–denominator playlists."
Funk. Afro. Latin. Metal. Jazz. Oldies. Reggae. Haitian. Caribbean. Techno. Hip–hop. Avant–garde. Hardcore. Blues. Punk.
Artists such as Tracy Chapman and Liz Phair got their start on college radio stations. So did R.E.M., Arcade Fire, Ryan Adams, the Minutemen, and Husker Du.
A reputation for independence and purity tends to draw an audience desperate for something fresh and edgy. That's why Tom Gatzen started tuning into WESU as a teenager in the early– to mid–'80s. "I spent hours and hours after school listening to college radio," says Gatzen, host of Aargh, a loud music show. By the spring of 1991, Gatzen had developed a reputation around Connecticut record stores as a man with a flair for independent music. So when Brett Sokol, then music director of WESU, went shopping in a Waterbury, Conn., record store and asked whether the clerk knew anyone with a nose for independent music, the clerk naturally cited Gatzen. Within weeks, Gatzen began as a disc jockey on WESU.
"I sounded like a teenager on a first date the first few times I was on the air," Gatzen jokes. But he became a solid regular, sweating it out in the dusty Clark Hall basement. One night, it got so hot that sweat pouring from Gatzen's forehead ruined several of the best records in his collection. But he says the experience was worth it, particularly because he was able to interview Les Claypool and Larry Lalonde from Primus, one of his favorite bands. "To this day, I continue to learn tricks here and there to better myself as a disc jockey," Gatzen says. "But the bottom line is to have fun."
Silenzi, for instance, who now does multimedia culture reporting for WNYC Radio in New York, once ate an apple while reading from Genesis on her Old Time Radio Show. "It was playful and completely free–form," says Silenzi, who played everything from old westerns to episodes of Baby Snooks.
"WESU was very much about vinyl records, free–form, play–what–you–want," Snelling recalls. "If Wesleyan was liberal, WESU was the heart of that liberalism. It was the complete antithesis of commercial radio. The more obscure the artist, the more airplay the music got."
That's what drew Sinkiewicz, who now owns his own record store in Wallingford, Conn., to 88.1 FM when he was a high school student in Middletown during the 1990s. "It [played] the typical alt–'90s, sub–pop records," he says. "For me, back then, it was rock, hip–hop. I grew up listening to the station. It's what got me into music in general." WESU was the first place Sinkiewicz heard the group The Swans. After college, where he had been involved in radio broadcasting, he heard about the station's community training program and joined up.
"It was the most organized station that I'd been at." But it was also, Sinkiewicz says, in a refrain parroted by other WESU fans, very much "the other side of the dial" type station, i.e., not corporate.
WESU also began hosting talk shows with trademark diversity, from Jeff Sherman's The Business Buzz to The Homeless Report, a stream–of–consciousness program run by a homeless disc jockey.
But as much as WESU was a robust community, it was also an ephemeral one; as students graduated, the management of the staff began to crumble. By the 1980s, the position of faculty adviser had disappeared. In 1986, the station's transmitter began to falter and the Wesleyan administration loaned the station money for a new transmitter. By the late 1990s, the station was deeply in debt and in need of serious rehabilitation.
Depending on whom you ask, WESU's FCC license was either lost or simply had not been renewed. Sommer, who came to Wesleyan from Troy, N.Y., expressly for its radio station, says that when he was president of the station in 2004, WESU was in such shambles that "we didn't even know where our license was." Wesleyan took over the radio license in 2003. Sommer says he brought his concerns about the station's misplaced records, and its music and organizational deficiencies to the administration. To his surprise, the administration insisted that students were not equipped to run a radio station. It held that the station's interests would be better safeguarded by a more stable institution, like the university.
"It was a completely reasonable position," Sommer says. But it set off a firestorm of protest. "It was probably the most critical year in the history of the station," says Snelling. "We really were presented with the possibility of losing the station or dramatically altering it."
Then–President Douglas Bennet '59, formerly chief executive officer and president of National Public Radio, argued that a link with National Public Radio affiliate WSHU in Fairfield would produce "a richer offering with a larger audience," as he told the New York Times.
Ultimately, WESU partnered with WSHU, which used WESU's transmitter to broadcast NPR programming. Several popular community programs, such as Franco Liseo's Avanti Tutta show of Italian favorites, had to be moved.
"The recent studio where we moved is cleaner, the equipment is excellent and is maintained better," says Gatzen.
Most critically, broadcasting over the Internet points to the future of radio, says Snelling. "Look at how kids moved to college in the old days. The kids left with their stereo and some belongings. Today, you have no stereo, but you have a computer. Across society, young people are more actively using computers and less actively using radio. The traditional listener doesn't really exist any more."
But WESU, which integrates the community, NPR, and Wesleyan students, has both a loyal listening audience and an Internet presence. "Radio is not appointment listening," Snelling says. "But what's amazing about WESU is that the programming is so valuable to select communities that it creates appointment listening. I'll do anything to support it, because it set me on my path in life."
(To learn more about the station's effort to boost its signal power, visit www.wesufm.org/news/Antenna%20Facts.pdf.)
Tracey O'Shaughnessy is an award–winning columnist and critic for the Republican–American in Waterbury. A 2002 graduate of Wesleyan's GLS program, her web site is www.traceyosh.com.