HISTORICAL ROW: CLEMENT VOSE AND THE COLLECTION ON LEGAL CHANGE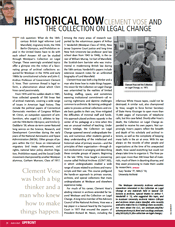 Trick question: What do the 18th-century British legal reformer Lord Mansfield, migratory birds, the 1936 Berlin Olympics, and Prohibition repeal in the United States have to do with each other? Answer: All can be studied through Wesleyan's Collection on Legal Change. These seemingly unrelated topics offer a glimpse into the riches of a fascinating group of archival collections acquired for Wesleyan in the 1970s and early 1980s by constitutional scholar and John E. Andrus Professor of Government Clement E. Vose. Their common thread is legal reform, a phenomenon about which Clem Vose cared passionately.
From 1970 until his sudden death in 1985, Vose collected upwards of 700 linear feet of archival materials, covering a wide range of issues in American legal history. They include the political papers of Connecticut Democratic members of Congress William M. Citron, an outspoken opponent of anti-Semitism, who urged U.S. athletes to boycott the 1936 Berlin Olympics; and Emilio Q. Daddario '39, whose six-term career featured long service on the Science, Research, and Development Committee during the early years of the National Aeronautics and Space Administration (NASA). Other groups of papers within the CLC focus on international migratory bird treaty enforcement, civil rights, national labor policy, abortion litigation, Prohibition repeal, and the Social Credit movement championed by another Wesleyan alumnus, Gorham Munson, Class of 1917. Among the many areas of research supported by the voluminous papers of Arthur T. Vanderbilt (Wesleyan Class of 1910), New Jersey Supreme Court justice and long time New York University law professor (and law school dean from 1943 to 1948), is the career of William Murray, 1st Earl of Mansfield, the Scottish-born barrister who was instrumental in modernizing British law during the 18th century. Vanderbilt's papers include extensive research notes for an unfinished biography of Lord Mansfield.
Clement Vose was both a big thinker and a man who knew how to make things happen. His vision for the Collection on Legal Change was untarnished by the realities of limited funding, staffing, space, and sometimes wavering institutional commitment?all recurring nightmares and daytime challenges common to archivists. By training undergraduates to process archival collections and create basic guides to their use, Vose mitigated the difficulties of minimal staff and funds. His approach placed archives squarely in the center of his pedagogy at a time when this was an unusual method of teaching. Under Vose's tutelage, the Collection on Legal Change spawned several undergraduate theses, and numerous other students gained a deep understanding of the intellectual and historical value of primary sources?and the principles of their organization?through direct involvement in arranging and describing these complex groups of papers. Beginning in the late 1970s, Vose taught a pioneering course called Political Archives (GOVT 363), in which undergraduates studied a wide range of issues related to archives and manuscripts and their use. This course prefigured the hands-on approach to primary sources, archives, and special collections that many undergraduates at Wesleyan and elsewhere experience today.
For much of his career, Clement Vose's abiding interest in archives extended far beyond Wesleyan and the Collection on Legal Change. A long-time member of the Advisory Council of the National Archives, Vose was a key player in a lawsuit heard by the Supreme Court in 1977 that ensured the papers of President Richard M. Nixon, including the infamous White House tapes, could not be destroyed. A similar suit, also championed by Vose, sought to force former Secretary of State Henry Kissinger to open more than 15,000 pages of transcripts of telephone calls, but this case failed. Shortly after Vose's death, the Collection on Legal Change expanded to receive his own papers. Not surprisingly, Vose's papers reflect the breadth and depth of his scholarly and archival interests, as well as the complexity of keeping many balls in the air at once. With his eye always on the records of other people and organizations at the time of his unexpected death, Vose saved everything but could not always take time to organize it. The Vose papers span more than 300 linear feet of materials, much of them in daunting disarray, and they await processing to make them usable by researchers.
Suzy Taraba '77, MALS '10,
University Archivist