Scruffy-Looking Nerf Herders: How Seth Green and Matt Senreich '96 Took Over the Galaxy
By Nathan Scoggins '99 | Photography By Aaron Tamayo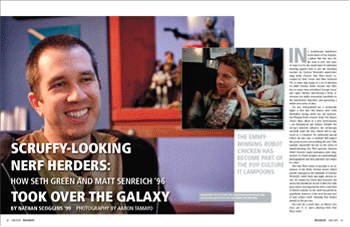 In a nondescript warehouse in the heart of Los Angeles, a galaxy that was once far, far away is now very near. At least it is for the small band of craftsmen laboring against time to put the finishing touches on Cartoon Network's award-winning Robot Chicken: Star Wars series, co-created by Seth Green and Matt Senreich '96. A series that began as a set of sketches on Robot Chicken, Robot Chicken: Star Wars has in many ways revitalized George Lucas' epic space fantasy, introducing a fresh, irreverent (yet oddly reverential) sensibility to the blockbuster franchise, and garnering a whole new series of fans.
On one well-guarded set, a technician lights a shot that will feature hero Luke Skywalker facing down his old nemesis, the Wampa Hoth creature from The Empire Strikes Back, albeit in a new environment —an intergalactic gas station. Despite the set-up's inherent silliness, the technician carefully crafts the shot, which will be captured in a computer for additional special effects (in this case, a starfield will replace the green screen surrounding the set). This episode, reportedly the last in the series of award-winning Star Wars specials, featuresRobot Chicken's staple animation style: stop-motion, in which puppets are painstakingly photographed and then adjusted one frame at a time.
The Star Wars series of specials is an extension of the Robot Chicken brand, which quickly emerged as the hallmark of Cartoon Network's Adult Swim late-night cartoon series. As created by Green and Senreich, the series was initially an excuse to have fun with pop culture and experiment with a new kind of sketch comedy. As the show has grown in popularity, however, it has now become part of pop culture itself, winning four Emmy awards in the process.
Not bad for a show that, as Family Guy once put it, is "guys playing with Star Wars dolls."
NS: Matt, did your career go in a straight line after Wesleyan?
MS: I was always the person who was going against what people were telling me to do, which was actually encouraged at Wesleyan. I don't think that was a bad thing, because I wanted to get into comic books, and nobody at Wesleyan knew how to do that. But I knew the people at the Career Planning Center (now Career Resource Center) really well, and I asked them what the best thing to do was. They encouraged me to just try to get anyone in the entertainment world from Wesleyan to talk to me. Susan Ellis at HBO was one of the people who had me come down to New York to meet with her.
NS: So you were doing this while you were still a student.
MS:Oh yeah. My roommate and I had a two-bedroom apartment, and the walls were all covered with my rejection letters. Wallpapered with rejection.
NS: Kind of like collecting baseball cards.
MS: Exactly. What's funny is I had an interview with Lucasfilm back then. It was for ILM or LucasArts, and I think they wanted me to be a computer guy or a game designer because of my comic book experience, only to learn that I couldn't draw. So that didn't work out too well.
NS: So you didn't do the typical film program.
MS: No. But Bob White, who was the A/V guy at the Science Center of all places, had his own editing system—this was before AVID—and an effects monitor. I wound up creating my own one-on-one class with him, where I learned how to edit. Also I took a screenwriting class. I thought that was really interesting. But I was a history major.
NS: So you graduated—did you head for New York first?
MS: I did. I started out at Wizard, which was a magazine that gave an overview of toys, video games—it was like Entertainment Weekly for geeks. It was while I was there that I ended up meeting Seth. I'd read in Entertainment Weeklythat he'd made action figures for the cast of Buffy as a Christmas present, and I thought that would make an interesting article. And then basically he called me up one day and said, "Hey, I have this idea (for Robot Chicken), do you want to try to put something together?"
NS: Did you start with one-off stuff at first?
MS: We made 12 animated shorts for Sony Digital back in 2000, and then we shopped the show around for four years.
SG: Four years, taking it to anyplace that we thought had this natural sort of format —Mad TV, SNL. We really thought of it as interstitials, kind of like a Robert Smigel piece on "SNL", because we didn't think it was a whole show. We took it to Cartoon Network, which didn't have a platform for it at that time…
MS: We took it to Comedy Central, and then 9/11 happened and comedy wasn't funny anymore.
NS: Irony died.
SG: And then a really big thing happened. Adult Swim started gaining in numbers, and they started manufacturing their own programs. Mike Lazzo (president of Adult Swim) liked our show and bought an order for 20 episodes.
NS: That was an interesting time, because the Internet bubble had burst…
SG: We wound up, oddly, ahead of trends by accident. We came up with something you could make inexpensively—short-form, easily digestible content, not terribly important, just funny—and it connects with people at the most basic level. Pop culture they were familiar with—jokes about commercials and toys.
NS: And Robot Chicken is uniquely poised for those YouTube-style, bite-sized nuggets.
MS: We almost called the show ADD TV. A lot of sketch comedy shows—for us, the sketches last too long. If we didn't have an "out," we could just flip the channel. Even if we didn't have a "start," we could start where we thought it was funny and go from there. And that worked for the format we were trying to do.
Our whole thing is self-awareness. We know that we are part of our audience, and we just try to make things that are funny to us. Even if it's just a joke that we know four people will get, we do it and then we're on to the next one. We're the guys in Ferris Bueller who wink at the camera from time to time.
NS: How does this work between the two of you? From everything I've read, it sounds like this is a true partnership.
MS: I always say this—I don't want people to know who I am. I'm perfectly happy not to get recognized; I love that Seth can be, that Robot Chicken can be "The Seth Green Show with that Other Guy."
SG: But the thing about Robot Chicken is that it's not "The Seth Green Show."
MS: I agree, I totally agree.
SG: We were very intentional about not putting my name in the title. This isn't like Everybody Loves Raymond or Seinfeld. This is a really specific type of entertainment that isn't just about my reputation.
NS: So Matt's the actual mastermind, Seth is just the puppet.
SG: (laughs) What's funny is that we both have different work experiences, but the same goals. So where I'm really good at doing the song and dance in the meeting and getting celebrities and getting Twitter attention to what we're doing, Matt's the guy pushing rocks all day, getting the schedule in, making sure the deadlines are hit, making sure that everything is functioning.
NS: So it sounds like a true collaboration in that you guys both bring different things to the table.
SG: It's the best partnership I've ever had, second to my wife.
MS: We do have those moments where we're like, "I can't believe we're getting paid to do this."
SG: And then we have those moments where we're like, "I'm going to kill you." (laughs) I always refer to Matt as my TV wife.
MS: On the set, we're "mom and dad."
NS: Talk about partnering with Lucasfilm, because it feels like that's been an incremental process.
SG: Ten years of working that relationship.
NS: And now you're taking it to the next level by actually doing a show set in the Star Wars universe. I'd love to hear how this all came about.
MS: For me, Star Wars is what inspired me to want to collect the toys growing up, and what got me into this business. And when we did that Emperor Phone Call sketch, and the phone lit up and the Caller ID said "Lucasfilm," we had a heart attack. We thought we were going to get sued. I actually answered the phone pretending to be our assistant. But it was Tracy Cannobbio at Lucasfilm, who was a really big fan. And she was like, "Hey, we love the Emperor's phone call sketch, would you want to come up for a tour," and we were on a plane the next week.
SG: And we're trying to figure out what their take on all this was—it was before the Clone Wars TV show, they had just finished Episode III—and they're like, "What do you want to do?" And Matt comes out with, "I'm thinking we do a half hour Robot Chicken show that's all Star Wars." And I start up with, "Maybe we do a Super Bowl halftime show, we could do one of these huge collaborations." It didn't work out quite like that…
MS:…but within three weeks we were up and running. And they loved it. We got George to do his own voice for it, which is hysterical…
NS: And you had an attitude of respect and wanting to honor the work that they'd done…
MS: Absolutely. The thing I always tell people when I've gone back to Wesleyan is, there's a way to ask for help and be humble about it.
SG: And there's a way to be confident without being arrogant or repulsive.
NS: Last question. Seth, you've had the chance to work with Joss (Whedon, '87) and Matt…
SG: Is this a Wesleyan question?
MS: We've actually had Joss on the show. I believe we referred to him as "Wesleyan's own Joss Whedon."
NS: I think applications went up 50 percent that next year. What would you say is the Wesleyan secret sauce?
MS: From my perspective, I think Wesleyan encourages creativity. I was pulled in so many different directions while I was there, that I was able to accomplish so much more. I was doing SJB, I was doing stuff at the Career Planning Center, I was editing at night, I was doing intramurals at the same time, I did hockey all four years I was there—but you look at the people who came out of there, and it justifies all the creativity that's there.
SG: Nothing beats hard work. Matt and I get here by 8 in the morning and we don't leave until 6 or 6:30 unless there are extenuating circumstances. We're here pushing rocks all day long. That's what it takes. Every single thing that we have gotten done has been done by sheer will.
MS: I always go back to that time period when I was in New York, and I would leave my first job and go to my second job, which was working on these digital shorts until 3 or 4 in the morning, and if I hadn't worked that hard, it never would have happened. I always come back to that. Those six months were the worst hell I've ever experienced, but it paid off in the end.