HISTORICAL ROW: ELIZABETH C. WRIGHT, FOUNDING MOTHER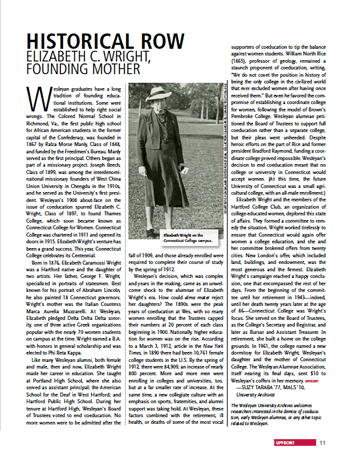 Wesleyan graduates have a long tradition of founding educational institutions. Some were established to help right social wrongs. The Colored Normal School in Richmond, Va., the first public high school for African American students in the former capital of the Confederacy, was founded in 1867 by Ralza Morse Manly, Class of 1848, and funded by the Freedmen's Bureau. Manly served as the first principal. Others began as part of a missionary project. Joseph Beech, Class of 1899, was among the interdenominational missionary founders of West China Union University in Chengdu in the 1910s, and he served as the University's first president. Wesleyan's 1908 about-face on the issue of coeducation spurred Elizabeth C. Wright, Class of 1897, to found Thames College, which soon became known as Connecticut College for Women. Connecticut College was chartered in 1911 and opened its doors in 1915. Elizabeth Wright's venture has been a grand success. This year, Connecticut College celebrates its Centennial.
Born in 1876, Elizabeth Caramossi Wright was a Hartford native and the daughter of two artists. Her father, George F. Wright, specialized in portraits of statesmen. Best known for his portrait of Abraham Lincoln, he also painted 18 Connecticut governors. Wright's mother was the Italian Countess Marca Aurelia Muzzarelli. At Wesleyan, Elizabeth pledged Delta Delta Delta sorority, one of three active Greek organizations popular with the nearly 70 women students on campus at the time. Wright earned a B.A. with honors in general scholarship and was elected to Phi Beta Kappa.
Like many Wesleyan alumni, both female and male, then and now, Elizabeth Wright made her career in education. She taught at Portland High School, where she also served as assistant principal; the American School for the Deaf in West Hartford; and Hartford Public High School. During her tenure at Hartford High, Wesleyan's Board of Trustees voted to end coeducation. No more women were to be admitted after the fall of 1909, and those already enrolled were required to complete their course of study by the spring of 1912.
Wesleyan's decision, which was complex and years in the making, came as an unwelcome shock to the alumnae of Elizabeth Wright's era. How could alma mater reject her daughters? The 1890s were the peak years of coeducation at Wes, with so many women enrolling that the Trustees capped their numbers at 20 percent of each class beginning in 1900. Nationally, higher education for women was on the rise. According to a March 3, 1912, article in the New York Times, in 1890 there had been 10,761 female college students in the U.S. By the spring of 1912, there were 84,909, an increase of nearly 800 percent. More and more men were enrolling in colleges and universities, too, but at a far smaller rate of increase. At the same time, a new collegiate culture with an emphasis on sports, fraternities, and alumni support was taking hold. At Wesleyan, these factors combined with the retirement, ill health, or deaths of some of the most vocal supporters of coeducation to tip the balance against women students. William North Rice (1865), professor of geology, remained a staunch proponent of coeducation, writing, "We do not covet the position in history of being the only college in the civilized world that ever excluded women after having once received them." But even he favored the compromise of establishing a coordinate college for women, following the model of Brown's Pembroke College. Wesleyan alumnae petitioned the Board of Trustees to support full coeducation rather than a separate college, but their pleas went unheeded. Despite heroic efforts on the part of Rice and former president Bradford Raymond, funding a coordinate college proved impossible. Wesleyan's decision to end coeducation meant that no college or university in Connecticut would accept women. (At this time, the future University of Connecticut was a small agricultural college, with an all-male enrollment.)
Elizabeth Wright and the members of the Hartford College Club, an organization of college-educated women, deplored this state of affairs. They formed a committee to remedy the situation. Wright worked tirelessly to ensure that Connecticut would again offer women a college education, and she and her committee brokered offers from twenty cities. New London's offer, which included land, buildings, and endowment, was the most generous and the firmest. Elizabeth Wright's campaign reached a happy conclusion, one that encompassed the rest of her days. From the beginning of the committee until her retirement in 1943—indeed, until her death twenty years later at the age of 86—Connecticut College was Wright's focus. She served on the Board of Trustees, as the College's Secretary and Registrar, and later as Bursar and Assistant Treasurer. In retirement, she built a home on the college grounds. In 1961, the college named a new dormitory for Elizabeth Wright, Wesleyan's daughter and the mother of Connecticut College. The Wesleyan Alumnae Association, itself nearing its final days, sent $10 to Wesleyan's coffers in her memory. UPFRONT
—SUZY TARABA '77, MALS '10,
University Archivist
The Wesleyan University Archives welcomes researchers interested in the demise of coeducation, early Wesleyan alumnae, or any other topic related to Wesleyan.