HISTORICAL ROW: CAGE'S FIRST WESLEYAN CONCERT, 1955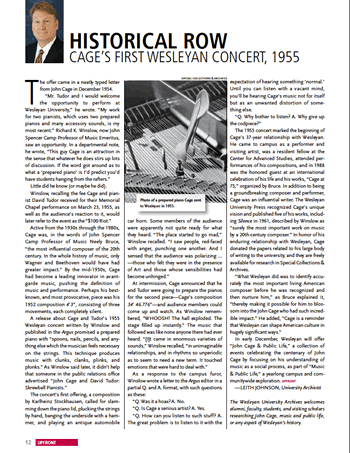 As a response to the campus furor, Winslow wrote a letter to the Argus editor in a partial Q. and A. format, with such questions as these:
"Q. Was it a hoax? A. No.
"Q. Is Cage a serious artist? A. Yes.
"Q. How can you listen to such stuff? A. The great problem is to listen to it with the expectation of hearing something 'normal.' Until you can listen with a vacant mind, you'll be hearing Cage's music not for itself but as an unwanted distortion of something else.
"Q. Why bother to listen? A. Why give up the codpiece?"
The 1955 concert marked the beginning of Cage's 37-year relationship with Wesleyan. He came to campus as a performer and visiting artist, was a resident fellow at the  Center for Advanced Studies, attended performances of his compositions, and in 1988 was the honored guest at an international celebration of his life and his works, "Cage at 75," organized by Bruce. In addition to being a groundbreaking composer and performer, Cage was an influential writer. The Wesleyan University Press recognized Cage's unique vision and published five of his works, including Silence in 1961, described by Winslow as "surely the most important work on music by a 20th-century composer." In honor of his enduring relationship with Wesleyan, Cage donated the papers related to his large body of writing to the university, and they are freely available for research in Special Collections & Archives.
"What Wesleyan did was to identify accurately the most important living American composer before he was recognized and then nurture him," as Bruce explained it, "thereby making it possible for him to blossom into the John Cage who had such incredible impact." He added, "Cage is a reminder that Wesleyan can shape American culture in hugely significant ways."
In early December, Wesleyan will offer "John Cage & Public Life," a collection of events celebrating the centenary of John Cage by focusing on his understanding of music as a social process, as part of "Music & Public Life," a yearlong campus and communitywide exploration.
—LEITH JOHNSON, University Archivist
The Wesleyan University Archives welcomes alumni, faculty, students, and visiting scholars researching John Cage, music and public life, or any aspect of Wesleyan's history.