By Eric Gershon '98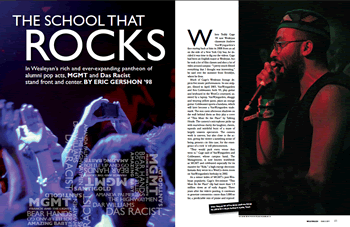 When Teddy Gage '05 saw Wesleyan classmate Andrew VanWyngarden's face staring back at him in 2008 from an ad on the side of a New York City bus, he decided it was time to dig out the videos. Gage had been an English major at Wesleyan, but he took a lot of film classes and shot a lot of video around campus. "I pretty much filmed everything that I thought was interesting," he said over the summer from Brooklyn, where he lives.
Much of Gage's Wesleyan footage depicts live music performances. In one snippet, filmed in April 2003, VanWyngarden and Ben Goldwasser, both '05, play guitar and keyboard in the WestCo courtyard, assisted by a laptop. VanWyngarden, shaggy and wearing yellow pants, plays an orange guitar. Goldwasser sports a bandana, which will later become a VanWyngarden trademark. The sun casts afternoon shadows on the wall behind them as they play a cover of "This Must Be the Place" by Talking Heads. The camera's microphone picks up with marvelous clarity the laughter, cheers, squeals and mirthful buzz of a mass of largely unseen spectators. The camera work is uneven, but also close to the action, giving the viewer a satisfying sense of being present—in this case, for the emergence of a rock 'n' roll phenomenon.
"They would pack every venue they went to," Gage said of VanWyngarden and Goldwasser, whose campus band, The Management, is now known worldwide as MGMT and celebrated especially for its massive hit "Kids," a high-energy electronic fantasia they wrote in a WestCo dorm room on VanWyngarden's birthday in 2002.
As a minor index of MGMT's post-Wesleyan popularity, Gage's five-minute "This Must Be the Place" clip had more than 1.9 million views as of early August. Three years after the video's posting, it continues to generate comments—more than 3,000 so far, a predictable mix of praise and reproof. "I would do anything to be there in that crowd," says one poster. "I cover a MGMT song every time I get on stage," says another, apparently a musician. "It feels that good." (A fan video for "Kids" has had nearly 40 million views.)
It's no stretch to call MGMT big: A deal with Columbia Records; appearances on Letterman, Saturday Night Live,and the cover of Spin; international tours; praise from Rolling Stone as one of "40 Reasons to Get Excited About Music;" an invitation from a Beatle to open for his current act; and two recent Grammy nominations, including one for "Best New Artist."
"Big is opening for Paul McCartney at Fenway Park at his request," says Matt Ashare '87, a former music critic and editor for The Boston Phoenix.
For decades Wesleyan has enjoyed a reputation for its graduates' outsized influence in Hollywood and the arts generally. Lately, the spotlight frequently falls on alumni in pop music, thanks especially to VanWyngarden and Goldwasser, who met as WestCo freshmen—but not to them alone.
A pair of their contemporaries, Himanshu Suri '07 and Victor Vazquez '06, who perform as the rap group Das Racist, are also drawing crowds coast-to-coast and overseas. They first came to wide attention in 2009 for their rap "Combination Pizza Hut and Taco Bell," an Internet sensation, and are scheduled to release their first album, Relax, in September. Along the way, they've offered a steady stream of provocative commentary seemingly irresistible to pop culture writers drawn by their sense of humor and liberal arts pedigree. Last yearThe New York Times Magazine gave its full-page interview of Suri '07 and Vazquez '06 a cheeky three-word title: "Straight Outta Wesleyan."
Press accounts of Das Racist, MGMT and up-and-coming acts in their collegiate orbit often mention the school, giving rise to some perhaps hyperbolic but welcome assessments of Wesleyan's role in the current pop scene. The Village Voice tried to explain it in a 2009 story called "The Wesleyan Mafia: How a Connecticut liberal arts school became the epicenter of surrealist Brooklyn pop."
Vazquez has a theory to explain the phenomenon: "I think people still find college-educated rappers novel."
Says Suri: "I think it's all MGMT's fault."
That may be, and MGMT's VanWyngarden can live with it: "I like that Wesleyan kind of gets credit for spawning good music," he says.
Ashare, who spent more than 17 years at The Phoenix, said the bands' Wesleyan connection gives writers a story that's about more than the music alone. "Every feature writer needs a hook to hang a story on. And in this case, I think MGMT and Das Racist play nicely into the general impression that a lot of people in the know have of Wesleyan, in terms of being not just a great academic institution, but also a place that attracts smart, creative people."
Music scholars have long known Wesleyan as a pioneer of ethnomusicology, or the study of non-Western musical traditions, such as Javanese gamelan, and as an incubator for avant-garde music. John Cage, the experimental musician, was a fellow at Wesleyan's Center for Advanced Study in 1960–61 and 1969–70, two lengthy episodes in his decades-long association with the university and its faculty. Ravi Shankar, the legendary Indian sitarist (and father of pop sensation Norah Jones) played at Wesleyan on one his first U.S. tours, also in the early '60s. The overlapping rise of MGMT and Das Racist has trained attention on the innovations of alumni performers and on Wesleyan itself as a wellspring of hip, smart, fun pop.
Wesleyan alumni made their first marks in pop music decades ago. In 1961, as undergraduates, The Highwaymen—Robert Burnett, Stephen Butts, Chandler Daniels, David Fisher and Stephen Trott, all '62—reached the #1 spot on the Billboard charts with their song "Michael (Row the Boat Ashore)." John Perry Barlow '69 collaborated with Bob Weir of The Grateful Dead to produce lyrics for many of the band's songs, including  "Estimated Prophet," "I Need A Miracle," "Hell in a Bucket," and "Mexicali Blues." Dar Williams '89 has been a major figure in folk for nearly two decades. And Amanda Palmer '98 of The Dresden Dolls essentially invented a new genre of theatrical rock performance typically described as "Brechtian punk cabaret."
The rise of a new crop of Wesleyan-affiliated acts hasn't gone unnoticed by their predecessors. The Mobius Band (Peter Sax, Ben Sterling, and Noam Schatz, all '00) nodded self-deprecatingly to the success of certain famous newcomers in a recent Web post: "We formed a band the fall semester of our freshman year at Wesleyan… This was back in the late '90s, friends—back before every band you've heard of went there."
Some of the new bands even keep in touch. MGMT's Goldwasser says he and VanWyngarden see Suri and Vazquez of Das Racist "pretty frequently" when neither act is on the road: "We still have a lot of the same friends in New York. It's pretty hard to leave the house here without running into someone from Wesleyan."
As MGMT and Das Racist deepen their stamp on pop culture, several other bands with Wesleyan ties are making a serious run at life onstage, or living it already. Cantora Records, which in 2005 issued MGMT's first EP—with "Kids" and "Time to Pretend" on it—has signed at least two other Wesleyan-affiliated acts, Bear Hands (with Ted Feldman '09 and Dylan Rau '07) and Francis and the Lights (Francis Farewell Starlite '06). Santi White '97—best known as Santigold—has toured, collaborated or performed with Coldplay, Bjork, MIA, Jay-Z, and others, and is expected to release her next album this fall. Simon O'Connor '05 (a mainstay of Amazing Baby) and Will Berman '04 (part of MGMT's live band) are now both part of Ill Fits, and Bottle Up and Go (Keenan Mitchell and Fareed Sajan, both '09) is on the rise.
"It's not just MGMT," said Jesse Israel, Cantora's co-founder.
Diverse in their sounds and styles—described variously as "experimental pop" "electro-funk," "electro-rap," "indie rap," "Brechtian punk cabaret," "punk disco," "'80s Pop throwback," and "a mix between Prince and Phil Collins"—Wesleyan's alumni bands are hard to pigeonhole. "They have about as much in common as the 'Typical Wesleyan Student," says Palmer, perhaps best known for her Dresden Dolls song "Coin-operated Boy."
Still, says Ashare, "You might be able to say that there's a Wesleyan attitude in the sense that Amanda Palmer/Dresden Dolls, MGMT and Das Racist are all smart, unconventional, left-of-center artists who have found a certain degree of mainstream success."
Rich in irony, playful self-mockery and intelligent fun, that attitude pervades their music, lyrics, and public comments. Of her new record, now in progress, Palmer jokes: "It's going to sound like a combination of MGMT, Das Racist, Dar Williams and Santigold. You're going to LOVE it."
Some of Wesleyan's professional pop stars were music majors (Goldwasser and VanWyngarden) but, in true liberal arts fashion, many built their academic experience around other subjects. Palmer majored in German, Suri in economics, Williams in theater and religion. VanWyngarden seriously considered majors in astronomy, environmental science and studio art before settling on music. Whether or not they came to Wesleyan looking for musical inspiration, a lot of these future pop stars found it—in fellow students, in professors, in the classroom.
"Even by the end of freshman year I was in a few bands," says VanWyngarden, who recalls a Neely Bruce course in Bach's Well-Tempered Clavier as an eye-opening experience. "Nothing too serious. I was in this mostly '80s hair-metal ballad cover band called Born to Kill—some of the most fun I've ever had playing in those shows. There'd be, like, 10 of us on stage. It was the most fun ever. My sophomore year I was going to Eclectic and playing music in the basement a lot with friends. From the first week it was very clear that music was very important to a large part of the student body."
Palmer says she still feels she owes "heaps of thanks to [Professor of Music Emeritus] Alvin Lucier for single-handedly introducing me to the wonders of John Cage, Terry Riley, Laurie Anderson, and Steve Reich through Experimental Music 101. And [Professor of Music Emeritus] Jon Barlow, who taught the introduction to western music course, deserves some serious props—just for standing there and infecting the students with his passion about Mahler. I didn't know someone could care about classical music so fiercely."
Then there was life outside the classroom. Wesleyan offered what Goldwasser called "a fairly loose social structure" in which it was easy for students to stage informal public performances—inside WestCo, outside WestCo, at Eclectic, on Foss Hill. "So many of the social activities come from people organizing things themselves," he says. "It allowed us to do what we were doing without caring too much about the organizational side of things, or dealing with the bureaucracy." Just as important for MGMT's early development, he says, was "the open-mindedness" of fellow students. "No matter what you did," he says, "somebody was probably going to appreciate what you were doing."
By all accounts, there was no shortage of appreciation for The Management, the proto-MGMT. "I don't think you could've gone to Wesleyan in those years without hearing 'Kids' played at every house party," Suri of Das Racist told The Times earlier this year. As best Goldwasser and VanWyngarden can remember, The Management played its first live show at the WestCo Café in '01 or '02, performing the theme song from the 1984 film Ghostbustersfor about 20 minutes. Recordings of "Kids" eventually began circulating at other colleges, inspiring a pair of NYU students, Israel and Will Griggs, to offer to promote and manage them.
In September 2005, a few months after VanWyngarden and Goldwasser graduated, Israel and Griggs, then still at NYU, issued the "Time to Pretend" EP with a half-dozen songs. "It's these six songs that really powered our company," says Israel. "This album cost $400 to make and it's sold hundreds of thousands of digital singles." MGMT later signed with Columbia Records, a division of Sony, and Columbia issued the band's first full-length album, Oracular Spectacular in 2007, with new versions of "Kids" and "Time to Pretend." MGMT's second album, Congratulations, came out last year, and the band is now at work on another.
"I'm just excited to write music with Ben again," VanWyngarden said in August from Los Angeles, as MGMT began a short California tour. "We're not the kind of band or duo where it's writing all the time. It's a pretty distinct sort of world from touring for us."
At colleges everywhere, each new class generates new bands. As Adam Gunther '11 of Los Angeles prepared to attend Wesleyan, he thought he might take a rest from music. But he found he couldn't stop once he got to campus. "I came here and everyone played music all the time," Gunther said in an interview last May, just before commencement. "It was unavoidable. You couldn't not play music with all that going on."
Gunther joined Flora and Fauna, a "dance/power-pop" act that includes three other Wesleyan alumni—Matt Bernstein '11, Gabe Gordon '11 and Charlie Ellis '13—plus Casey Baird. This year the group won Eclectic's annual "Battle of the Bands," a shot of encouragement before moving on to a bigger stage. "We're all moving back to L.A. to keep playing," said Gunther.
It might not be long before you see their faces on the side of a bus.
Or hear that MGMT has reemerged on campus.
VanWyngarden pictures it this way: "An old-school Management show. In a house. Karaoke-style."