Governor Peter Shumlin: Small Town Worldliness
By Katherine Jamieson '96
Photography by Karen Pike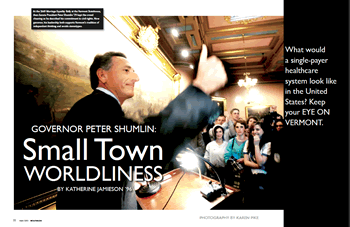 IN SOME WAYS, PETER SHUMLIN '79 hearkens back to an old-time, New England politician. Except for the stint in Connecticut for college, he's lived and worked in his hometown of Putney, Vermont, population 2,600, for his entire life. According to his web site bio, he "likes to fish, hunt and garden and can sometimes be found spreading manure and cutting hay at the dairy farm where he is a partner." Starting at the age of 24, his commitment to public service has been unwavering, and he's held public office almost continuously for 30 years.
Yet, his agenda and attitude bear no resemblance to the old-boy network and the abuses that often accompany that brand of entrenched leadership. As president of the Vermont State Senate, he sponsored the first bill for marriage equality in the nation, which passed in 2009. In his first year of service, he appointed the first openly gay judge to the Vermont Superior Court, and challenged the power of corporations to influence politicians. After winning a tough race for governor in 2010, he signed a revolutionary bill last May to promote universal insurance coverage under a single-payer healthcare system, affirming that health care should be "a right, not a privilege" for all Vermonters. His innovative policies recently led Rolling Stone magazine to name him to the list of "quiet ones who get things done."
Shumlin's tenure as governor has also been marked by unprecedented environmental challenges, including a debilitating blizzard, devastating flooding last spring, and, most notably, Tropical Storm Irene, which washed out over 500 miles of roads and damaged over 200 bridges in the state, along with hundreds of houses and businesses. For a state with 7,000 farms, and roughly 21 percent of its land used for agricultural purposes, the impact of natural disasters is even more pronounced.
"The lesson is that climate change is here. It's affecting my job and many other people's jobs. We didn't used to get 12 inches of rain dumped on us in six hours," says Shumlin.  Within three months of the storm, however, all the bridges and roads had been reopened, a "remarkable recovery" that he attributes to Vermonters' willingness to "pull together."  "I'm blessed to govern a state where people care about each other."
Many of his actions put him solidly in the liberal camp, yet Shumlin has deftly avoided being saddled with an easy stereotype. He's strong on fiscal discipline and is firmly opposed to new taxes. Business leaders may not like his healthcare plan, but he has wooed them with pro-business rhetoric and a willingness to get out and shake hands. In fact, he is reported to spend more time traveling the state in his SUV than working in his office in Montpelier (the nation's smallest capital city), and he has demonstrated a canny feel for retail politics. Political observers credit him with shrewdly pulling political rivals into his cabinet, and they generally give him high marks for management of state government.
A November poll by Smith Johnson Research, a Sacramento-based firm, found that 53 percent of 400 randomly selected Vermonters approved, and 15 percent highly approved, of Shumlin's leadership. Bert Johnson, a political science professor at Middlebury College who specializes in state politics, says, "My sense is that Shumlin's standing with Vermont voters is quite good at this point," adding that his "rapid response" to Tropical Storm Irene "won praise from most quarters."
Frank Bryan, the John G. McCullough Professor of Political Science at the University of Vermont, notes that Shumlin has fulfilled what he believes to be a critical potential for his governorship: "to be not a traditional big 'D' Democrat but rather a small 'd' democrat."
"I have always viewed him as a communitarian; interested in place and locality—in Vermont's case—town meeting governance. But what town meetings need most of all these days is to retain what is left of local control." Bryan says that local control has been eroded over the past half century, though it was a "mantra of the agrarian context of the old Vermont." In his view, Shumlin represents the connection of the old "right" in Vermont, the more agrarian and localist wing of the Republican Party, with the post-Nixon left in the Democratic Party. He cites Shumlin's opposition to the four-year term for governor, as well as not attempting to further limit the towns' control of their schools as evidence of his support for local control. Bryan attributes Shumlin's popularity to this focus of his leadership, particularly with Vermonters who moved to the state in the last generation "to live small and govern small."
Shumlin traces his sense of civic commitment straight back to Wesleyan. By the time he arrived at college in the mid-'70s, things had "cooled off a bit" from the rebellious '60s. His cohort felt a growing sense of obligation to the community, school board, town, and nation. The environmental movement was beginning to burgeon, and the effects of pollution and global warming on the ecosystem were becoming more evident. "We were realizing that we were impacting the livability of the planet for the future," he says.
Wesleyan taught him to "to look beyond the normal." It was here that he first began to recognize his obligation to making positive social change; here that gay friends opened his eyes to the need for equal rights; and here that he got his first taste of practical government, when a faculty member steered him to an internship with a Connecticut state representative. "There's a social conscience at the school that's unspoken, but delivered," he says.
He credits the university's small course enrollment with pushing him to "make the class, rather than just take it." In particular, he recalls a seminar on Virginia Woolf in which he was the only man. "I remember coming out of that class with an incredible sense of privilege." The course gave him a better understanding of the issues that women face, a valuable empathetic awareness as he entered public service. "I have more women working for me now than men. I also have two daughters in college, so I have to understand these issues of equality."
He returned to his hometown with plans to apply to law school. His parents, who in the 1950s had founded Putney Student Travel, an educational firm that organizes international service projects for middle and high school students, convinced him to work for them in the interim. After leading a trip to France, Holland, and England that summer, Shumlin saw the opportunity for growth in the organization. In time, he brought his brother, Jeff Shumlin '82, on board and together the two built the firm into a much larger operation.
Shumlin's experiences designing and setting up programs all over the world, including rebuilding schools in Africa and environmental work in the Galápagos, gave him firsthand experience with innovative development work. "I was looking for ways to support those most in need, which is also what a governor does," he says. He also gained a broader perspective on how different governments serve their citizens. While setting up a homestay in France, he remembers working with a woman who was dropping off her six-week-old baby at a state-run nursery, an "amazing facility." Experiences like this laid the groundwork for his later questioning of the failures of the U.S. health care system and other public programs.
As Shumlin settled down in Putney, his hometown began grappling with the possibility of a run-down, local college being converted into a federal prison. He mounted a campaign to fight the plan, and the initiative was defeated in a town-wide vote. "The local board of the select people had supported the prison, so now people told me I had to run for the select board," he says. Shumlin won on a platform that he would determine a better solution for the derelict campus. Dyslexic from childhood, he helped facilitate the founding of Landmark College, with programs targeted to students with learning disabilities, including dyslexia. Twenty-five years later, the college is still thriving.
Since taking office, Shumlin has been most outspoken about the issue of publicly financed health insurance. "All the other industrialized countries have figured this out," he says. Last May, he signed the country's first single-payer, universal health care legislation to implement "Green Mountain Care," which will provide insurance for all Vermonters by 2017. The new system will rein in the massive inefficiencies in health care, which Shumlin asserts are hurting the U.S. economy and stifling job growth. "Eight to nine cents of every health care dollar are spent on collecting money. If any other business did that, it would be bankrupt," he says. Under the new system, patients will know exactly what they owe immediately, and funds that would be spent "chasing money around" will remain in the program. 
Green Mountain Care will also put the onus back on hospitals and doctors to help keep patients healthy, and prevent insurance companies from "making money off our misery."  The system will incorporate managed care and incentives for patients to use exercise and diet programs to prevent disease. In contrast to the current system, healthcare providers will be reimbursed for making, or keeping, patients well, rather than the volume of procedures that they perform. "When a provider has a financial interest in containing costs—the opposite of fee for service—then it's more efficient," says Shumlin.
Shumlin is not planning to release details for financing the healthcare system until November of this year. Moreover, the two-year term of Vermont governors means that he may or may not be in office when the impact of the healthcare plan is felt.  Johnson notes that Shumlin's health insurance plan could run up against opposition, and will depend on factors that are "beyond the state's exclusive control," such as the federal government's willingness to extend a waiver under the Patient Protection and Affordable Care Act (President Obama's healthcare legislation). Johnson also believes that Shumlin's likely Republican opponent in the fall election, Randy Brock, will base his campaign on concerns regarding the cost of the single payer plan—a topic of little agreement and hot debate.
Another major initiative for Shumlin is developing renewable energy sources in Vermont. The state is rapidly building facilities to harness renewables, like wind, solar, small hydroelectric, and harvesting the forest for small biomass pellets. "We make burners in Barre, loggers get jobs in the woods, and our factories are producing the pellets. Every single dollar remains in Vermont," he says. Shumlin sees this move away from dependency on oil as both crucial for the environment and politically astute. "Renewables keep us from sending hundreds of millions of dollars to countries that don't like us," he adds.
One reason Shumlin believes his pioneering programs will succeed is that Vermonters are industrious, hardworking, and answerable to each other. With a population of 625,000, "Everyone knows someone, or knows someone who knows someone. Nothing happens here that people don't know about." Shumlin asserts that this kind of hometown accountability is what America was built on. "Democracy was designed for small numbers. When Jefferson and his boys sat down to write the Constitution, they didn't envision millions of people and 30-second sound bites," he says. 
These higher numbers don't intimidate Shumlin, however. In fact, he wants to show that the state of Vermont can be an inspiring microcosm for the nation. He believes that the United States has been "hijacked by corporate money" and that ordinary Americans are being left behind. Vermont's refusal to go into debt or succumb to corporate pressures makes it a model for implementing progressive social and fiscal policies on a wider level. "We always balance our budgets, and we don't rob pension funds to do it. The state is extremely fiscally responsible, but socially liberal. The result is that we live and let live and take care of each other."
Katherine Jamieson '96 is a freelance writer whose work has recently appeared in The Best Travel Writing 2011. More of her writing can be found at katherinejamieson.com