PAGAN KENNEDY '84 CHARTS AN UNCOMMON LITERARY COURSE.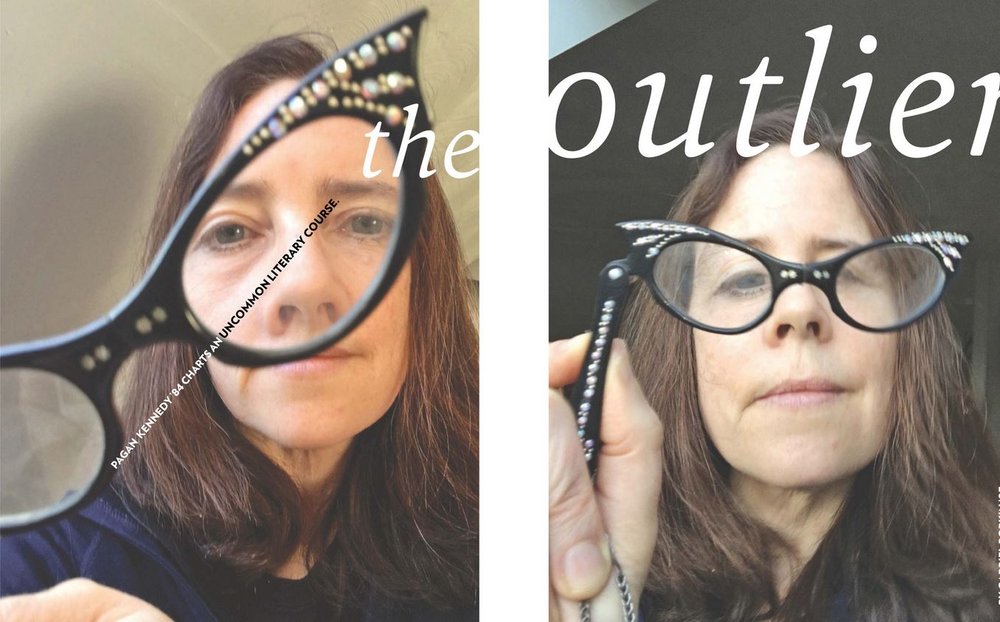 PAGAN KENNEDY '84 has always seen things a little differently. When she recently met Abby Solomon, a 21-year-old with a rare genetic condition that prevents her from eating more than a few bites at a time, she didn't focus on Solomon's striking thinness, as many do. Instead she saw a beautiful young woman bravely taking on enormous health challenges—and a national treasure whose one-in-a-billion genes could help solve one of the world's most vexing medical mysteries. In a New York Times article last November, Kennedy wrote: "Her painful body may hold the clues to a lifesaving treatment for millions of people with obesity and diabetes."
Kennedy's column on Solomon's gift to humankind landed on page one of the Times' Sunday Review, one of journalism's most valuable pieces of real estate. The prominent placement is relatively new; she became a contributing columnist to the section earlier last fall. But the theme Kennedy explored—the value of being outside the norm—is not. By showing how people with unconventional views, unconventional ideas and even unconventional genes can have an outsize impact on society, Kennedy has charted a one-of-a-kind writing career that has made her one of today's most prominent science journalists.
"Pagan is very, very good at finding people who have something to say," says fellow writer and longtime friend Lisa Dierbeck '86. "Her nonfiction is unparalleled. She's really one of the best American authors at work today."
Kennedy herself has always been an outlier. Growing up Pamela Kennedy in Bethesda, Md., an upper-middle-class suburb of Washington, D.C., she earned the nickname "Pagan" after protesting her high school principal's references to God in speeches. When she got to Wesleyan, she realized that she could use the name to craft a new identity—one of cheeky nonconformity. She wore anachronistic bell-bottoms and go-go boots and played guitar "badly" (her word) in a rock band called Planet Love that fit in at Zonker Harris Day and just about nowhere else. She considered studying biology but ended up majoring in American Studies.
After graduating, Kennedy moved to New York to write for the storied alternative weekly, the Village Voice. A few years later, after picking up a master's degree at Johns Hopkins University, she moved to Boston, seeking a more affordable and inspiring environment from which to launch an independent writing career. "I'm allergic to regular employment," she says drolly. While continuing to contribute to the Voice and picking up a part-time editing gig, she began experimenting with new literary forms. In 1988 she started self-publishing and distributing "Pagan's Head," a sort of pre-Internet blog called a zine that both catalogued her inner life and made a character out of herself. "The idea that you would have your own media outlet was completely alien to everybody outside of the zine community," she says. She eventually compiled six years' worth of zines into a book titled, appropriately enough, 'Zine. She also wrote novels exploring popular culture of the 1960s and 1970s, and Boston's indie music scene.
But as the 1990s wore on, pay for fiction—once enough to cover rent—dwindled, and the option contracts she had been receiving from movie studios dried up, as Hollywood budgets contracted. Around the same time, she noticed her interest in science being rekindled by a "sort of a techno-anarchist collective" she had fallen into at Building 20, a legendary hacker space on MIT's campus in Cambridge, Mass., where Nobel laureates, students, and semiprofessional inventors mingled freely, and not infrequently wired together an invention that went on to change the world.
"There was something about that spirit that changed my life—people being so passionate about solving problems, being obsessed with exploring, without asking permission," Kennedy recalls. "Hanging out at Building 20 ignited my inner nerd-dom."
So she reinvented herself yet again, taking on a genre that, as she saw it, was crying out for an outsider perspective. "At the time, science writing was a pretty moribund area. Journalists were very much the handmaidens of scientists—your job was simply explaining what they were doing to a wider audience," she says. "Why were we even asking these scientific questions instead of other ones, what was the agenda, what was going on behind the scenes? I felt like none of that was being challenged at the time. I really kept thinking, I want to be a gonzo science journalist—the Hunter Thompson of science journalism."
Though Kennedy lacked a formal science education, an inquisitive mind and a talent for autodidacticism more than made up for it. Hillary Rosner '93, a fellow science writer who met Kennedy during a journalism fellowship at MIT, recalls Kennedy listening to biology lessons and podcasts on her daily walks from Somerville, where she owns a house, to campus. "She has this endlessly curious mind and she's always willing to pursue a lead and investigate something, no matter how small," Rosner says.
A certain obsessiveness, not uncommon among successful writers, has also helped her master complex material. Kennedy's writing projects tend to creep into vacations and dinner-table conversation, notes longtime boyfriend Kevin Bruyneel. "Once she gets on a topic, she's like a dog on a pant leg—she just won't let go."
Kennedy may no longer write fiction, but she still writes like a fiction writer, colleagues observe. "She brings a novelist's eye to her nonfiction," says Dierbeck. "Character development and storytelling are front and center." Many of those characters have been drawn from among the explorer-inventors of Building 20 and other eccentric geniuses of greater Boston. She even wrote a Boston magazine profile of Alex, a parrot involved in psychology experiments who was "maybe the smartest bird on the planet." Pretty soon her distinctive approach to the genre attracted the attention of the elite newspaper that the Village Voice, where she began her career, was the alternative to—the New York Times. One of her first Times stories, a profile of Amy Smith, an MIT instructor who creates technology for the developing world, got the attention of then-UN Secretary-General Kofi Annan, and shortly thereafter Smith won one of the MacArthur Foundation's "Genius Grants." "It was the first time I felt like I was actually reaching people," Kennedy says.
In her book-writing she shifted to nonfiction as well, highlighting such diverse pioneers as William Sheppard, a black missionary to Africa who exposed Belgian atrocities in the Congo and helped invent modern human rights, and Michael Dillon, the first person to undergo female-to-male sex reassignment surgery. In 2012 she got a plum gig writing the weekly "Who Made That" column for the New York Times Magazine, explaining in punchy prose how inventions from the utilitarian to the whimsical to the commonplace—the Escape key, the Super Soaker and the proverbial sliced bread all make appearances—came into being. Pretty soon she realized that she had not just a collection of articles, but the outline of her eleventh book—on the habits of mind that lead to envisioning something that doesn't yet exist. "I began to think I was seeing the secret sauce," she says.
A CERTAIN OBSESSIVENESS, NOT UNCOMMON AMONG SUCCESSFUL WRITERS, HAS ALSO HELPED HER MASTER COMPLEX MATERIAL.