HISTORICAL ROW: BUTCH LIMBACH AND THE ART LABORATORY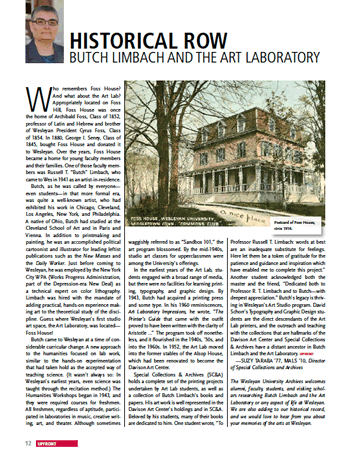 Who remembers Foss House? And what about the Art Lab? Appropriately located on Foss Hill, Foss House was once the home of Archibald Foss, Class of 1852, professor of Latin and Hebrew and brother of Wesleyan President Cyrus Foss, Class of 1854. In 1880, George I. Seney, Class of 1845, bought Foss House and donated it to Wesleyan. Over the years, Foss House became a home for young faculty members and their families. One of those faculty members was Russell T. "Butch" Limbach, who came to Wes in 1941 as an artist-in-residence.
Butch, as he was called by everyone—even students—in that more formal era, was quite a well-known artist, who had exhibited his work in Chicago, Cleveland, Los Angeles, New York, and Philadelphia. A native of Ohio, Butch had studied at the Cleveland School of Art and in Paris and Vienna. In addition to printmaking and painting, he was an accomplished political cartoonist and illustrator for leading leftist publications such as the New Masses and the Daily Worker. Just before coming to Wesleyan, he was employed by the New York City WPA (Works Progress Administration, part of the Depression-era New Deal) as a technical expert on color lithography. Limbach was hired with the mandate of adding practical, hands-on experience making art to the theoretical study of the discipline. Guess where Wesleyan's first studio art space, the Art Laboratory, was located—Foss House!
Butch came to Wesleyan at a time of considerable curricular change. A new approach to the humanities focused on lab work, similar to the hands-on experimentation that had taken hold as the accepted way of teaching science. (It wasn't always so: In Wesleyan's earliest years, even science was taught through the recitation method.) The Humanities Workshops began in 1943, and they were required courses for freshmen. All freshmen, regardless of aptitude, participated in laboratories in music, creative writing, art, and theater. Although sometimes waggishly referred to as "Sandbox 101," the art program blossomed. By the mid-1940s, studio art classes for upperclassmen were among the University's offerings.
In the earliest years of the Art Lab, students engaged with a broad range of media, but there were no facilities for learning printing, typography, and graphic design. By 1943, Butch had acquired a printing press and some type. In his 1960 reminiscences, Art Laboratory Impressions, he wrote, "The Printer's Guide that came with the outfit proved to have been written with the clarity of Aristotle …" The program took off nonetheless, and it flourished in the 1940s, '50s, and into the 1960s. In 1952, the Art Lab moved into the former stables of the Alsop House, which had been renovated to become the Davison Art Center.
Special Collections & Archives (SC&A) holds a complete set of the printing projects undertaken by Art Lab students, as well as a collection of Butch Limbach's books and papers. His art work is well represented in the Davison Art Center's holdings and in SC&A. Beloved by his students, many of their books are dedicated to him. One student wrote, "To Professor Russell T. Limbach: words at best are an inadequate substitute for feelings. Here let them be a token of gratitude for the patience and guidance and inspiration which have enabled me to complete this project." Another student acknowledged both the master and the friend, "Dedicated both to Professor R. T. Limbach and to Butch—with deepest appreciation." Butch's legacy is thriving in Wesleyan's Art Studio program. David Schorr's Typography and Graphic Design students are the direct descendants of the Art Lab printers, and the outreach and teaching with the collections that are hallmarks of the Davison Art Center and Special Collections & Archives have a distant ancestor in Butch Limbach and the Art Laboratory. UPFRONT
—SUZY TARABA '77, MALS '10, Director of Special Collections and Archives
The Wesleyan University Archives welcomes alumni, faculty, students, and visiting scholars researching Butch Limbach and the Art Laboratory or any aspect of life at Wesleyan. We are also adding to our historical record, and we would love to hear from you about your memories of the arts at Wesleyan.