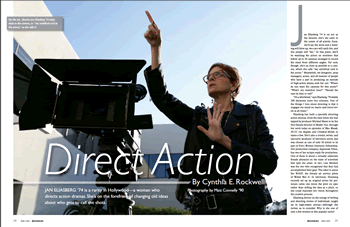 JAN ELIASBERG '74 is on set; as the director, she's the calm in the center of all activity. Soon, she'll say the word and a building will blow up, two cars will catch fire, and five people will "die." At that point, she'll be watching the action on monitors that follow up to 10 cameras arranged to record the stunt from different angles. For now, though, she's as close as possible to a camera, which she calls "my umbilical cord to the actors." Meanwhile, set designers, prop managers, actors, and all manner of people who have a part in producing an episode of high-action drama seek her out. "Where do you want the cameras for this scene?" "What's my intention here?" "Should the vase be blue or red?"
"It's a whirlwind," says Eliasberg. "Probably 100 decisions every five minutes. One of the things I love about directing is that it engages my mind on macro and micro levels at all times."
Eliasberg has built a specialty directing action dramas, from the time when she was tapped by producer Michael Mann to be the first female director of Miami Vice, through her work today on episodes of Blue Bloods, NCIS: Los Angeles, and Criminal Minds, to name a few. She's also a creator, writer, and executive producer of television series and was chosen as one of only 10 artists to be part of Fox's Writers Intensive Fellowship. Her production company, Aquinnah Films, has two of her scripts ready for production. One of these is about a virtually unknown female physicist on the team of scientists that split the atom: in fact, Lise Meitner was the one who recognized that they had accomplished their goal. The other is about the WASP, the female air service pilots of World War II. In television, Eliasberg recently set up an original series for premium cable; she wrote the pilot on spec rather than selling the idea as a pitch, so she could maintain her vision throughout the creative process.
Eliasberg thrives on the energy of writing and directing stories of individuals caught up in high-stakes arenas—although she invites us to consider: Why is she one of only a few women in this popular niche?
Any questions about why she is attracted to these dramas of dynamitings, double-crossings, dismemberment, and death tend to have a "What's a nice girl like you doing in a place like this?" overtone. A theater major at Wesleyan—before the film major existed—she explains her attraction to this genre, as well as her transition from stage to studio.
"When I started directing, the plays that interested me were those with an epic canvas in which the stakes were very high and tension became violent: Hamlet, Macbeth, King Lear, for instance," she explains. "The characters were on the nexus of big social and political changes: rebellions, war, change of regime. And that was as important to me as the character component."
Yet coming out of her M.F.A. program at Yale, with study at Oxford, she found herself thrust into the world of American theater, a tradition she calls "two-people-in-a-room" domestic dramas.
Eliasberg rediscovered the high-stakes drama she craved when she transitioned to television, directing her first episode of Miami Vice. "I found myself back in the world of Shakespeare and Brecht," she says, "both in the story and in the ambition of the production. Those stories took on extraordinary themes in our culture."
She ticks off just a few Mann explored: the death penalty, the Iran-Contra affair, and the response of the Catholic Church to the AIDS epidemic. "These stories examine the tears in the fabric of society; they explore who is fighting at the front lines, and why. I was being challenged at the highest level: action dramas require that you make it clear to the audience what is at stake, who's really aligned, and how the power is shifting."
But in one arena, the power isn't shifting: Back in the Miami Vice days of the 1980s, Eliasberg assumed she'd be one of many female directors—in a way not dissimilar to Wesleyan's model of coeducation, which aimed for a transition from an all-male undergraduate institution to a 50 percent male/female ratio in three years.
Instead, the largest proportion of directing jobs in these series goes to men—a fact noted regularly by San Diego State University's Martha Lauzen. The executive director of the Center for the Study of Women in Television and Film at SDSU's School of Theatre, Television and Film, Lauzen annually publishes Celluloid Ceiling: Behind-the-Scenes Employment of Women on the Top 250 Films.
"In 2011, women comprised 18 percent of all directors, executive producers, producers, writers, cinematographers, and editors working on the top 250 domestic grossing films. This represents an increase of 2 percentage points from 2010 and an increase of 1 percentage point from 1998," Lauzen reported.
Also concerned by the homogeneity, the Directors Guild of America formed a Diversity Task Force as part of their national board. Their findings showed that in 2010–2011, 77 percent of episodes of dramatic television were directed by white males. Minority men and white women each directed 11 percent, and only 1 percent were directed by minority women. These statistics were based on an analysis of 2,600 episodes produced during the television season, from more than 170 scripted television series.
The New York Times broached this topic in the "Room for Debate" feature, with the series How Can Women Gain Influence in Hollywood? The introduction gives a bow to the late Nora Ephron, noting that "her achievements as a female screenwriter and film director in Hollywood … [are] a kind of success that is still rare."
The series inspired a weigh-in from Liz W. Garcia '99, a Wesleyan film major who recently directed her first independent feature film—and has writing, directing, and producing credits on a number of television shows, including Cold Case and Memphis Beat, which she created with her husband, Josh Harto. In a Forbes blog, Garcia called for us to challenge our outmoded "male director" archetype—individually and on a daily basis. "Here's what I'd like," she writes. "When I walk into an executive's office to pitch myself for a directing job, I'd like to know that if I look like a little woman—which, spoiler alert! I definitely will—that the executive to whom I'm pitching will take a minute to be aware of the archetypes working against me and against progress. They will take a minute to push themselves to think beyond the obvious … to think about the look of things. What authority, responsibility and vision can look like."
Jeanine Basinger, the Corwin-Fuller Professor of Film Studies, chair of the department at Wesleyan, and curator of the Wesleyan Cinema Archives, has plenty of authority, responsibility, and vision. Variety magazine named her one of the Women of Impact in the Film business for 2012, one of only two educators—and the only one actively teaching to be so honored. As such, she is helping to develop the next generation of filmmakers and she speaks with many of the women—and men—now shaping Hollywood's productions. She recalls responding to Nora Ephron when the director was lamenting yet another series of questions on sexism in Hollywood: "How many years am I going to have to be interviewed on this topic?" Basinger was matter-of-fact: "I think forever, Nora."
Basinger puts the statistics and mindset in historical perspective: "In the early days of film, jobs in the field were not yet gender-defined, so women had access to working in the medium in a very open way, as directors, producers, editors, and, in particular, writers, of course. And there were many, many film directors in the silent era who were women, whom I've written about."
It was when the business moved into the studio system, particularly after the sound era had begun, that hierarchies formed and men moved into the dominant positions, she says, "and that's when you see the shift of women out of directing and the long fight to return to that status."
"One of the most famous, and practically the only one working into the '30s and '40s as a director in film, was Dorothy Arzner, and she is always discussed by scholars and historians," says Basinger. "She was greatly respected, but on the other hand, it wasn't easy for her. Some actresses of that era whom I'd interviewed, Joan Crawford, for one, who had been in a Dorothy Arzner film, said that Dorothy always coped, dealing with the all-male crews she had to work with, but it wasn't easy."
The woman in a position of power who gives directions to a crew of men has been a challenging arrangement in any business, says Basinger, but particularly so in the directorial arena, especially on film. "Why is this?" she queries. "Well, no one seems to have a clear, simple answer, but a lot of women who want to be film directors are directing their own movies, and they are independent films-—and frequently they write them and they create them." They are adapting in ways both Eliasberg and Garcia have done and are doing, she notes.
The possibility of making an independent film—now much more of a reality with the relatively low cost of digital production and editing compared to 16 mm film, as well as the multiple venues for distribution and publicity offered on the Web—will certainly democratize the studio system of filmmaking. Garcia calls directing her independent film "the first job in which I have not encountered sexism," explaining, "…the indie world is used to the unexpected director. The young, the person of color, the female." As for a recent example of a highly touted film created outside the studio system, Basinger points to Benh Zeitlin '04 and his Beasts of the Southern Wild.
"This is a group of Wesleyan film students, led by one of the most talented film majors we've ever had, who have gone off on their own and done this unusual thing," says Basinger. "Someone could easily have said to them, 'You cannot go to the wilds of Louisiana, hire a 6-year-old child to be your star, use all amateurs, and then decide this film is going to go out and win Sundance.'
"That is what you'd tell them if you were working from established patterns of behavior," says Basinger. "No one would believe  that would work, but they defied the odds and made it work. What I always try to tell my students, men and women, is: 'Make it work. Go out and figure it out. Find a way to put it together; do it. If it's quality, everyone wants it. The business wants it, customers want it, you want it, we want it, everyone wants it. So find your way of accomplishing. When you run into a door, go find another door, or go back and kick that door down. Find a way'."
Eliasberg's résumé is a wealth of achievements based on just the attitude Basinger outlines: the confidence to adapt to situations and create new opportunities for herself—most recently exhibited in creating her upcoming television series. As a Wesleyan undergrad, she turned to directing when a summer theater program offered little hope for acting: 15 women enrolled in a season with four female roles. Instead, she found a directing program for herself. "And the minute I started working on my project, I knew that this was it. I was done with acting; I knew I was a director," she recalls.
She parlayed this experience back to campus. In search of more opportunities to direct, she and Sam Miller '75—an arts administrator and director of the Lower Manhattan Cultural Council—created the student-run theater group, Second Stage.
"It was very entrepreneurial," recalls Miller. "Jan thought it would be a great idea to bring life back to the '92 Theater, as the department was moving to the new CFA. I had been working in the theater before then—Trinity Repertory Company, Williamstown Theater Festival—and I had seen how great it was to have lunchtime theater and cabaret. Jan had a lot of vision and imagination about how student-run and student-driven productions could work."
"What was missing in Wesleyan theater at that time was more experimental, more student-generated work," explains Eliasberg. "So because of Wesleyan's philosophy that you can make your own opportunities, Sam and I put together a proposal to turn the '92 Theater into a student-run theater." Which flourishes to this day.
Basinger recalls Eliasberg as an undergraduate. "You could see how capable she was, directing theater, in her classes, and—in particular—in her absolutely pioneering work starting Second Stage. That's the kind of thing that, if a woman can do it in the college setting, she can certainly do it in the real world. She had all the skills in place to be able to succeed in what, at that time, was still called 'a man's world.' You could see that in her already."
Eliasberg explains what she has done to foster her own success: She continues to go off to develop new ideas when other doors close. "If I don't get one job, I'll think, 'Well, how about that other project I was working on? That needs some attention.'" She refuses to allow herself to lose heart over the word "no."
Eliasberg's Aquinnah Films is a creation not unlike Second Stage: The production company seeks to develop original screenplays and television series "independent in their voice but universal in their themes." Visit the company's website and scroll through its offerings and you'll find high-action stories with women as protagonists. Eliasberg is convinced that audiences want to see women in these roles and points to the success of The Hunger Games, Erin Brockovich, Fargo and Million-Dollar Baby as evidence. She marvels, though, that critics can still can treat successful films with women in action roles as a fluke.
Eliasberg also advocates for herself—and other women. When she meets with producers, she brings the directors' gender statistics to their attention in a way that is "polite, even charming, possibly alarming, but never aggressive." And if she gets the position, she undertakes the responsibility to excel: "I want the producers to think, 'Let's bring her back and let's hire some other women, too.'"
She sees it from a practical minority standpoint: "If a woman doesn't do well, people tend to blame women directors in general—as opposed to thinking, 'Oh, maybe she was off her game or not a good fit for our show.' A hundred men could have done a poor job, but it's never, 'He didn't do a good job, so let's never hire a man again.' The more women get in there and do a good job, the more those attitudes will change and the more doors will be open to other women."
Eliasberg eagerly tackles her respon-sibilities to bring about greater opportunities for women to direct—and she asks something from us, the audience: "Support the films that are out there. It was a monumental achievement that Kathryn Bigelow won the Academy Award for The Hurt Locker. That really was a watershed moment. Go to the films, watch the films when they are opening, be there the first weekend, and keep turning out."
Like Garcia, she asks us to be a critical judge of media and our own expectations: "When we are shown faces of people in power, ask to see women's faces," she says. She noted a recent grouping of 10 photos of scientists on an Internet page—only one was a woman. "Why not three or four?" she asks. And a textbook on directing has not one profile of a female director; she wants to write an addendum for that book.
While Eliasberg recalls the way that medical schools and law schools were mandated by Title IX in 1972 to offer equal opportunities to women and men, and wishes that something similar might be done for directing positions, she notes that the business isn't set up like that. Still, she thinks it would be good for the producers of these series to receive a subtle nudge from above—say, an industry guideline suggesting that out of 22 episodes in a series, women should be hired to direct at least eight of these. "I'm not even asking for 11," she says, "but eight! Just more than one or two, enough to create a tipping point, where more women are known, so more women are hired." However, it's a volatile business with much money at stake.
"I get it," she says. "It's always a pressure situation, you're always under the gun, there's always somebody breathing down your neck about something, or the ratings are falling, and so you hire your friend. But until there are enough women in the mix that we can have as many opportunities to succeed and fail as men do, change will be slow."
Basinger understands the power of connections in Hollywood and has fostered an alumni network for just these sorts of situations—where there's a new hire but the pressure is on for someone "safe" and known. Basinger's alumni in Hollywood have earned the nickname "The Wesleyan Mafia" for their individual successes and their collective eagerness to support other Wesleyan grads in "the biz."
If change is not going to be mandated from above, then the push must come from below, Basinger and Eliasberg note. Just as the era post-Title IX found newly minted female doctors and lawyers flooding the workplace and finding jobs, so, too, will many more women who were film majors be knocking on studio doors, intent on a career directing television programs and films.
While Eliasberg was hopeful that this would happen sooner, Basinger provides historical context: Wesleyan was ahead of the curve. "You have to realize that film is new to academic study at the university. The fact that Wesleyan has been doing this since 1970 doesn't mean that everybody else has been doing it since then. So now, though, everybody is trying to add filmmaking and have people doing filmmaking, and this will help break down these barriers.
"I'd like to point out that we have a very successful film major at Wesleyan, that it is headed by a woman, that 50 percent of our faculty are women, and that, in production, we have a female filmmaker working, and she's a very good filmmaker," Basinger notes. "So we are doing our part to put people out into the world who don't have these old sexist attitudes, and who, as undergraduates, have already worked alongside each other and seen that it's not whether you are male or female that makes you good at this.
"Sexism is an old, old problem. Times have changed; it is much less prevalent than it was. Should gender equality become the norm? You bet it should. Will it? We have to say, yes, it will, and one of the reasons is that talented people like Jan and Liz are doing great work and helping to break those gender-based biases."
Eliasberg recalls the era in which she set out for Hollywood. "Everybody thought, 'It's a man's world and it's impossible for a woman to crack it.' Well, it's not. It's challenging, I'm not going to lie, but it's not impossible."