EARLIER THIS YEAR, Wesleyan alumni had the special treat of attending two wonderful Broadway productions co-produced by Jeffrey Richards '69.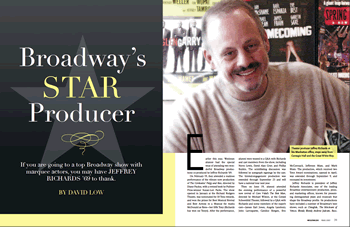 On February 19, they attended a matinee performance of the vibrant new production of The Gershwins' Porgy and Bess, directed by Diane Paulus, with a revised book by Pulitzer Prize-winner Suzan-Lori Parks. The show opened in January at the Richard Rodgers Theatre, was nominated for 10 Tony Awards, and won the prizes for Best Musical Revival and Best Actress in a Musical for Audra McDonald as Bess—her fifth Tony (Richards has won six Tonys). After the performance, alumni were treated to a Q&A with Richards and cast members from the show, including Norm Lewis, David Alan Grier, and Phillip Boykin. The scintillating discussion was followed by autograph signings by the cast. The limited-engagement production was extended through September 23 and will have a national tour next year.
Then on June 19, alumni attended the evening performance of a powerful new revival of Gore Vidal's The Best Man, directed by Michael Wilson, at the Gerald Schoenfeld Theater, followed by a Q&A with Richards and some members of the superb cast—James Earl Jones, Angela Lansbury, John Larroquette, Candice Bergen, Eric McCormack, Jefferson Mays, and Mark Blum. The production, which received two Tony Award nominations, opened in April, was extended through September 9, and recouped its investment.
Jeffrey Richards is president of Jeffrey Richards Associates, one of the leading Broadway entertainment production, press, and marketing offices, known for presenting distinguished plays and musicals that shape the Broadway profile. Its productions have included a number of Broadway's best shows, such as Chinglish, The Merchant of Venice, Bloody Bloody Andrew Jackson, Race, HAIR, Blithe Spirit, You're Welcome America: A Final Night With George W. Bush, Speed-the-Plow, November, The Homecoming, August: Osage County, Spring Awakening, The Pajama Game, and Glengarry Glen Ross.
This fall, Richards' production plans include three Broadway plays (see sidebar). Also on the horizon is a new production of the musical Damn Yankees, to be directed by Thomas Kail '99.
Richards received Wesleyan's Distinguished Alumnus Award in 2009. He recently sat down to talk to Wesleyan magazine about his long career working as a Broadway press agent and producer. His bustling office in midtown Manhattan is filled with framed posters and Playbills from his productions, and upon entering, one is greeted by his two dogs and a very friendly staff.
Richards grew up in New York City and has lived there all his life except for his four years in Middletown. His mother worked as a theatrical manager and press agent, and Richards began going to the theater at a very young age. Among his favorite shows growing up were The Most Happy Fella, West Side Story, Gypsy, and Purlie Victorious, a comedy by Ossie Davis which Richards describes as "a significant comedy with some of the best attacks on racism, done with humor."
At Wesleyan he majored in English and was the arts editor for the Wesleyan Argus, for which he reviewed plays and movies. After graduation he earned an M.S. at the Columbia School of Journalism, but shortly after that he became a press agent. He then made the leap to producing in 1995.
David Low: How long were you a press agent? 
Jeffrey Richards: Well, I'm still doing that because Jeffrey Richards Associates still handles press for our shows. But I was a press agent exclusively from 1973 to 1995.
DL: What was it like when you were starting out as a press agent compared to the present? 
JR: The Internet has changed everything. Back then, print was king. When I went to Columbia it was the first year they actually had electronic journalism courses and a TV course. But print was still dominant for everyone. Television and radio became increasingly important, and the first television ads that had any impact were for Pippinin 1973; one used radio basically as an alternative medium. One relied a lot on famous columnists of that era, people like Leonard Lyons and Earl Wilson. Arts sections in newspapers were dominated by theatrical ads. 
Everything began to change in the ensuing decades with the importance of the electronic media and the lessening influence of print. Now the electronic media's influence (by that I mean television and radio) is being diminished somewhat by the almighty power of the Internet and blogs.
DL: There also used to be more theater critics years ago, so despite the influence of The NewYork Times, good reviews from other papers could keep a show alive. Today, don't you think people rely more on the Timesreviews? 
JR: The power of The New York Times has always been substantial. In recent years, it's become less substantial for musicals, which with astute advertising and promotional campaigns can overcome mixed reviews or even negative reviews by the Times. What you can't overcome ultimately is mixed or negative word of mouth, which is what my producing partner Jerry Frankel refers to as WOM. The Times is still almost as influential for a straight play as it was back in the '70s.
DL: Do you actually pay attention to some of the Internet chatter?
JR: We're no different than the media; even the critics look at what's in the chat rooms.
DL: When did you become a producer? 
JR: I was over in London because of a production coming to Broadway and I was told to see a small show, The Adolf Hitler Revue. It wasn't for me and I departed quickly. Then I saw a crowd of young people standing in front of a theater and you rarely see that. I was curious, and they said, "Come and see the second act." It was The Complete Works of William Shakespeare (Abridged), and I thought it was extraordinarily funny but I couldn't interest any of the clients I worked for here to undertake a production. 
William Craver, an agent who is head of the theater department at Paradigm, said, "Well, why don't you do it?" Producers I knew all said, "You love it so much, why don't you give it a whirl?"  And so I did. I pursued the rights for a year. I had initially one partner and then he dropped out. Then the show was playing down in Washington, D.C., and by good coincidence, one of my closest friends at Wesleyan, Richard Gross (Class of 1970), lived down there. He and his wife went to see it and they loved it. Richard is a distinguished lawyer, and he said he always wanted to be involved in the theater, so we produced it in 1995. We went on to produce three other plays Off Broadway—Mere Mortals; Never the Sinner, which won the Outer Critics Circle Award; and Things You Shouldn't Say Past Midnight. Subsequently, Richard joined me in producing Enchanted April on Broadway, and he is part of the producing team of this fall's Edward Albee's Who's Afraid of Virginia Woolf?
DL: In the year 2000 you produced your first Broadway show, the revival of Gore Vidal's The Best Man. How did that go? 
JR: I'd always liked the play. I think it's the best political play written by an American playwright, Gore Vidal. I'd seen it on Broadway when I was a kid. I had thought when I was still working Off Broadway to do a series of readings of four plays in the 1999–2000 season before the election, much like now City Center's Encores! does musicals. The plays that I had thought about were Advise and Consent; The Gang's All Here, which is about Warren G. Harding (by the authors of Inherit the Wind); State of the Union; and The Best Man. Well, this did not come to fruition, but I was sufficiently intrigued by The Best Man that I decided to pursue it for a Broadway production. I met with Gore Vidal and brought over the young director Ethan McSweeny, who had done Never the Sinner for me, and then assembled a pretty spectacular cast. We opened during one of the most exciting election periods in American history, the Gore-Bush election.
DL: Why did you decide to revive the play another time? 
JR: I think it's a really smart play that, as far as I'm concerned, can be seen every four years around the election because the lessons that you learn from it and the conflicts it deals with still have value. It's one of the greatest casts that I've ever had the opportunity and good fortune to work with: James Earl Jones, Angela Lansbury (whom I presented in Blithe Spirit), John Larroquette, Candice Bergen, Eric McCormack, Jefferson Mays, Kerry Butler, Michael McKean, and Donna Hanover. And I had the opportunity to work again with Michael Wilson, one of our finest directors and a good friend, who ran the Hartford Stage Company for 13 seasons.
DL: Has the role of the producer changed since you started? 
JR: When I was a student at Wesleyan, I worked one summer as an intern with Alexander Cohen, who used to produce the Tony Awards; it was always "Alexander H. Cohen presents." He was a very colorful and brilliant showman. It has changed. When I was a press agent, one of the most successful productions I represented was a play called Deathtrap, and it was produced with only two names above the title, Alfred de Liagre Jr. and Roger L. Stevens. I've had shows that have had more than 30 names above the titles, such as Spring Awakening, and I've had shows with fewer than, let's say, a dozen names above the title. But nowadays it's very common for a lot of people to get credit for being a producer.
DL: You've had several Broadway successes, musicals and straight plays. Do you have a preference for producing one over the other?
JR: I only have a preference for what I think is quality and what I think is going to work. But three of the musicals that we've done—HAIR, Spring Awakening, and The Pajama Game, which we did in association with the Roundabout Theatre Company—all won Tony Awards. And currently Porgy and Bess. But of the more than 25 productions that I've done, the majority have been straight plays. Two of the productions that have been the most successful commercially were You're Welcome America, with Will Ferrell as George Bush, and August: Osage County.
DL: You've actually produced several plays by David Mamet, Tracy Letts, and Gore Vidal. Do you have a loyalty to certain playwrights over others? 
JR: I've had the good fortune and opportunity to work with great writers and I'd love to be able to continue that association. That opportunity began with my first production with Gore Vidal's The Best Man in 2000. But the David Mamet relationship has been very special and I cherish it. In 2005, Jerry Frankel and I produced Glengarry Glen Ross, which is one of the great American plays of the past century. David had known me as a press agent because I had done publicity for the original Glengarry Glen Ross and for American Buffalo, the Al Pacino revival. So he told his agent, "Sure, Jeffrey can do it; let him try to get it up." With that encouragement we plowed forward, and it was an immensely successful production.
The following year David called me and he said, "I have a new play that I've written. I'd like to send it to you to read." And I said, "Sure, I'll read it." I thought, wow, I've just been called by David Mamet. You know, it's like Cheryl Crawford being called by Tennessee Williams or Kermit Bloomgarden by Arthur Miller. I called David back and said, "I'll do it, but send it to me." The play was November, a comedy about the presidency; it was a success and starred Nathan Lane. One of the great thrills of my life occurred during the run; Mamet's agent called to send me the published edition of the play and said "You should look at it." I said, "I go to see the play a couple of times a week, to check up on it." He said, "I'll tell you where to look." He had marked the copy, and David dedicated the play to me. 
Mamet is one of the greatest American writers we have, and subsequently I've done revivals of Speed-the-Plowand A Life in the Theater. I've introduced what I think is one of his best plays, Race. This fall season I'm doing a revival of Glengarry Glen Ross starring Al Pacino and Mamet's new play, The Anarchist, which co-stars Patti LuPone and Debra Winger (Wesleyan parent '09). It's about all the things—sex, money, religion, politics, and terrorism—you were told never to speak about.
DL: Why do you think Porgy and Bess needed to be revised for the current Broadway revival? 
JR: The mission that the director, Diane Paulus, and I had from the Gershwin estates and the DuBose Heyward estate was to turn this into a Broadway musical—to create something that would stand alongside a four-and-a-half-hour opera—just two-and-a-half hours with more choreography than Porgy and Bess has had in its past. It had begun its life in 1935 at the Alvin Theatre (now the Neil Simon Theatre) but had subsequently been produced in opera houses. It had not been seen on Broadway in 35 years. 
We brought in an adaptor, Suzan-Lori Parks, who won the Pulitzer Prize for Topdog/Underdog, to make the story more accessible to the African American community of the 21st century, because the story has always been a source of controversy. I'm delighted to say that the African American community has embraced this production. I hope it will be performed alongside the opera for years to come. By having an extended run of Porgy and Bessin New York, we opened it up to new generations who will hopefully be excited enough by this production to go see the opera one day.
DL: August: Osage County was a wonderful play, but what do you think appealed to the average audience that kept it running so long? It was very successful for a straight play. 
JR: Audiences love that play. Word of mouth was terrific on that play, but we were the second play to open after a three-week theater strike in New York in 2007. We had come to New York from Chicago, where it had been acclaimed at the Steppenwolf Theatre Company, one of the finest theaters in the United States, if not the world. There was excitement about it but there was also a hunger to go to the theater immediately after the strike. And the critical response was overwhelming, so in a sense we hit a nerve at the right time. And this was a big, powerful, explosively funny play. We were the event of the season. There are always two or three or four shows that emerge every season as an event, and that year it was August: Osage County.
DL: I know there are casting directors, but do you have any input into how plays are cast? 
JR: Sometimes plays are already cast (as with August: Osage County), and sometimes my ideas are implemented (as with the 2000 and 2012 revivals of The Best Man), but mostly the final decision is in the hands of the director.
DL: Do you ever get to share notes with crea-tive teams if you think something should be improved? 
JR: Absolutely. I usually go through the director. I never speak directly to the actors or the designers. The professional way is through the director, who then will absorb the notes, tell you that he agrees or disagrees with you, and then proceed. You have to trust the director.
DL: If you had an unlimited budget, what show would you most like to produce? 
JR: What I would probably want to do is have as many readings and workshops as I could—and spend the money toward developing projects by new writers, seeing if they would fly, and then taking them to the next level.
DL: Would you talk about your Wesleyan experience?
JR: There was an enormous sense of community. Those four years are important, and one grows up in those four years. One experiences things for the first time that one will never experience again. And whenever I go back to the Wesleyan campus, I feel young and inspired and full of hope again.
DL: Wesleyan is also very popular right now among applicants. Do you have any theory about why that is? 
JR: Maybe because WOM (word of mouth) about it is very good. I haven't heard of anyone who went to Wesleyan who hasn't said that they had a wonderful time there. And that the experience was truly rewarding. I remember my freshman orientation speech that was given by President Butterfield. He said if these are the worst four years of your life we've failed, and if these are the best four years of your life we've also failed—your life should go on.  For many people, it is an important milestone and it's not necessarily the best four years of your life, but four of the most memorable years of your life.
DL: You grew up in New York City. What made you think about going to Wesleyan? 
JR: I wanted to go to a small college and so I visited three: Wesleyan, Williams, and Amherst. And I was very fortunate; that summer I was working on a play on Broadway called Dylan with Alec Guinness, and Guinness wrote my recommendation to college. Anyway, my high school adviser said, "So I have a feeling you'll be able to get in anywhere." When I visited the campus, the kids at Wesleyan were people that I related to. And not all of their fathers and grandfathers had gone there. There was a variety of people. In a way, the students were the best selling point for the university.
DL: Are there any other career highlights you'd like to mention?
JR: Besides David Mamet dedicating November to me, two other highlights are when Angela Lansbury thanked me when she won the Tony for Blithe Spirit—and getting a Distinguished Alumnus Award from Wesleyan.