"Commitment, Humor, and Passion": Obama Recalls Alex Okrent '05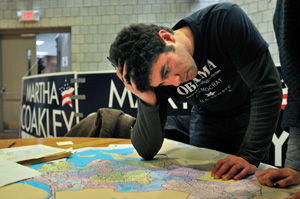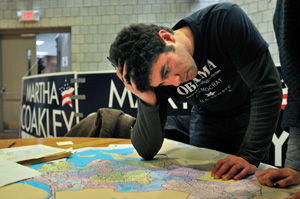 In The New York Times Magazine annual feature, "The Lives They Lived," a photo shows Alex Okrent '05 hunched over a table as he studied maps for the Obama campaign. The photo captured the specific absorption, devotion, and passion with which Okrent worked on the campaign. No one expected that this vibrant, energetic young man would collapse while at work on July 13, 2012, at age 29. He was pronounced dead, at a Chicago hospital, of what was later determined to be cardiac arrhythmia.
"Our brother Alex has passed away," Obama campaign manager Jim Messina announced at headquarters, according to the Times story, written by the magazine's chief national correspondent, Mark Leibovich. Stunned co-workers wept at the shocking news. The president called Okrent's parents in the hospital. At a memorial area set up in the corner of headquarters, President Obama left a Post-it note: "We will always remember your commitment, humor and passion. God bless."
A College of Social Studies major at Wesleyan, Okrent had taken a semester off to work on Barack Obama's first run for the Senate. In 2007, he joined Obama's first presidential campaign in its early days. It was only natural that he would return for Obama's re-election campaign.
Okrent was noted for his ability to inspire people—and after his death, colleagues and friends paid tribute to that ability. Buttons—"Do it for Alex" and "AOK"—that colleagues created and wore in his memory continued to remind those working on the campaign of his exceptional spirit.
The Times article quoted Okrent's friend, Lodro Rinzler '05, reflecting on election night: "It was this amazing moment when we knew we were successful… And we were also crushed with the realization that we weren't getting Alex back just because we won."
Professor of Government Nancy Schwartz was Okrent's thesis adviser and taught him when he was a freshman. Okrent spent a semester in South Africa, and wrote his thesis on the attitudes and actions of South African Jews in the face of apartheid in that nation. Shortly after Okrent's death, Schwartz wrote a statement memorializing him.
In part, she wrote, "Alex loved justice; it formed the aesthetic of his life. He had strong political views and he chose to work for a decade in the midst of a mainstream political party. I have the utmost respect for him and am deeply grieved at his death. He is part of the beloved community."