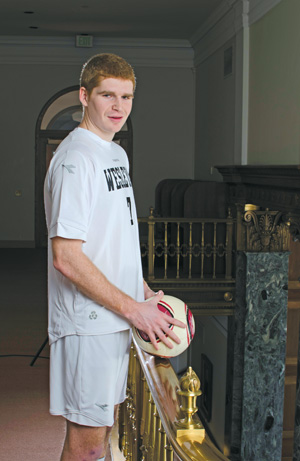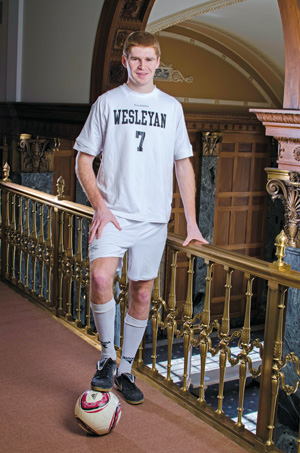 Midfielder Rory O'Neill '13, a soccer player "since before I can remember," played in all but one game for Wesleyan over his four years (68 games), with 17 career goals, along with five assists, for 39 career points.  Of his 17 goals, eight were game-winners. He was named first-team all-NESCAC, third-team Division III All-America by the National Soccer Coaches Association of America (NSCAA) and added second-team NSCAA academic All-America honors to his substantial list of awards in 2012. He also received CoSIDA/Capital One District II academic All-America honors.  He had been a second-team All-American and first-team all-NESCAC choice in 2011 as well.  Wesleyan played in three NCAA tournaments during O'Neill's career.
A psychology and sociology double major, O'Neil considers Professor Scott Plous' Social Psychology course his hands-down favorite, with its study of conformity, obedience, and lessons drawn from history. He also finds a practical side to his major: skill at observing—but not being taken in by—opposing teams "trying to get into your head."
Another key college experience—a visit to a friend in Argentina, with travel to Brazil—is shaping his post-graduation plans. "The World Cup in 2014 is in Brazil, so I'm taking Portuguese and I want to see if I can teach English in Brazil, to experience that culture," he says.
For now, though, "Your best friends on campus are always your teammates; the bond is …  we're basically family."