FIGHTING INJUSTICE, MAKING NEWS: MARIA SANTANA '98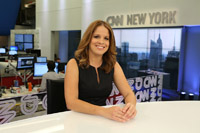 CNN en Español correspondent Maria Santana '98 is on the forefront of the media boom in U.S. Latino news—and she has a mission that propels her.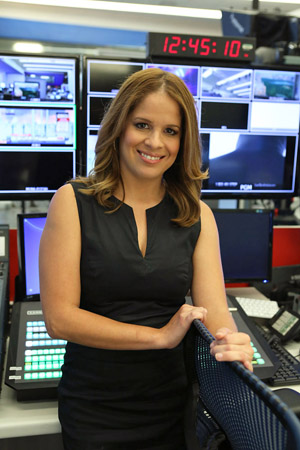 It was a Friday in mid-December, and CNN en Español correspondent Maria Santana '98 expected to have a quiet day in the New York office overlooking Central Park. In the news, Nelson Mandela had been admitted to the hospital; she planned to translate CNN's biographical files on the South African leader for CNN's Spanish-language branch. She'd go on air, wrap up by four, and head home for dinner with husband Miguel Guadalupe '98 and their two daughters.
Mid-morning, though, reports of a Connecticut school shooting popped up on the news feed. The first noted an unsubstantiated number of injuries—three, perhaps. Quickly, the reports turned horrific, though still unverified. "As many as 20 children dead," Santana read.
"This cannot be true!" she remembers telling herself, even as the call came from her news director: "You need to go there—now!"
With cameraman and producer in tow, Santana descended on Sandy Hook, a village in the town of Newtown, Conn., where the team would spend a week immersed in raw grief—reporting the news to their viewers, Spanish-speaking populations all over the world.
A full five days later, the station sent a replacement crew; Santana was finally able to return to her family. Away from the camera, she wept all the way home. "I was trying to get it all out before I saw my girls," she says, although the grieving process continued. She ached for these families during sleepless nights that followed.
"Reporting on the killings at Sandy Hook Elementary School—that was definitely the hardest to get over," said Santana, on campus last March as part of the Dominican Success Stories panel for the National Dominican Student Conference. That previous fall she'd spent days on the Northeast shore, reporting on damage and desolation left by Hurricane Sandy. However, more tragedies lay ahead: April would find her in Boston, documenting the bewildering aftermath of the marathon bombing, areawide lockdown, and manhunt. In May, she would travel to Cleveland, as three young women found freedom after more than a decade of abuse as basement captives.
Santana's hours are long, her days can change in a heartbeat, and the stories are wrenching. Her training involved low-paying gigs on weekends and evenings—all while raising a young family and holding a full-time job. The facts invite the question: Why would anyone want this career? The answer comes as she talks about the event that brought her back to campus this time.
"I like the theme of this conference," she observes. "'Peleando injusticia, haciendo noticias'—fighting injustice, making news—because rather than just telling a story and moving on, doing whatever gets the ratings, I want to know: How can I really help people with the position that I have?" That single question is her focus; answering it for each story is her mission. Assigned to interview Rodolfo Olmedo, the victim of a hate crime, one of a series against undocumented aliens on Staten Island, Santana consulted with her anchor, Fernando
Del Rincon, about how they might use their video piece to help this man. They brought their work to the attention of a lawyer specializing in immigration issues, who took on the victim's case pro bono. Olmedo's willingness to testify against his assailants qualified him for a U visa, granting him asylum for three years and an opportunity to apply for citizenship.
"He's a very hardworking man—a baker, a father of several kids. He wanted to open his own bakery," she says, admitting, "I stay in touch with people whose stories touch me." Two years after the assault, Olmeda did receive the visa and has since opened his bakery.
While most of Santana's reporting is in Spanish, if her subjects are bilingual, like herself, she'll do the interview twice. While this doubles her work, she finds it well worth the time for the greater exposure she can bring to the people, their stories, and the call for social justice.
That was the case for a 2013 story on American-born children of deported immigrants. For this one, Santana interviewed Edgar Carranza, a high school senior who recently earned a full scholarship to Syracuse University, despite being "abruptly cut off from all family ties," explains Santana. At the age of 13, Carranza's father was picked up on a minor drug offense and deported. Without the father's income, Carranza's stepmother could no longer support him and his younger brother. The two were placed in separate group homes. This is not an uncommon situation, Santana observes, citing statistics from Colorlines.com that indicate more than 200,000 immigrants with U.S.-born children have been deported in just the past two years.
For Carranza, telling his story to an empathetic listener gave the shy young man, who had taken solace in academics, a way out of his self-protective shell. "It was a huge blessing to have Maria come into my life," he says. "To have a story air in the way it did nationally, I will never forget." He says it further ignited his commitment to succeed. Carranza plans to major in international relations.
"The fact that she is bilingual definitely brings a lot to the table," he adds. "I love that she is able to appeal to two different mass populations." Santana stays in touch with Carranza, following his move to college and offering advice when needed.
Initially, Santana had not intended to go into Spanish-language television news. While her parents are Dominican immigrants and she spoke Spanish at home, her education had been entirely in English. Furthermore, hosting a radio talk-show—not
reporting TV news—had been her dream.
After Wesleyan, she took a course in radio broadcasting while working as a paralegal to pay off student loans. The broadcasting school also had a television studio and offered Santana the opportunity to read for the camera.
Surprising herself, she loved it. The screen test brought to mind a favorite childhood game: she would sit behind her homework desk and read the newspaper to an imaginary TV audience.
More than ever convinced that broadcast journalism was the place for Santana, the now-newlywed Guadalupe and Santana splurged on a video cam ("and lots of equipment that we didn't know we didn't need," adds Guadalupe), and off they went to the Puerto Rican Day Parade to make a demo that would help Santana land an internship.
"We had no credentials; I don't know why people agreed to talk with us," says Santana, laughing, but they did, and it was here that Guadalupe could see how very good Santana was at this. People wanted to talk with her; she brought them out; they glowed and so did she.
The next step was to practice those skills with an internship, but Santana had an important criterion: The internship had to be hands-on. Whenever she applied at one of the larger English language stations, though, the term "shadow" was used. Then she saw an opportunity at Telemundo 47, a smaller, and Spanish-language, television station. With her bilingual background, she realized that this was a wonderful option. She called HR and heard what she'd been waiting for: "It's a small team; we are very hands-on; you'll do a lot of different things." Santana signed on immediately and began a grueling, yet exhilarating phase.
"I was working my 9-to-5 job and going to the internship on Thursday and Friday nights, and 9 to 5 on Saturdays and Sundays," she recalls. "On the weekends I'd go out with their roving cameramen. I wanted to write, so I would propose doing some of the stories and they would say, 'Whatever you want, do it.'"
Persistence, initiative, fortitude: these have continued to be paramount in Santana's career.
"To me, there was never anything wrong with wanting to work hard, because I saw my parents do it, and I learned: if you put in the work, you will reap the reward. I never thought, 'That job is beneath me.' Instead, I learned, 'If you do extra work in whatever job you have, you will get ahead.'
"And Wesleyan was the place where I learned that anything is possible," she adds. "We were such activists. We were always marching in Washington for Prop. 187 and standing in front of the president's office because we didn't like what they did with
the food program or something. I learned to be such a critical thinker. I learned to believe that I could do anything—I didn't have to limit myself to what the world thought I could do. That's why, when I would go for all these different opportunities, I would never take no for an answer. I learned that here."
Six months into the internship, Telemundo 47 hired Maria Santana for the assignment desk, which gave her an important foundation. "That's where you learn how to build a story from the ground up. The reporters come in and I tell them, 'Here's what you're going to be doing today, these are the people I've already reached out to; you have this interview at this time.'"
While another aspiring journalist might have been discouraged at sending others out to do the job she coveted, Santana took a longer view: "It's such a hard industry to get into that when doors like that open, you have to take advantage of it." Additionally, on weekends when staffing was low, she would propose and write three or four more news stories herself.
Still, though, she wanted to do on-air interviews. Through the grapevine she caught word of a new position at Mega TV, another Spanish station, with a home base in Miami, which was opening up a New York bureau. It called for experience she'd gained at the assignment desk and they hired her on the spot.
The new bureau was to be run on a shoestring—but Mega TV had an increasing appetite for the stories coming out of New York City, home to an ever-growing Spanish-speaking population. Luckily, closing the gap between "real" and "ideal" was Santana's forte. "They didn't have the budget to pay a reporter so they gave me a small sum to hire a cameraman," she recalls. "We would go out and do stories, taking the subway and buses. We didn't even have a place to edit our stories, but the cameraman was also very committed to his craft, so he brought all his own equipment and we set up an editing room. We created a fully functioning bureau on a monthly budget of $600. When my boss would come up and see what we were doing, I think she was impressed."
This "boss" was director of Mega TV Cynthia Hudson, who became one of Santana's most important mentors, along with anchor Fernando del Rincon.
"He always went deeper than the surface of the story," recalls Santana, who learned from del Rincon and gratefully accepted whatever suggestions he would offer the young journalist.
Hudson subsequently opened the door to CNN en Español for Santana.
In 2010, soon after Santana had arrived at Mega TV, Hudson left for a newly created position at CNN en Español: senior vice president and general manager of CNN en Español and Hispanic strategy for CNN/U.S. New York Times reporter Brian Stelter describes the significance of the "Hispanic strategy" component of the job: "It suggests that CNN, a unit of Time Warner, wants to expand its outreach to the growing Hispanic population in the United States." The 2010 U.S. Census reported a 43-percent increase in the U.S. Hispanic population since 2000. Clearly, this was an audience deserving of attention from media outlets; even ones that had previously catered primarily to Latin Americans rushed in to woo these viewers.
Hudson's hiring was followed by a 2011 makeover in CNN en Español's programming. It now included a lighter morning news/talk show, as well as a late-night wrap up, similar to what English-speaking viewers might find on their channels. That year, The New York Times carried a story under the headline "CNN's Latin Sister Looks to Capture Booming Market." Reporter Larry Rohter noted this shift and quoted Hudson, who described their new morning show as lively and intelligent, one to appeal to both their Spanish-speaking demographic and their news brand: "'I would say the huge differential is that we're not going to have dancing Chihuahuas or the staff singing birthday tunes to each other,' Hudson said. 'This is not a magazine show with some news. It is a news show with some general, broader news categories mixed in.'"
Soon after Hudson began putting her stamp on the network, she called Santana. The meeting led to an offer for Santana to come to CNN en Español as a correspondent, covering political and cultural events.
Despite Santana's bilingual upbringing, her transition to on-air Spanish-language reporting was not seamless. She found that many of her colleagues at the different stations where she worked were journalism graduates from Spanish-speaking countries. "Their Spanish is impeccable," she says. "Mine was very influenced by the United States. I had to get rid of my habit of thinking in English and translating it on its way out of my mouth. It slowed me down. I would have a lot of 'ehs'—the Spanish equivalent of 'um,'" she explains. "So I started watching and reading more news in Spanish, and I even took Spanish with the Berlitz Language Center and tailored it to how to write news. 
"The lucky thing is that one of Cynthia Hudson's goals is to make CNN a brand that also serves U.S. Hispanics. She believes that Latino culture continues to evolve as it moves to different countries, so she loved that I'm a U.S.-raised Hispanic who speaks Spanglish sometimes."
Conversely, though, Santana has also had higher-ups comment with surprise on her "unaccented English," asking her where she learned to speak it. "So now it's like I need to prove to the English market that I can actually speak English," she says, but she's laughing. "I have to be more Latin American than people who grew up in Latin America but more American than other Americans." She pauses. "It's working out; to me, it's just another obstacle to jump over."
Along with the unique aspects of the Spanish language in U.S. reporting, Santana also notes that the news she and her CNN en Español colleagues report has a unique function in the U.S. Latino community. In a 2011 NPR interview, Monica Lozano, CEO of ImpreMedia, described it like this: "If you look at the mission statements of Spanish-language media organizations, it's not just to grow the bottom line, it's not just to serve shareholders. There really is a push to empower a community. Even as the population becomes more diverse both linguistically and culturally, that affinity—that connection to Spanish-language media—continues because people see it as almost a partner in their lives in a way that they don't typically connect with other media organizations."
Santana keenly feels her partnership with U.S. Hispanics. "I am really committed to the Latino community, first and foremost, and all underserved, underprivileged people."
Her focus on issues that are of primary importance to the U.S. Latino community, when reported in English as well, offer what Lozano calls "cross-pollination" of news coverage between cultures. While U.S. English-language news coverage of Hispanics may highlight border patrols and drug cartels, Santana's coverage for CNN deepens the dominant culture's understanding of and compassion for their Latino next-door neighbors. In her hands, for example, a story of deported immigrants has a flip side: It's about the now-college-bound son who had been left behind in foster care. She broadens the range and emotional scope of Latino-focused stories in English-language news.
From his ringside seat, Guadalupe puts it like this: "I think that Maria's difference is that this isn't about her, this isn't about, 'I'm doing this because it's a story that's going to get me ratings.' It's really about trying to give people a voice, which we're lacking today in media in general. These days, it's not journalism, it's commentary, and when it's not commentary, it's pseudo-celebrity on television. I think that her skill set is that she's neither; it's really about documenting the stories of people whose stories would not be heard otherwise."
This summer, Santana took on the story of a young woman who was violently sexually abused by an off-duty New York City police officer, yet her assailant was not convicted of rape. The reason: The legal definition of rape in New York is strictly limited to forced vaginal penetration. The rape kit evidence could only confirm anal penetration, which falls outside the legal—and narrow—definition.
Santana was able to convince this woman to speak with her, to give voice and face to the wrong that was done, to speak out for a need to change the law.
"It's incredible what she had to go through because of an archaic law," Santana says. "Interestingly, I did this in Spanish and CNN En Español ran it multiple times, and then I did the English version for CNN International, which requested it. However, many times in my field there is resistance to airing a story about rape." It is considered too graphic, she says, causing her hackles to rise.
"That only makes me want to get this story out even more! If there's one thing I learned at Wesleyan, it was how to fight for social justice, to care about and bring awareness to issues that others may want to ignore! That's part of the reason I enjoy my job so much— I can put into practice all of the things that were fostered on campus."
Santana's words are feisty; her in-person presence is lively, cheery, with a smile that is quick and as hearty as an embrace. Her on-air persona is serious and attentive, bringing weight, empathy, and presence to the conversation. As a journalist, though, she walks a fine line: Will she be able to maintain her freshness in the face of the sorts of horrific crimes and disasters that have plagued us recently?
Mulling this over, she wrote in an e-mail last April: "I am now in Boston covering the bombings/terror attack, another very emotionally/physically taxing story. I remember being asked how the job has changed me and I had somewhat of a difficult time answering it. After this assignment I think I know why: The question for me is not how the job has changed me but how it is a constant internal battle not to change. It is so easy to become desensitized to pain and human suffering when you cover so many tragedies and disasters, especially in quick succession. I have seen reporters talk about getting that 'big interview' with a victim as if they were talking about covering a parade.
"But I understand why it happens. I, myself, cried many times at Sandy Hook, but here, I have yet to shed a tear, despite the horror stories and the uncensored images. Right now, it is a defense mechanism. Otherwise, I may not get through my next live report.
"I know, though, eventually I have to grieve this story. To keep on doing this work, I have to grieve each story and to remember that I can use my position to educate and make a difference in people's lives."