JOHN RAVENAL '81: CURATING WESLEYAN'S ALUMNI SHOW II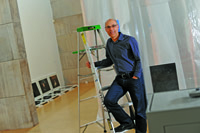 For an inspiring look at the state of contemporary art— and the influence of a liberal arts education on alumni artists— visit Wesleyan's Zilkha Gallery this fall semester.
Director of Wesleyan's Center for the Arts Pamela Tatge '84 had a high-stakes proposition: She needed a curator for an alumni art show that would celebrate the 40th anniversary of the opening of
the CFA. Her curator would need to do an enormous amount of work—on a volunteer basis—in just 10 months' time. The show, to hang in the Zilkha Gallery for the fall 2013 semester, would be a linchpin for the year-long celebration of the Center, an artistic representation of the importance of visual arts in the context of a liberal arts education.
Tatge identified her dream candidate: John Ravenal '81, curator of modern and contemporary art at the Virginia Museum of Fine Arts in Richmond. Hoping to get a "yes," from him, she approached Ravenal at the dedication of Wesleyan's art history wing in the new building at 41 Wyllys Avenue on campus. The wing is named to honor John Paoletti, the William R. Kenan Jr. Professor Emeritus of the Humanities and Art History, Ravenal's college mentor.
Happily, Ravenal found Tatge's invitation compelling. "My very first experience with curating was at Wesleyan in 1981," he recalls. "It was in John Paoletti's senior seminar, which organized the exhibition from the Sol LeWitt collection. Now that I've been a curator for several decades, to come back and guest curate an exhibition at the place where I started, this was coming full circle."
Ravenal also notes that he had taken his first curatorial internship—at Paoletti's encouragement—with Andrea Miller-Keller at the Hartford's Wadsworth Atheneum, where he went on to spend the first three years of his career. Miller-Keller is now a visiting professor of art history at Wesleyan. The stars were aligned for Ravenal's return. He felt he had yet another reason to give Wesleyan the gift of his service.
Yet Ravenal's first decision as curator of Wesleyan's second alumni art show was to make his own job harder: He would not include any of the 27 artists featured in the first alumni show 10 years ago. These 27 are well known for their work; many are from Ravenal's era, and some even shared undergrad classes with him—Glenn Ligon '82, Brenda Zlamany '81, Keith Sklar '80, to name only a few. They would have been easy go-to choices for him, but eliminating them from his pool indicated his desire to make this show unique—and one that would build on the first "with an entirely new selection of artists," he says. To strengthen that sense of a series, Ravenal and Tatge dubbed it The Alumni Show II.
"I was starting in a place with only the sketchiest sense of where I was going," he recalls, describing those early days of the project. "I was wondering how I was going to do this, and then slowly, incrementally, I began building a knowledge base, making decisions, becoming excited about artists' work, and starting to gain a clearer picture of where the show was going.
"The thrilling part is the learning: seeing all these artists out there whose work I wasn't aware of, and shaping a project."
Ravenal gathered a list of 165 names, drawn from recommendations from faculty, exhibition and gallery listings, awards and prizes, as well as all the professional sites and tools that curators use to scout out artists. In addition to visual artists, he included both performance artists and sound artists, with a nod to Wesleyan's music department, longtime home of Alvin Lucier, John Spencer Camp Professor of Music Emeritus, and University Professor of Music Ron Kuivila. He then had the difficult task of winnowing the list down—by nearly 90 percent—to 17 artists, actually three more than the 14 he'd planned for. The small number of artists in the show was to give a wider representation of each artist's work.
"I wanted each artist's work to be very singular, to really stand on its own," he says, recounting his thoughts during the selection process.
Later, though, he began to see common thematic elements emerging from the group: "I think of them as conversations among works: there are trios and quartets and quintets in terms of issues that the work addresses."
Ravenal also articulates curatorial observations on the collection, which answer the question, What characterizes artwork by a Wesleyan graduate? "There's a certain kind of intelligence and critical awareness about the world and engagement with contemporary issues that shows in these artists' work," he says. "I think that's certainly indicative, if not exactly of Wesleyan, of the type of people who go to a school like Wesleyan: smart, creative people who are interested in the liberal arts education."
Liberal arts, he says, are a key component to this work: the artists' majors ran the gamut—from psychology, to history, to East Asian studies—"so the artwork has that range of interests," he notes. On campus in August to supervise the installation of the exhibit, Ravenal reflects on what he hopes campus visitors, students, and the artists themselves will find in the show.
"I would like for visitors—first and foremost—to be engaged and interested. I would like for students to see what kinds of possibilities are out there for artists when they pursue their own visions—that you can end up with something very distinct.
"For the alumni artists, I hope the show will be of interest to them, to see their own work in this particular context with that of others who have shared the same Wesleyan undergraduate experience."
Ravenal notes that the show includes artists at various points in their careers. For those recently starting out, he hopes this exhibit will play a part in establishing their place as artists. For those already established, Ravenal calls their participation "an act of generosity and giving back to their school."
Surveying the gallery as work goes up, he notes, "It's a really broad range, stylistically and in terms of media. I'm excited about that. I think it's going to make for a really interesting show, a dynamic show. I think it's a wonderful indication of both the Wesleyan education and the state of contemporary art."
John Ravenal '81 is married to Virginia Pye '82, whose novel, River of Dust, was recently published by Unbridled Books. Their daughter, Eva, is in the Wesleyan Class of 2015.
Pamela Tatge and John Ravenal are grateful to those who provided additional funding: Jeffrey Deitch '74, Glenn Ligon '82, David Redden '70 and Sotheby's, The LeWitt Collection, and University Relations. Please also see
wesleyan.edu/CFA/alumnishow.
The exhibition catalog, The Alumni Show II, Wesleyan University, edited by John B. Ravenal, is available from your favorite bookseller or from Wesleyan University Press at upne.com/0819574626.html