JOSH LERNER '00: PAINTING DEMOCRACY'S VIBRANT CANVAS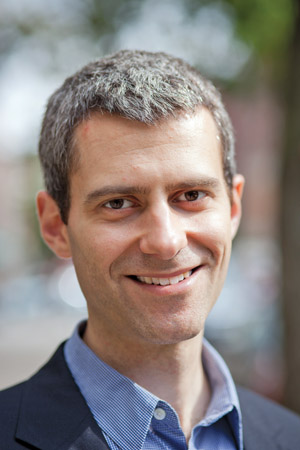 Every four years, Americans participate in one of the great rituals of democracy: the presidential election. 
But to Josh Lerner '00, democracy is a vastly more vibrant canvas, with opportunities for citizens to exercise their voices on questions ranging from, yes, who represents them in the White House to whether a neighborhood should repair its sidewalks or sponsor a mural project.
Lerner, 35, is the director of the Participatory Budgeting Project, a New York-based nonprofit organization that helps ordinary citizens play a direct role in deciding how public money is spent in their communities.
In the 39th District of Brooklyn, for example, his group helped bring together almost 3,000 residents this year to allocate $1 million for neighborhood projects (the money came from City Council Member Brad Lander's discretionary funds). After a six-month process involving research, debate, presentations and public meetings, participants voted to upgrade the technology tools at local schools, improve pedestrian crosswalks, and plant additional trees to assist with storm drainage, among other projects.
"Any institution that has a budget that's supposed to benefit the public should let the public decide how to spend some of that money," says Lerner.
Participatory budgeting, or PB, got its start in the Brazilian city of Porto Alegre in 1989, when the Workers Party won local elections and instituted progressive programs to increase citizens' voice in governance. Porto Alegre's PB process became a model for other cities and institutions that wanted to explore greater public participation, first in Latin America and eventually in places like London; Saint Denis, France; and Guelph, Ontario.
Lerner first encountered PB while earning his master's degree in urban planning at the University of Toronto in 2003. After graduating from Wesleyan, where he majored in psychology and sociology, he had joined the Peace Corps and spent two years in Slovakia, working mainly with the country's minority Roma population.
The Roma he met were poor, frustrated, and deeply marginalized. Meanwhile, most white Slovaks, the majority ethnic group in the country, wanted good jobs and the opportunity to embrace capitalism and individualism. They were less interested in the environmental and community-development projects that the Peace Corps were supporting. That experience shaved away some of his early idealism and confidence, Lerner says.
His time in Toronto was part of an effort to discover more effective methods for empowering communities. Local activists were advocating for a citywide PB process, and a few of Lerner's professors urged him to look into the issue. "At first I thought it sounded boring because it had the word 'budgeting' in it," he says. But his interest was piqued, and it escalated when he decamped for Latin America after completing his degree.
He spent time in Rosario, Argentina, where residents, organized into neighborhood assemblies, began demanding a greater role in local governance after the country's financial crisis in the early 2000s. There, he saw how empowering participatory budgeting can be. Ordinary citizens "may not know a lot about budgets or economics, but they know a lot about their streets, parks, and schools. And they have some good ideas for how to improve them."
And the process becomes much bigger than that, he adds, serving "as a real school of democracy and citizenship." Participants learn public speaking, negotiation, what kinds of programs create effective social change, and the details of how government works. In one cycle he witnessed in Rosario, citizens wanted to fund sex-education classes to help encourage safe sex and curb teen pregnancy rates. But they learned from experts that teens shrug off such classes, so they instead proposed paying community educators to hang out with young people where they congregated and to discuss the issues in an informal manner.
"It's more of a social learning experience than a quantitative economic experience," he says. "And the starting point is, 'What would make your life better in your neighborhood?'"
Lerner's group is currently engaged in PB processes in Chicago, New York, and the city of Vallejo, California, which set aside $3.2 million of its budget for PB in 2012-2013. Interest is growing in other parts of the country as well, though the process has to start with officials—either those who have been elected or appointed agency directors—who can decide to give constituents some control over a pot of money.
"Since the economic crisis and the success of the process in Chicago, there's been a lot more interest," says Lerner. "People are more interested in discussing alternative ways of managing public money." His organization receives about one inquiry per week from officials and activists in places like Buffalo, New Haven, New Orleans, San Diego, and Chattanooga. 
Oddly, PB may have gotten a boost this year after one of the New York City Council members who participated, Dan Halloran, was arrested for allegedly accepting bribes to help another local politician launch a mayoral bid. Partly because the scandal involved discretionary funds, Lerner's group and other community advocates responded to the arrest with a press release calling for more use of PB as a way of ensuring greater transparency in the spending of public money. That week, every Democratic mayoral candidate except one endorsed participatory budgeting.
Lerner would like to see PB become "a mainstream, standard practice of public budgeting, whether at the city, county or state level, and also at schools and universities."
Ultimately, he adds, participatory budgeting is about far more than fixing sidewalks and building playgrounds. "One of the main benefits is that this process helps people understand the value of public spending. They learn to see it not as a necessary or unnecessary evil but as something that improves their lives. This validates the purpose of government in improving public life. It seems like a rather simple argument but it's one that's increasingly necessary."