FINS '82 RECEIVES TOP HONOR FROM SPAIN'S MEDICAL ACADEMY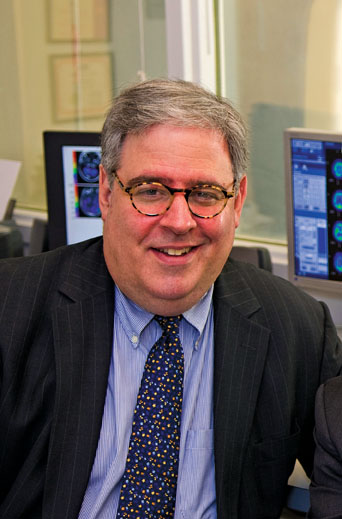 Joseph J. Fins '82, MD, MACP, The E. William Davis, Jr. M.D. Professor of Medical Ethics and Chief of the Division of Medical Ethics at Weill Cornell Medical College, was elected an Academico de Honor of the Real Académia Nacional de Medicina de España (the Royal National Academy of Medicine of Spain). This is a significant honor, as the general membership appoints an Académico de Honor (honored or distinguished member) only when death vacates one of the fewer than 20 positions. Fins, the sole Academico de Honor elected in 2013, will be formally inducted in 2014, when he will give a talk in Madrid.
Fins, a physician and bioethicist in New York City, is professor of medicine, professor of public health, and professor of medicine in psychiatry at Weill Cornell Medical College. A Trustee Emeritus of Wesleyan, he was elected a member of the Institute of Medicine of the National Academy of Sciences in 2010, a fellow of The American Academy of Arts and Sciences in 2012, and he served as president of the American Society for Bioethics and Humanities. He is also the author of the forthcoming book, Rights Come to Mind: Brain Injury, Ethics & The Struggle for Consciousness  (under contract with The Cambridge University Press). Fins earned his bachelor's degree with honors in the College of Letters and his medical degree from Cornell University. 
From his home base in New York City, Fins has kept an international perspective. "I have been deeply interested in Spanish bioethics since the early '90s and have been a visiting professor at the Complutense University of Madrid," he notes. He has edited anthologies on Spanish bioethics in English translations and has also written in Spanish for that country's medical literature.
The foundation for his relationship with Spain began at Wesleyan, he says, lauding Professor Antonio Gonzalez "for instilling a love of language and of Spain in me." He adds, "He will ever remain 'mi profesor de Español' and muse for Spanish culture."
For his part, Gonzalez remembers Fins as a student with a true passion for learning and for dialogue with his professors. That their friendship has continued, said Gonzalez, "speaks to the small liberal arts college, which fosters the kinds of relationships that are forged around conversations between students and professors and a passion for inquiry." 
As for the award, Gonzalez calls it "an extraordinary acknowledgement of Joe's standing in the field and his commitment to interculturalism in academia.
"A university that is truly committed to global awareness must be preparing its students for international citizenship," he notes. "Joe Fins is a living, breathing example of the global citizen we should all be nurturing in our classrooms."