COLLEGE OF INTEGRATIVE SCIENCES TO OFFER CROSS-DISCIPLINARY APPROACH TO LEARNING SCIENCE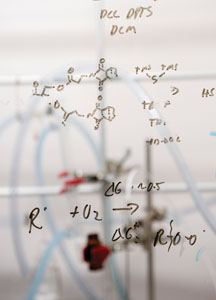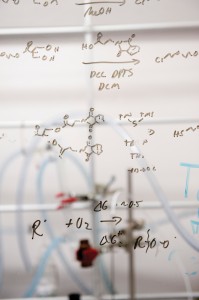 Beginning next year, students majoring in the natural sciences or mathematics will have the option to pursue a cross-disciplinary, research-based course of study through the new College of Integrative Sciences (CIS), which was approved by the faculty on May 21.
According to a proposal for the new College developed by Dean of Natural Sciences and Mathematics Ishita Mukerji in consultation with faculty colleagues: "CIS aims to be an intellectual home for students interested in exploration at the boundaries of scientific disciplines, and to provide a welcoming and supportive environment for students of all disciplines who are interested by a research-based approach to learning science."
Mukerji, who is also director of technology initiatives and professor of molecular biology and biochemistry, added: "The College builds on the idea that tomorrow's scientists will face challenging problems in the diverse areas of energy, public health, the environment, among others, that will require a broad knowledge base, and a synthesis of different research methodologies and creative problem solving skills. Thus, a key feature of the CIS is the integration of different fields to address complex problems."
Mukerji explained that the idea for establishing a quantitative college in the sciences was first broached by President Michael S. Roth more than two years ago. A committee of faculty representing the entire Natural Sciences and Mathematics division then developed a vision for an educational model and associated infrastructure that would be valuable for educating today's science students.
Michael Weir, professor of biology, director of the Summer Undergraduate Research Program in the Sciences, will serve as interim director of the new College until the CIS steering committee appoints a permanent director.
CIS joins five other colleges at Wesleyan: the College of Social Studies, College of Letters, College of the Environment, and—the most recent additions—College of East Asian Studies and College of Film and the Moving Image.
"Wesleyan is a national leader in establishing innovative curricular approaches to a liberal education," Roth said. "The College of Integrative Sciences provides our students with an exciting collaborative approach to examining questions that touch on multiple scientific disciplines. It builds on other colleges we have established and assures that a liberal education at Wesleyan is more relevant than ever for solving problems and creating opportunities."
Beginning in the 2014-15 academic year, the new College will offer a CIS-linked major for students who are majoring in another discipline in the Natural Sciences and Mathematics (NSM) division. Eligible students—who have declared an NSM major and participated in at least one semester of a "research frontiers" course—must apply to the college. The selection process will consider a candidate's academic record, demonstrated interest in interdisciplinary science, and a written abstract describing a proposed interdisciplinary research project, among other criteria.
Requirements of the linked major include a sophomore-level "research frontiers" course to introduce students to ongoing research projects in a variety of NSM departments; two upper-level electives; two semesters of a journal club or seminar; a senior capstone colloquium; participation in research during the academic year, as well as a summer research experience. Students will be encouraged to take introductory courses in many areas of science to build foundational knowledge for future interdisciplinary work. There will also be an emphasis on dual mentored research projects to promote integration across disciplines.
In addition, research and classroom learning will be enhanced by seminar series, peer mentoring, brown bag lunches, problem-based learning sessions, participation in journal clubs, and other shared activities. The College will also strive to increase participation of underrepresented minorities in science, through collaboration with Wesleyan's Ronald E. McNair Post Baccalaureate Achievement Program for early identification and mentoring of potential CIS students.
"We are very excited to establish this new college and think that it will be a great opportunity to promote interdisciplinary scholarship of both students and faculty. The CIS will be a distinctive educational and academic experience for our students. We envisage that the College will provide a forum wherein cross-disciplinary thinking, ideas, and interactions will be fostered through common experiences for students, including a curricular infrastructure that supports their individual interdisciplinary ideas, early and intensive academic mentoring, and new research opportunities—all defined by a deep investment in science," said Mukerji. "We consider that the CIS will become a vital means to foster and widen our community of scholars who think broadly and will provide them with the skills necessary to succeed as leaders in their chosen careers."