DISTINGUISHED TEACHING FELLOW 2014: RUBENSTEIN EXPLORES THE MULTIVERSE, KIERKEGAARD IN SEMINARS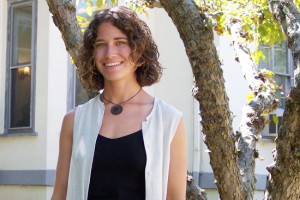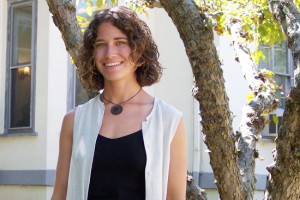 As Wesleyan's 2014 Distinguished Teaching Fellow, Mary-Jane Rubenstein taught a course this spring titled "Kierkegaard: An Advanced Seminar in Absurdity."
Rubenstein is chair and professor of religion, professor of feminist, gender and sexuality studies. She is Wesleyan's second Distinguished Teaching Fellow, a position established last year by Rob Rosenthal (John E. Andrus Professor of Sociology and then-Provost) to honor the most outstanding teachers and give them an opportunity to teach a course outside their usual departmental offerings. Andy Szegedy-Maszak, the Jane A. Seney Professor of Greek, professor of classical studies, was the inaugural fellow.
Rubenstein says she was excited for the opportunity to teach about her favorite philosopher and theologian, who lived in Denmark during the 19th century. The 13 students in the class were "fairly self-selecting," she says, which made for a rewarding experience. "They're very close readers, very intense people with a sense of humor—just great students," she says.
Kierkegaard's appeal comes from his work "on the edge" of what is thinkable, knowable and communicable, says Rubenstein. She explains that Kierkegaard wrote books under many different pseudonyms, each representing a character with a different personality, aesthetic sensibility, tone, and style.
"And all of them are trying to get at the idea that the story told by Christianity is fundamentally different from any other story. You can't tell it in a straightforward way, and you can't prove it. For example, for Kierkegaard, the idea that God became a human being in Palestine in the year 0 CE is absurd. Because you can't have certainty about it, you have to have faith. So Kierkegaard explores how you can communicate something that is fundamentally absurd," Rubenstein explains. "He tries to get at it from a million different perspectives since he can't present it fully. It's a ton of fun to study because you're always at the limits. I think that's what the liberal arts are trying to do, in a way. They're trying to get students to think at the limits of what seems thinkable; to push boundaries and make things more thinkable."
The intensely focused course met for three hours each week, and the students—who came from all different academic backgrounds—typically read one Kierkegaard book per week.
"The thing that's really cool about reading the same person over the course of the semester is that the students came to read him as well as I do," says Rubenstein. "They became so accustomed to him that they pulled out things that I don't see; they put things together that I don't put together. It's very gratifying."
Additionally, the Distinguished Teaching Fellow offers seminars to alumni and the larger Wesleyan community. At a WESeminar hosted by MIT Associate Professor of Political Science Adam Berinsky '92 in January, and again at Reunion & Commencement Weekend in May, Rubenstein spoke on the history of multiverse cosmologies—the theory that there are scores of other universes, or even an infinite number. It is the topic of her new book, Worlds Without End: The Many Lives of the Multiverse (Columbia University Press, 2014), which explores the cyclical popularity of the multiverse concept, touching on overlapping concerns in religion, philosophy, and physics. While this topic is "a different kettle of fish" from Kierkegaard, she says, it also pushes people to "try to think at the limits of what's possible in any particular discipline."
Rubenstein says she found the experience of teaching parents and alumni to be "a humbling challenge."
"It's been very instructive to think about how to make the stuff I'm currently researching and writing on accessible to people who have their minds on other things—who have full-time jobs and kids to feed. It has forced me to be clearer not only about the contours of the project, but about why it matters and why anyone should care about it," she says.