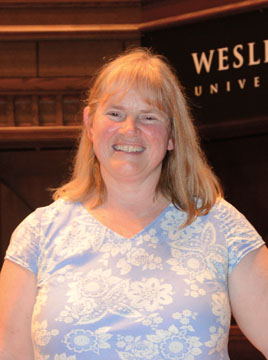 Last March, Wesleyan held a fantastic weekend event-, Connect@WES, which was put together by University Relations and the Wesleyan Career Center (with a cast of truly distinguished alumni). Over the course of two days, Wesleyan students and alumni listened to speakers talk about various aspects of the road to life after academia: How do I decide what I want to be when I grow up? What courses do I have to take to do that? How can the Career Center help me? And once I figure out all of that, how do I get that dream job? Student participants in the Creating Connections component of Connect@WES also got to practice their interview skills in a speed networking activity and spend plenty of one-on-one time talking to the talented and accomplished Wesleyan graduates who volunteered their expertise for the weekend.
During lunch on Saturday, Jim Citrin P'12, P'14, a member of Wesleyan's Board of Trustees and parent of two recent Wes graduates, tackled the elephant in the room (and the question on the mind of every parent who is considering college tuition): How can a liberal arts graduate compete against candidates who have followed an academic path specifically designed to lead directly to the interviewer's door? Jim is a leader of the CEO Practice at Spencer Stuart, one of the top global executive search firms, and is therefore extremely qualified to answer that question. He has spent a career placing individuals in high-level positions in industries ranging from technology to financial services to media to education.
Using the example of an art history major applying for a finance position, Jim made three points (much more eloquently than I will here): (1) many of the skills learned by the finance major can be learned by anybody with a strong work ethic and the assistance of financial modeling tools, so it won't take long to get up to speed; (2) investment banking requires seeing patterns across disciplines, and art history majors—who learn about history, government, culture, architecture, and psychology—have excellent training in discerning patterns across disciplines; and (3) high-level clients have varied interests outside their industries and will be much happier spending time and connecting with equally multi-faceted individuals.
I had never heard of either Jim Citrin or the existence of an executive search firm in the fall of 1985 when I found myself in a cattle-call interview room attempting to answer the same question with regard to my music major (specializing in West African drumming) and a job in a major law firm. The first thought that came to my mind was that as a music student I spent a lot of time prioritizing. Playing marimba in the funk band does not require the same level of perfection as playing a Beethoven sonata in a recital, so planning practice time for the orchestra, the theater show, the senior recital and the African drumming performance took a lot of balancing. I suggested that I imagined (with no lawyers in the family and no Internet search to tell me) that lawyers have to do the same, juggling multiple projects for multiple clients. I got the job, and I am now the chair of the employment department, having never taken an employment or labor law course in my life, and the chair of the firm's managing directors, having never taken a business or finance course.
My career was largely made on becoming an expert on two statutes that did not exist when I was in law school and knowing how to work with many different people (music is a very collaborative field). The world is always changing, and perhaps faster now than ever before. Whether it's the role of technology, the globalization of almost every industry, new laws and regulations, or changes in the financial markets, we are preparing students today for events that have not yet occurred and we cannot predict. While many of us (yes, I am a tuition-paying parent) fear that what worked for us 30 years ago won't work for our children now, in fact the changing times suggest exactly the opposite. If we only turn out experts in very specialized fields, their skills will be obsolete before the student loans are paid. The skills used to adapt to change are more important now than ever before. The world (and yes, that includes employers) needs people who have exactly the broad spectrum of knowledge that a liberal arts education brings.
Megan Norris '83, P'17
Chair, Wesleyan Alumni Association