AFFINITY GROUPS: LIFELONG COMMUNITY DAPHNE KWOK '84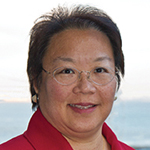 I've often heard Wesleyan described as a lifelong community. I couldn't agree more. What makes each of us "Wesleyan" is not just the years that we spend on campus. It's also the interactions and experiences we share once we join the proud Wesleyan alumni community of more than 30,000 members across the globe.
As with any large community, smaller groups of individuals with shared interests are constantly forming. And while many of these groups start organically, recently Wesleyan has been asked for support in helping connect more Wes alums with others in the same industry—to share ideas, work on advancing careers, and extend resources to current students and recent graduates. As a result, over the past few years three professional affinity groups have formed.
The Wesleyan Lawyers Association (WLA) was the first to be established in 2010, with JD Moore '75 leading the effort. Regional groups in New York City, Hartford, San Francisco, and Washington, D.C., host social and networking receptions. WLA-sponsored WESeminars at Homecoming/Family Weekend and Reunion & Commencement are open to everyone. Featuring subjects like "An Inside Look Into the Legalization of Marijuana," "The Art and Science of Mediating Complex Matters," and "High-Profile Congressional Investigation," these sessions fill the room!
While membership currently is limited to law school graduates, the association offers assistance to aspiring lawyers. A WLA member wrote a piece on getting into law school that students praised.
Wesleyan Alumni in Philanthropy and Public Service (WAPPS) is our largest professional affinity group, representing a broad array of careers in the public and private sectors. Led by Steve McCarthy '75, WAPPS seeks to enable alumni in different fields to work together, with the aim of strengthening overall social impact and, to that end, often partners with the Patricelli Center for Social Entrepreneurship in organizing events. Central goals of the group include relationship-building, knowledge exchange, and opportunity for mentorship to each other and with current students, part of which is achieved through their LinkedIn subgroup, which boasts more than 1,200 members!
Regional groups in New York City, Washington, D.C., Boston, and San Francisco sponsor informal networking gatherings as well as structured programs. On campus, students flock to programs such as the Social Entrepreneurship Bootcamp session on "Business Plan Essentials." At a D.C. event in April (co-sponsored by the WLA) I had the pleasure of being one of the speakers on "Pathways to Public Service." Last month in NYC a panel of five alumni tackled the topic "The Good, the Bad, and the Ugly: How Nonprofit Leaders Succeed." Currently WAPPS is exploring expansion to Chicago.
Digital Wes was organized by Jake Levine '08 in response to the growing number of alumni involved in digital media, dot-com companies, and venture capital operating in new media. Each year the group sponsors at least one panel discussion such as the "Education + Tech" program last winter in NYC and a smaller gathering by invitation. Activities have been mainly New York City-centered, but now there is an offshoot in the Bay Area led by Alex Rosen '08 called Digital Wes(t). Members of Digital Wes are dedicated to connecting with students. One great example is a workshop they held at Wesleyan on six successive Saturdays "to introduce students to coding and start-up thinking." Digital Wes also sponsors internships. In summer 2014, 10 Wes students were partnered with companies like Lua, Unigo, and Beyond Games.
The latest news from campus is the formation of a new professional affinity group for alumni in finance and banking. WESFAB will be launched in New York City on December 11 at an event featuring Economics Professor Richard Grossman, author of Wrong: Nine Economic Policy Disasters and What We Can Learn from Them.
To find out more about the Wesleyan Professional Affinity Networks or to join a group, go to LinkedIn: Wesleyan University Alumni Association and scroll down the page. You can also contact Meg Zocco, director of networks and affinities at Wesleyan (mzocco@wesleyan.edu or 860/685-2799).
The key to the success of the existing—and future—professional affinity groups is dedicated alumni volunteer leadership. Come join us, lend your expertise, and share your insight and knowledge with peers and the next generation to further strengthen the Wesleyan alumni community!
Daphne Kwok '84
Chair, Wesleyan Alumni Association