SCHOLAR ATHLETE DONNIE CIMINO '15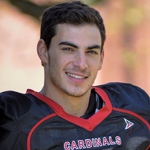 As an economics major, #11 Donnie Cimino knows numbers. While there are some he'd rather not talk about (his own), they are hard to ignore: The defensive-back has 112 career tackles, seven interceptions, and 11 pass breakups. And that's just football…
The two-sport athlete also plays center field for the baseball team and has a .376 career batting average with 181 hits and 101 RBI. He's just nine hits away from being Wesleyan's all-time hit leader, and 19 away from being the first member of the 200-hit club.
The senior grew up in Westwood, N.J., as a baseball-first guy. "I didn't look forward to football," he admits. But a growth spurt during his junior year of high school changed things. He started to commit himself to the weight room and "it was the first time I really started to love [the game of] football."
A recruiting meeting with Wesleyan's Head Football Coach and Athletics Director Mike Whalen '83 inspired Cimino. "Just by the way he spoke with me, I could tell, this was the one guy who really wanted me," Cimino said. He left the meeting knowing that Wes was the place for him; he was going to play football and baseball for a university that could help him in so many ways.
Cimino and his class of 26 seniors have been a part of a culture change for the football program. The new mentality that Coach Whalen's first recruiting class embodied translated into a 22-10 mark over the past four seasons, including two straight 7-1 records and a shared NESCAC crown in 2013.
This year's squad wanted one thing: its own NESCAC crown.  "We've got guys who've played in every environment. Our strength is our experience," Cimino said. The Cardinals came close, finishing second to 8-0 Amherst.
Whether it's on the gridiron or the diamond, Cimino's teammates know they can always expect his best effort.
Hard work, confidence, and sacrifice are what define him, and for this great Cardinal gridder, two straight 7-1 seasons to cap off his career was a fabulous going-away gift.