USAID IN D.C.: HOW TO CHANGE THE WORLD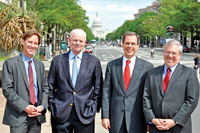 Nearly three-quarters of all USAID missions hinge on the availability of potable water. Four Wesleyan alumni are developing strategies that will ensure the success of projects that affect millions of people.
Many Wesleyan graduates serve our country in the Peace Corps—Wesleyan ranks 14th on the Corps' "Top Colleges" list. Some graduates go into the military or diplomacy. Others have started their own NGOs, such as Shining Hope for Communities, Brighter Dawns, and the MINDS Foundation. Still another avenue of service offers perhaps less public attention but lots of opportunity for impact.
The United States Agency for International Development (USAID), created by President Kennedy in 1961, has been a magnet for Wesleyan alumni interested in changing the world. That's true from the highest levels of policymaking (Wesleyan President Emeritus Douglas Bennet '59 led the organization from 1979 to 1981) to work in the field, offering hands-on development aid. For those who choose policy, long days and bureaucracy are part-and-parcel of their positions, but the payoff seems to come from making a difference on a global scale: the insights and decisions of these alumni change the way that U.S. aid is delivered across the world.
On an early autumn day, four Wesleyan graduates born in four different decades gathered around a polished conference table in Washington to trace their paths from Foss Hill to USAID headquarters and to discuss a topic on which almost all other aid initiatives hinge: the availability of potable water.
Wesleyan—with its curriculum that encourages global awareness and an ethos of service—groomed these graduates for top positions in international development, says Eric Postel '77. As assistant administrator for the Bureau for Economic Growth, Education and Environment (or "E3" in USAID parlance), Postel is one of 13 bureau heads appointed by the President. Out of approximately 250 employees in E3, three others in management positions are Wesleyan graduates: Christian Holmes '68, Charles North '82, and John Pasch '93.
Postel was the only 1977 Wesleyan graduate to head directly from Commencement to the U.S. Navy Officer Candidate School. He wanted both the responsibility and the sterling reference it furnishes.
Later, attending Stanford Business School in the era where the term "microcomputer" was beginning to capture the public imagination, Postel was still not following the crowd. While most of his classmates were headed for Silicon Valley or Wall Street, he was one of maybe two, he estimates, who were going to go to work in international development: "Who else wanted to do that? It wasn't sexy; I could have had a career in rock and roll if I wanted that," says Postel.
The last sentence grabs the attention of the Wesleyan E3ers around the table; three heads turn toward him. "My senior year, I produced the concerts at Wes," Postel admits. "The first ever in the hockey rink; we figured out how to do it. Chick Corea, Orleans, Keith Jarrett … students wanted jazz and folk rock."
While Postel also considered the Peace Corps, he nixed the idea. "Some people are built to do things at the grassroots level, but as insane as it sounds, I'm actually very interested in making the system work better." As a development consultant in the private sector, he began helping to create several stock exchanges in Africa. "That was fantastic work," he recalls, "but I was always interested in coming in at the policy level, where you could influence the design of how services were implemented."
A typical day for Postel at USAID, mapped out in half-hour slots and ranging widely, can include conversations with the head of the Africa Bureau about schooling for 10 million Nigerian children, with E3 directors on a personnel issue, with White House officials on aiding the Partnership for Growth countries, and with an international committee on wildlife trafficking. "At the end of a day like that," he says, "I am just amazed by the huge array of issues I get to explore!"
Postel arrived at E3 with Christian Holmes '68 already in place. With wide-ranging experience in international aid, Holmes serves not only as global water coordinator but also as one of Postel's deputy assistant administrators. Meeting regularly with directors of the climate change, biodiversity, and land tenure programs, Holmes does a lot of listening, as well as offering suggestions. "I see a lot of my job as trying to help people untie knots," he explains, and Postel concurs: "International development is a team sport."
Like Postel, Holmes served in the military after Wesleyan. He was in the army during the Vietnam War and then joined The San Francisco Examiner. From journalism—reporting on crime—he came to Washington to become the administrative assistant to a member of Congress and then joined USAID: "I wanted to be far more operational, directly involved in saving lives." That era in D.C., he said, was "much like a Wesleyan reunion." John Macy '38, who chaired the Civil Service Commission through the Kennedy and Johnson administrations, was noted for recruiting Wesleyan graduates to government service. Holmes's first mentor at USAID was mission director Tony Schwarzwalder '61, now deceased.
Holmes recalls Macy's enormous enthusiasm for public service and his trenchant advice: "If you can't bring to bear good analytic tools and the ability to express yourself on paper, you're going to have a really hard time succeeding."
Holmes previously had served at USAID as the director of the Office of Foreign Disaster Assistance (OFDA) and as the director of the U.S. Trade and Development Agency. At OFDA, he led USAID efforts to respond to early outbreaks of Ebola hemorrhagic fever in 1977. Coincidentally, Holmes had served on teams with the father of Charles North '82, W. Haven North '49. Holmes transferred from USAID to the EPA, where he rose to become its third-ranking official: assistant administrator and chief financial officer. In 2010, he rejoined USAID, becoming its first global water coordinator and leading efforts to strengthen its global water programs.
"It became pretty clear how unbelievably complex this assignment was going to be," Holmes recalls, noting that water issues were part of more than 60 USAID offices—out of 80—worldwide. "While my experience was fairly deep in the water sector, I was really going to have to find and rely upon people who had tremendous expertise in the intersections between water and other sectors: you can't have food production without water; You can't have health programs without water.
"So I looked around for the best people—and all paths led to John Pasch." Holmes began actively recruiting the Wes '93 grad, who had majored in environmental sciences and later earned his engineering degree from Colorado State University. Pasch was located in Cairo, heading up what Holmes calls "a massive project—one of the most complicated water activities we have anywhere in USAID."
Four billion U.S. dollars had been spent since 1950 building out Cairo's water system, with USAID ensuring the ongoing functionality of the system. During Pasch's tenure, the USAID program was providing support for 24 semigovernmental or semiprivate utilities that were delivering water sanitation services going all the way up and down the Nile.
This engineer was the expert Holmes was angling for—and he was not above using their shared alma mater to his advantage. "Did you know that I attended a small liberal arts university in Connecticut?" he had asked the unsuspecting Pasch in a recruiting phone call.
Pasch loved fieldwork and had led teams on a number of projects, including in Morocco and in the West Bank/Gaza. "I'm trained as an engineer, as a problem solver, so I'm very tactile in my approach," he explains. However, the opportunity to assist in developing USAID's global water strategy was too tempting to turn down.
Holmes is adamant that the convergence of Pasch and Postel arriving in E3—the first with amazing technical expertise and the other with the vision and experience to garner multilevel cooperation—is what allowed the team to ultimately produce the first-ever USAID systemwide water strategy document. Pasch remembers the day when their water strategy was accepted at an event on the Hill as one of the true highlights of his E3 efforts in D.C.—not for the ceremony, but for what it represented.
"It was two years of effort," he says, "of fighting tooth and nail over every word in the document, and we were all coming together in a celebratory moment with congressional leaders, as well as agency leadership, and all of our stakeholders and partners who really believe in this work and do it out in the field. We brought a lot of people together around this water strategy and established our leadership role."
Holmes also notes another solid win for the E3 team, as the next step became implementation: "When Charles North came on," he says, "we had someone with a field perspective, someone who knew just how important this water strategy was going to be to our field workers and could communicate it on that level."
North's move back to Washington had represented a real change. Like Pasch, he had spent most of his career in the field. He also considers himself "a systems person," and Postel's supervisory style makes this assignment particularly enjoyable for him. "Eric likes management, is interested in these issues, and really wants to make the system work," explains North.
North also loves the variety. In E3, he oversees portfolios in education, energy, engineering, urban services, and women's empowerment and gender equality, and he coordinates the bureau's management and program functions. North, as second-in-command, also steps into Postel's daily schedule when the assistant administrator is called away or traveling. "Every day is a chance to learn and engage in issues vital to our world," North says.
North's most recent post had been as director of USAID's programs in Russia—supporting civil society development and human rights, combating HIV/AIDS and drug-resistant TB, and engaging Russia on global development issues—until Putin asked USAID to leave.
North grew up in Nigeria and Ghana, where his father had been stationed with USAID. He was drawn to his father's alma mater (where he helped found the Spirits a capella group), and he majored in both economics and African studies, writing his thesis on entrepreneurship in Kenya, with Economics Professor Peter Kilby as his adviser. After graduation, he returned to Africa, training Tanzanian officials on the use of the Apple II while working for U.S. Department of Agriculture, and in Kenya he worked alongside finance ministry staff to automate the national budget, "using 5.25-inch floppies and two 10-megabyte hard drives." Completing the task three weeks ahead of schedule was satisfying, but his true interest lay in exploring the real-life decisions that were represented by the numbers they had just entered into the computer
After acquiring a Yale management degree, he joined USAID as a foreign service officer, doing relief management for the Horn of Africa during the drought of '88. He returned to Kenya, managing projects related to government decentralization, remote sensing, and rural roads, and spent four months in Sudan before being evacuated due to the Gulf War. Further posts put North in El Salvador, designing a water strategy and then co-leading USAID's emergency response after Hurricane Mitch. After his first stint in Russia, North found himself in Washington, leading the agency's policy office ("a great chance to learn from really smart people") in formulating new approaches to fragile states. He also served as the senior deputy of USAID's Afghanistan and Pakistan Task Force.
As North details his fieldwork in these diverse countries, he recalls key moments in Mozambique: After 16 years of civil war, the nation was about to mount an election. Of the 16 million people, 70 to 80 percent were illiterate. North's team, along with the U.N., other donors, and international NGOs, helped the Mozambican election commission begin the country's introduction to democracy. "We were starting with the basics: What is an election? How do you vote?" he recalls. "We had to produce ballots acceptable to all parties and then puzzle out the logistics of moving those ballots and recording the results, all within a country still lacking infrastructure."
On election day, North watched lines of people wait hours under the hot sun for their turn to vote. Later that day, he observed the painstaking tally process: A small group opened each ballot, passed it around to agree on its content, and then recorded the vote. As hours passed, the light grew dimmer and the kerosene lanterns flickered. North positioned his SUV so that the headlights allowed the determined band to work well into the night. "You see that and you think—we take it for granted in our country. It was humbling to have had a small part in their process."
Holmes, too, finds it a moving experience to be out in the field. Having worked over the last four years in such countries as Pakistan, Kenya, Ethiopia, and Liberia, he's been confronted with both the tremendous problems—the human suffering, hunger and thirst, disease—as well as the strides. "You see the programs that you in one way or another have contributed to—that's when you feel rewarded. That's when it all comes together," he says.
To remind himself of that, he's lined his small box of an office with poster-sized photos: The smiling faces of people who have been saved by USAID's water strategy contrast with the highly magnified abstract images of the microbial pathogens. Holmes's mission is to provide water and sanitation services, on a sustainable basis, to 16 million people over the next five years.
Like Postel and North, Holmes has found that the agency is long on providing disparate learning opportunities every day. The focus on water has encouraged intensive research in the sciences but also on a number of other seemingly unrelated issues of development.
For instance, gender and equality issues: How do you support and engage women in economic development? Water is the crux: In developing countries, young women are apt to drop out of school when they reach puberty. Sanitation and privacy are the key issues that prevent them from earning diplomas and professional qualifications. "Allowing girls to drop out of school for the lack of these basic services—it's just unacceptable," says Holmes.
Communication technology is another seemingly unlikely partner with water, but it's key to maintenance of water systems in far-flung communities. Equip the remote regions with mobile phones and SMS service and they have immediate problem-solving capability, averting costly malfunctions and protecting the community's health.
Water programs also buttress security operations. "We've had a $40-million program in Afghanistan where we've been supporting the construction of some 2,000 wells, but we're doing it in such a manner that we are trying to build up great community organizations as well," notes Holmes. "The organizations will sustain the wells—and they'll also sustain the sense of community. Water becomes a leverage to accomplish some pretty important activities."
Holmes and Postel are also excited about a new endeavor, Securing Water for Food: A Grand Challenge for Development, launched with Sweden the previous year. "Rather than the usual top-down program of 'we'll tell you what will work,' it's 'you tell us what you think would work,'" says Holmes. Entrepreneurs, businesses, science and technology innovators, and academics are invited to submit ideas on how to more effectively use and manage the water required for food production in developing countries. Those with the most effective, affordable, and practical ideas will receive funding to accelerate their project.
Holmes is optimistic and notes a major success from another Grand Challenge, the Saving Lives at Birth program, which produced the Pratt Pouch, a product that looks not unlike a ketchup packet and provides an effective way to deliver antiretroviral medication to newborns. He's hoping the Securing Water for Food Grand Challenge will provide similarly exciting innovations in at least one of the three key areas that affect food production: water reuse and efficiency, water capture and storage, and salinity.
"When I first started," Holmes says, "I could pretty much roam anywhere I wanted and I went to some pretty dangerous locations (including Yemen). Now, getting into the field in some places has to be done with a great deal of care. Still, when you finally get out and see the programs—it's terrific."
Postel also reminisces about his time in the field. In his first year heading E3, he made it a point to go to all high-risk places where USAID workers were posted, sleeping in trailers with the staff. The experience brought into sharp focus the wall in the foyer of the USAID building, on which are engraved names of all who lost their lives while working for USAID. "A lot of people are in harm's way every single day," he says, "and it's humbling and awe-inspiring to see what they are accomplishing."
For Postel and his team, though, he admits that their challenges are more apt to be bureaucratic frustrations and demands. "People say, 'Stick to your priorities!'" he says, "but we have to ask, 'Okay, whose?' We have Congress's priorities; we have our partnering NGOs' priorities; we have the President's priorities." USAID human resource surveys show that Postel is managing a workforce that feels overwhelmed by the sheer number of tasks, often oppressed by rules and requirements, and hampered by a lack of funds.
Yet those same questionnaires reveal a team whose commitment levels are off the charts. The key that makes it all worthwhile to his team is the sense of mission: they want to have an impact on the world. "And I'm the same," he says. "Working with USAID gives me a chance to make a difference in the world."
Note: As this article went to press, we learned that Eric Postel was appointed Assistant to the Administrator for Africa. He says: "With all the progress Africa is making, as well as the threats to its advances arising due to Ebola in West Africa and conflict in some countries, it is essential that we continue USAID's forward progress in Africa.
With Postel's move, Charles North is now responsible for managing the E3 bureau: "I'm lucky to have a strong team, people like Chris Holmes and John Pasch," says North. "We are fortunate to be able to build on the organization that Eric has led for the past few years."
Alan Van Egmond '71 bridges gaps—between continents, governments, and U.S. agencies.
By Lily Baggott '15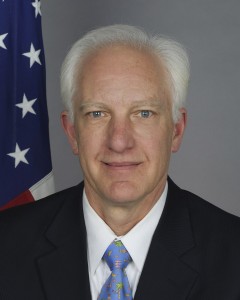 "Often between countries—or even between departments within one government—a simple factor, like a different use of language, can block agreement on the way forward," says Alan Van Egmond '71.
It was in 1980 that former Wesleyan president Douglas Bennet '59—then head of USAID—who brought Van Egmond to the agency as deputy director of the Office of Foreign Disaster Assistance. Using his lengthy list of experiences across Washington and the globe, Van Egmond now works to foster better communication between various international and national actors for USAID.
"What we find in foreign affairs is that quite often countries don't talk to each other very much," he observes. "Part of it is that they don't have good relationships. I'm working in Afghanistan and Pakistan now, and one of the things we are trying to do is help develop a stronger relationship between those two countries, because the Durand line is something that the Afghan government has never recognized."
Van Egmond, based in D.C., travels frequently to Afghanistan and Pakistan, and estimates that roughly half of his career has been overseas: with non-governmental organization in Africa and as a Foreign Service officer balanced with time on Capitol Hill for a subcommittee of the House Foreign Affairs Committee, and at the U.S. Department of Defense and U.S. State Department.
His earliest overseas assignment, with refugees in Africa from 1973-75, was heartbreakingly unforgettable:
""When I started my career in Ethiopia, there was famine. I saw emaciated people starving to death. I was just not emotionally prepared for that. I tried to reach out to people on a human level, as a fellow human being, and affirm their dignity. And I also tried to work like hell to help people who otherwise weren't going to make it."
Preventive work has since been crucial to him. While working for the Office of U.S. Foreign Disaster Assistance, Van Egmond helped procure an early warning network for devastating storms in Central America. The network, linked to the national weather service, provides real-time information, which allows the people time to prepare. "It wasn't just alleviating suffering," he notes. "It was helping to prevent the disaster."
Again, it's the crucial factor of communication—which he traces back to his undergraduate years. "The Wesleyan background and training helps people feel more comfortable with people who have different kinds of background, training, and points of view, and it naturally lends itself to the career that I've had," he says. "Not just in terms of dealing with foreign countries, but also different departments within the U.S. government, which have their own cultures and their own way of looking at the world."
On cultivating a global perspective, he advises recent Wesleyan graduates interested in an international career. "Be open to opportunities as they arise, do not think in linear terms so that you go step by step," he says. "Be very flexible. Look at the opportunities in terms of what you can learn and not just what you have to offer. Network like crazy with other Wesleyan graduates and others that you might have in your sphere. Always have an inquiring mind, always question, always use the education and the lines of inquiry that you learned at Wesleyan to your advantage throughout your life."
Carrie Abendroth '98: "Niche" position for a Russian-speaking economist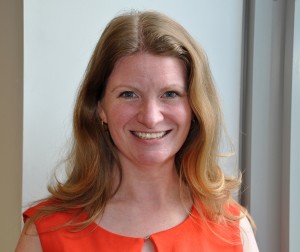 "I wasn't initially looking to work with the Federal Government, but I thought I'd attend the job fair anyways," recalls Carrie Abendroth '98, who was entering the Presidential Management Fellows Program in 2006.
Then she saw her match: "The Europe and Eurasia Bureau of USAID was looking for a Russian speaking economist—and I am a Russian speaking economist."
Hired for the position, she spent nine months in the country of Georgia developing an agricultural program with local experts, along with support to Ukraine, Russia, Kazakhstan, and a side trip to Tanzania. Her next assignment was two years in Pakistan, where she worked on agricultural programs with the Pakistani government and private sector. Recalling her time there with fondness, she says, "I absolutely love the people. Our Pakistani staff are some of the most accomplished, amazing, forward-leaning people that I've met anywhere. They really, really love their country, and they really want the best for it."
Now stateside, Abendroth serves as the economic growth team leader for the Africa Bureau in Washington, D.C., where she spends about 95 percent of her time on trade issues: specifically "interregional trade in Africa, regional integration of trade policy across Africa, and trade with the United States under the African Growth and Opportunity Act."
"We work with African businesses and business associations that want to trade with the U.S. and the rest of the world," she explains. "We build associations from very nascent beginnings to positions of strength so they can support their membership, hold trade shows, and put on trade missions. We advocate for policies and a sound business-enabling environment, and regulations that promote business development in Africa."
One such association that Abendroth and her USAID colleagues have helped develop is the African Cotton & Textile Industries Federation (ACTIF). Recently they fostered communication between ACTIF and the American Apparel & Footwear Association "so they can share information and they can make connections, business-to-business linkages, and share market information with their memberships," she says.
Abendroth also works on a program designed to promote artisan work for exports to retailers such as Pier 1. While providing African jobs is essential to this program, there is another benefit: it "brings Africa into the world marketplace, where there already is a demand for things that are artisanal, things that are unique, things that are specifically tailored to the market you are looking to enter."
This combining of local and global communities is key to Abendroth's commitment. She encourages others who might enjoy a career at USAID to consider specific sectoral skills useful for foreign governments, civil society and private sector engagement, above basic training in international development, as well as experience living overseas. Her language skills were key, as was her post-college Peace Corps assignment training government employees in Ukraine, which she'd followed with a Master's in Public Administration with a focus on international economics.
"One of the reasons I really enjoy working for AID is that you are at the crossroads between development and diplomacy. It's one of the places where change happens. You get to translate what you believe—and what your local staff believes—is good development into the diplomatic policy that the U.S. government employs."
Tjip Walker '79: From street thespians to peace advocates, development is about breadth, flexibility
By Lily Baggott '15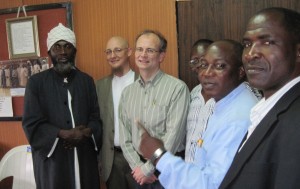 "Rather serendipitously, I ran across an ad for a country representative position for part of USAID called the Office of Transition Initiatives, or OTI," says Tjip Walker '79, recalling the beginning of his second stint with at the U.S. Agency for International Development in 2000; he had previously been with the agency from 1988 to 1991. "OTI was established to provide USAID with the capability of going into transition situations to quickly provide an infusion of support because the rest of the agency sometimes takes a little while to move. [It's] sort of like a PT boat: it's maneuverable, whereas the whole organization is more like an aircraft carrier."
While working on that "PT boat," Walker spent a year in Nigeria focusing on inter-ethnic and interreligious conflicts that might have provided an opportunity for a military coup d'état. "Every day was an exciting day; every day was different," he recalls. Walker and his team provided small grants to various local organizations concentrating on issues such as conflict mediation.
"We did television drama, we did street theater, we supported advocacy programs, we helped create the first Nigerian professional organization of peacebuilders," he recalls. "We did all of it to create a broader awareness of conflict management skills, as well as to provide a better connection between the elected officials and constituents—so people could have their concerns raised and their grievances addressed before they took to the streets."
Development has always been a part of Walker's life, his "family business." Raised by parents who both served internationally, Walker is the third generation born overseas. In fact, while at Wesleyan, he pushed back against his family's legacy: "I decided I wanted to do anything but international service."
At Wesleyan, in an economics course taught by then visiting assistant professor Richard Adelstein—now professor of economics—Walker discovered the excitement of interdisciplinary study. Later, when Walker was completing his doctoral work, his decision to study under Nobel Laureate Elinor Ostrom was based on his undergraduate experience in Adelstein's courses.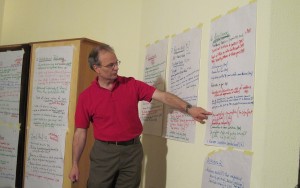 "Everyone who knows Rich knows what it was like," he says. "It was an absolutely remarkable awakening experience. He bridged this gap between political science and economics. The exposure to institutional analysis that I received at Wesleyan sparked my enthusiasm for it, and it has carried through my doctoral work. I continue to use it to this day. That, I have to say, is one of the legacies of Wesleyan."
Then, a few years out of Wesleyan, he felt the pull toward his "family business." He'd had a two-year stint as a "glorified secretary" for a global development company, and a mentor advised him to return to school and gain experience overseas. Beginning with a master's degree from Harvard's Kennedy School, he traveled to Cameroon—spending two years as a Peace Corps volunteer there with his wife— and worked for several years until finishing his PhD at Indiana University. After five years of teaching undergraduate comparative politics, Walker felt the development itch yet again.
That's when he heard about OTI, at the time a nascent office focused on areas grappling with transitions from conflict to peace or authoritarianism to democracy. His doctoral research had focused on democracy and development; it was the perfect fit.
Thirty years into a development career, Walker sees a dynamic field that continues to change with the times. "Development is by nature interdisciplinary," he says, yet the boundaries continue to expand. The increase in NGOs and technology, he says, is particularly shifting the nature of development, and the breadth of skills that can be applied is endless, from his own background in government and economics to those in film.
"I think those are the kinds of liberal arts skills that you develop at Wesleyan: the opportunity to be exposed to topics and classes and to understand how other cultures have come to understand things," he says. "Those kinds of courses are invaluable to lay the groundwork for that flexibility and real liberalness of mind that you need to be able to work in an international and cross-cultural climate."
Tyler Holt '88—Flexibility, cultural understanding are keys to international development
By Lily Baggott '15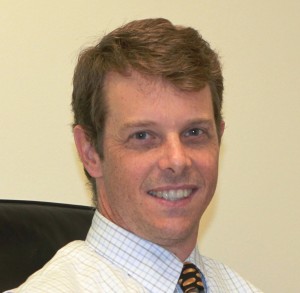 "One thing I have learned is, you can't really hope to figure out a problem unless you really understand it—and that's what I like about USAID," says Tyler Holt '88. "Our approach to development is that you go to a country and you live there for four years. You have to be an expert in your technical field, but you also have to understand your country's setting."
Since his time as a high school foreign exchange student in Kenya, Holt has always been interested in international development. "I had the chance to really see developing countries and live in one, and I became interested in what makes a country, what keeps a country from developing," he recalls. "What are those issues and what can we do to have an impact?"
Now the director of the Office of Middle East Programs and located in D.C., Holt began his service with U.S. Agency for International Development in 2000. His work has brought him around the world, beginning in Egypt as an adviser, where he and his wife lived for a total of six years, raising his two children and learning Arabic while working on development projects.
His transfer back stateside was abrupt. While vacationing in the states during the summer of 2013, Holt learned that his office in Egypt was evacuating in anticipation of the political unrest that would later develop. "We had come to the U.S. to visit friends and family, and we were caught out with only one suitcase each," he recalls. After a few months of living in hotels and donning strictly beach clothes, Holt and his family were able to settle down in the D.C. area when he was reassigned to his current office.
Prior to his Middle East Assignment, Holt had been in the Philippines for four and a half years—and Holt's account reflects the cultural understanding he was able to develop. During his time there, the Filipino government was in the midst of corruption scandals, but, in the face of Holt's creativity and determination, this was not an insurmountable obstacle.
"People have all these biases that if the government you are working with is sketchy, or if they have a scandal going on, it's not a good time to promote development assistance," he says. "Actually, we were able to work very creatively with other development agencies, people with whom we'd developed a relationship in the government, and a lot of NGOs and civil society organizations, to stay focused on a few key issues. We had this informal coalition of people really focused on development issues, regardless of what was happening at the top with the president, or scandals, or the Filipino supreme court. We were able to get a lot done."
He recalled one such project with particular pride. Given that the country consists of around 9,000 islands, Holt and his team focused on water transportation. Working with the Filipinos on a program that was already in progress, Holt's USAID team helped develop a system of boats—"roll-on roll-offs," he calls them—that could transport vehicles and goods throughout the entire country.
"It was really transformational in the Philippines because before that you really had to rely on shipping everything from one of three ports—it was very expensive and difficult to do that," he says. "And the economic boon from that is something we are still seeing. It's enormous; it's hard to calculate. From a personal standpoint, that's very satisfying."
Holt also notes that his Wesleyan experience laid the groundwork for all he has done in international development since then. From majoring in mathematics and economics to taking a class on Javanese gamelan, he says that the university gave him the opportunity to learn so much about the world and himself.
"Wesleyan gave me the opportunity to explore different topics, be more independent, figure out what my priorities were, what I liked, didn't like, and what I was good at," he says. "As a top-notch liberal arts university with people from all over the world, it really opened my eyes."