Butterfield At 100: Romance on the Way to Wesleyan
BY ED "ACE" KNAPP '43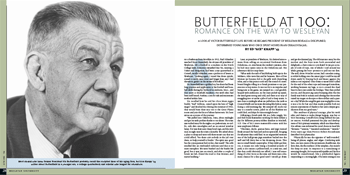 AS A FRESHMAN FROM BROOKLYN IN 1952, Paul Schwaber watched Victor Butterfield, the 48-year-old president of Wesleyan, lob a football to a student on the North College lawn. Someone remarked that Vic, wearing a T-shirt and dungarees, had been a star quarterback at Cornell, recalls Schwaber, now a professor of letters at Wesleyan. "Looking again, I noted that those spirals, tossed so easily, were truer and longer than any I had thrown in games on the streets of Brooklyn."
Vic Butterfield was a golden boy, but there had been long practice and application to his football and baseball skills during his boyhood in Amherst, Mass., and four years at Deerfield Academy. His work ethic had been well honed. Further, a yen for risk and excitement seethed within him.
Vic recalled how he and his close Mass Aggie buddy, "Red" Sullivan, seized upon the lure of "high wages" and decided that during the summer of 1925, they would bum their way out to the Great Plains states and join the force of wheat harvesters. Vic later wrote an account of the journey:
"We pulled into Oskaloosa, Iowa, about midnight and got out with profuse thanks to our driver. The town was tucked away for the night—no pedestrians, no traffic, only dim streetlights and an occasional window lamp. Nor was there any cheap hotel sign, and the only man in sight was the town constable. We asked about a place to sleep and were told there wasn't any that we could afford, 'but there ain't nobody in the jail over there, so help yourself to bunks.' The spirit was good but the consequences bad; in fact, they stank! The cells smelled like an overloaded outhouse and that is no mere metaphor. We were bushed and the bunks felt good, but it was just too much, and after a couple of hours we left, found the road to Des Moines, and started walking."
Later, as president of Wesleyan, Vic derived amusement from telling an occasional freshman from Oskaloosa—or, even better, the student's parents—that he had once spent time in the Oskaloosa jail. His adventure did not stop there:
"What with the rash of hitchhiking hold-ups in the Midwest, rides were few and far between. West of Des Moines we became fed to the gills with thumbing rides, and at this point it took only the sound of a westbound freight rolling in to break promises to our parents not to hop trains. So we ran for it on impulse and being new at the game, we jumped on a coal gondola heaped with anthracite. As the train picked up speed, the wind grew strong and cold, and there is no way of snuggling into or under a pile of coal to keep warm. It was close to midnight when we pulled into the yards at Council Bluffs and we were shivering like kids at camp facing a cold morning dip. We jumped off, made our way to a nearby tavern, piled on all the blankets we could find, and slept for nine straight hours."
Following a brush with life in a hobo jungle, Vic and Red found themselves working for three dollars a day for different poverty-ridden families in Mitchell, S.D. One of Vic's more memorable events with his new employers follows:
"Chickens, ducks, guinea hens, and pigs roamed freely around the barnyard and its open well, foraging for whatever they could find. In an unguarded moment one of the half-grown pigs somehow backed into the well and fell thirty feet to his drowning doom. This was no small family catastrophe. If they didn't get him out, it meant not only losing a hundred pounds of pork; it also meant a polluted well, or a new one, and this they could obviously not afford. I was still something of a Boy Scout at the time and there was a dramatic chance for a fine good turn! I would go down and get the damned pig. The old man was away, but the mother and the boys were both astounded and delighted—a hero come to save them! So we got a couple of coils of rope, one of which I tied around me while getting the boys' promise to pull me out first. The well, about 30 inches across, had a wooden casing, so while holding onto the center pipe I could let myself down easily by bracing back and knees against the sides as rest required. Once down to water level I called for the end of the other rope and managed somehow, working between my legs, to tie it around the dead beast's chest just under the forelegs. They then pulled me out, and the poor pig came bumping after. But the family was both so ecstatic and adoring that the mother raised my wages on the spot to three dollars and a quarter a day! While the tangible gain was negligible to me, it was a lot for her and thus made possible both my sincere expressions of thanks to her and a deeper gratification from my good turn."
This attribute of physical courage, plus his work ethic and desire to make things happen, was key to Vic's becoming Cornell's first-string fullback his junior season. Football permitted the play and development of Vic's primary sensitivity, which was kinesthetic. His athletic zest informed his word choice in later life: "ferment," "tension," "maverick tendencies," "wrestle." Forty years ago then-Provost Robert Rosenbaum described Vic's physicality:
"Physically he was the opposite of 'well-rounded,' being all planes, angles, and edges. Conferring with him, one was aware of the prominent cheekbones, the firm chin, the flat surfaces of the temples—but mainly the deep-set eyes. In response to a stimulating or amusing thought, Vic's eyes would sparkle and his face would be transformed, like a polyhedral figure responding to a moving light. If he were sitting in one of the pair of leather armchairs at the south end of his office, he might lock his powerful hands behind his head, with elbows out to match the wings of the chair; or, if he were really worked up, he might unfold his long legs, get up and thrust his hands into his back pockets so hard that his pants would ride way down, his shirt tail pull almost out. Every movement made it clear that his body was made of muscle and sinew, with a minimum of flesh to cover the bones."
It is true that the satisfactions of physical labor restored him. Rosenbaum remembers how a pressure-filled week of painful decisions led Vic to beg off from a Sunday meeting, saying, "I've got to go up-country. If I don't get an axe in my hands, I'll go nuts."
Of course, football was "it" in those undergraduate years, and his artistically gifted mother seriously thought that he should be a football coach. Genuine intellectual curiosity was perking, although he did not retire to the library when it was party time at the Beta house. During his final year at Cornell, he was composing a senior oration, keeping his jalopy running, and trying to win the heart of a live-wire brunette in his Shakespeare class. That, plus membership on the Student Council and presidency of the Christian Association, made for a full year.
Aside from Coach Gil Dobie and his faculty friends, the fabled headmaster of Deerfield Academy, Frank Boyden, lent friendly counsel. He even had a place for Vic on his faculty, of which he routinely reminded him in no uncertain terms. Nonetheless, the primary adult influence during this important period was that of his father.
A strong, tall, and handsome man, Kenyon L. Butterfield had graduated at the head of his class of 1891 from the Michigan Agricultural College (the present Michigan State University). At age 35, he became president of the Rhode Island College of Agriculture and Mechanic Arts in Kingston, where Vic was born on February 7, 1904. Then, for nearly 20 years, he served as president of the Massachusetts Agricultural College (now the University of Massachusetts).
A call back to head Michigan State, his alma mater in his native state, he heartily accepted. The job, however, involved more political torque than he had envisioned, and it was a brief unhappy run of four years.
Onionskin copies exist of typed letters the father wrote his son during his senior year at Cornell. They are voluminous—at least 100 of them. Serious in tone, they concern books they were reading, football (Kenyon seeking more than the New York Times could give him), and graduate study.
One especially exciting day in their lives was October 16, 1926, when visiting Michigan State came close to upsetting the undefeated, unscored-on Big Red. As Vic's passing and running were crucial to the 24-14 Cornell victory, one can imagine tremendous satisfaction perking in the secret heart of the Spartan President. But another more buoyant witness was undoubtedly in a different section with her sorority sisters. Kay Geyer, wearing Vic's Beta Theta Pi pin, assuredly had a happy heart.
Beyond the satisfactions of the Butterfields, present and future, the choreography of that Michigan State Saturday has further symbolic value. Kenyon and Kay, in different sections of the stadium, represented the past and the future. Vic's senior year was one of "big time" transition: he and Kay had decided to marry. In Kenyon's many letters of 1926–1927, however, there is no mention of a girl, social life, romance, an engagement; he didn't seem to know that Katherina Geyer existed. Vic's parents would learn of his and Kay's decision when he was ready to tell them.
Kay relates how it all came about:
"How did I land at Cornell, where ultimately I became Mrs. Victor Butterfield? Believe me, it wasn't easy! A chief obstacle was that the little family of Philip Geyer suffered a severe financial setback with the passage of the National Prohibition Act of 1919. My father's strategy as president of a local brewery near our home in Brooklyn, New York, had been to purchase as many shares as possible of the company's stock to maintain a majority voice in running the business. With the coming of Prohibition, the stock plummeted, and there went our family's wealth and my chances of going to college.
"I learned frugality along the way. Occasionally, I would bypass a 20-minute trolley ride and walk home to save a nickel. I was ever checking the school bulletin board for possibilities for earning some extra money. Then one day my eyes settled on a notice of scholarship competition at the U.S. Secretarial School in Manhattan. I applied, was interviewed, and—lo and behold—I won it!
"After a year's employment in a Wall Street law firm, I could think seriously about college. Cornell did not recruit me, but one of its undergraduates (a local boy) had an unrequited crush on me. At the right time he sent me the booklet Concerning Cornell, and for me it was as Chapman's Homer was for John Keats: A new planet swam into my ken. It was nothing like Brooklyn—those photographs of stately buildings on stretches of greensward, the broad basin of Beebe Lake reflecting banks of breathtaking autumn foliage. I was determined to go to Cornell.
"Excuse me for using the term, 'O wow,' but Cornell social life was 'something else.' Indeed the student population consisted of 4,000 men and 1,000 women; consequently, I never wanted for invitations to dance on Friday and Saturday nights.
"Vic, a member of the class of 1927, was a year ahead of me. I had been on dates for walks and sledding with his Beta Theta Pi roommate, Emmett Cook. During this period Vic and I were both English majors and knew each other from our common classes with favorite teachers. At one of the proms when I was with Emmett, Vic approached us, asking, 'May I cut in?' Thereafter Emmett agreed to Vic's calling me for a date and I accepted.
"Vic had a rickety old car. [Editor's note: Vic's description of the vehicle elsewhere reads, "For $50 I had bought from a fraternity brother a Model T Ford stripped down to a cigar-shaped body-for-two without windshield or mudguards….It increasingly developed carburetor consumption and mostly coughed its way from place to place."] But that jalopy served to take us around to some of the charming spots in the vicinity of Ithaca. I remember especially a falls where we would sit with enjoyment. In that lovely setting we exchanged endearments; and, during the developing romance, we came to know that we were meant for each other."
On June 11, 1928, they were married. Their next stop, on the way to graduate school, was Deerfield Academy, the private boys' school community to which Vic had belonged for four years. Kay tells of an inauspicious beginning. The fabled jalopy broke down mid-trip. Kay caught a medley of buses for Deerfield, and Vic was reconciled to a later arrival with the repaired Model T. (In the commencement parade along High Street in 1967, Walter Briggs '17 chauffeured the departing First Couple in a flivver of similar vintage.)
Vic settled into English teaching, football coaching, and proctoring study halls, whereas Kay was happy to find a job in the public schools of Deerfield teaching all the fifth and sixth graders in one room. "Baptism by fire!" she calls it.
Mr. Boyden had seen to their having an apartment over the dining hall, and he managed to get some extra mileage out of the young couple. Kay found herself hosting Sunday afternoon teas for visiting parents on a regular basis and at one point tutoring a Deerfield boy without recompense.
As their first year was winding down, Vic was invited to join the faculty of the Riverdale Country School in the Bronx, N.Y. That 20-year-old school was attracting teachers of exceptional quality with unusually high salaries. The doubled salary and other savings shortened the wait for the resumption of Vic's graduate studies.
One of his colleagues during his two-year stint at Riverdale was Nathan Marsh Pusey, who, at age 22, impressed Vic as a thoughtful, promising teacher. Each found the other's company stimulating. And as the Ph.D. from Harvard was the goal to which each was committed, in the spring of 1931 they concurred that the time was right—in terms of the Butterfield economy and the intellectual enthusiasm of both men.
In Cambridge a well-to-do older man in Vic's philosophy class rented them two attic rooms, in which Vic, for a reduction in rent, installed a kitchenette. Kay at that point invited Pusey, who had a room on Harvard Square, to have weekly dinners with them. And then Vic, feeling the need for more ferment, prevailed upon his landlord/benefactor to allow Nate to occupy one of the rooms. Kay would escape from the ongoing humanistic colloquy by going out and earning some money. One job came from a Boston University professor to administer a social/soft-core academic program for non-college women. Their tuition would pay for a series of books on which the professor would lecture at intervals. It now sounds as though Kay was conducting a humanities course while the men were dreaming about such.
Also, her trained stenographic skills helped meet financial needs through her typing of theses. The last and most important of these would be that of her husband on William James, whose pragmatic philosophy would inform Vic's developing thoughts about the outcomes of education—actual and ideal.
His course work and the writing were accomplished, typed and retyped, in the third year at Harvard. But his oral defense of his thesis failed, whereupon he "sucked it up" and bored through to the committee's satisfaction a year later, while on the faculty of Lawrence University in Appleton, Wisc. (1934–1935). His Ph.D. was awarded in 1936. Pusey, who was running 30 credits behind Vic at the start, received his degree in 1937, specializing in ancient history with a focus on Athenian legal development.
Vic had been aware of Lawrence University for several years, possibly through an earlier placement notice, of which he informed his dad. Kenyon's cool assessment (1927): "I'm not sure about Lawrence. The new president, whoever it is to be, has got to do something about the football program, which is in an awful mess." That new president was Henry Merritt Wriston, Wesleyan 1911, who had been a professor of history at his alma mater. Wriston visited Vic in Cambridge—which would seem to have been for a job interview.
When the Butterfields arrived in Appleton, Wriston had been in office for nine years. In a 1966 article about Wesleyan presidents whom he had known, Wriston recalls that academic year, 1936–37:
"Victor Butterfield had been an outstanding athlete, but with an unusually independent mind. In his senior year as a quarterback at Cornell, he was benched for telling investigators from the Carnegie Foundation that he thought the game was overemphasized. He had sound training and performed all the scholarly rituals—and the drudgery—necessary to earn a Doctor of Philosophy degree. I visited him at the time in his 'margin of subsistence' apartment and observed the sacrifices he and his wife endured with cheerfulness. But his passion was teaching, which he had done with great success in secondary schools—the most rigorous test of real teaching capacity there is.
"He was deeply reflective about the entire educational process. It was for that reason that I invited him to Lawrence where he performed a mélange of academic chores. His vital contribution, however, was to work out a unique teaching proposal. Before he could enter upon the fulfillment of the scheme he had devised, President McConaughy brought him to Wesleyan, and the course that President Butterfield had been expecting to teach fell to Nathan Marsh Pusey."
As Vic and Kay brought their vision and energies to the service of Wesleyan, they did not forget those elders who had recognized their promise and instincts for leadership in their young lives. An early action of Vic's presidency was to grant honorary degrees to Wriston as a "scholar of humane affairs" and to his and Kay's Cornell Professor Lane Cooper, whose warm friendship and standards of excellence lent zest and direction to their careers in education.
As time passed, the designer of big dreams would be Vic—the builder of a community of teachers and students that would stir the country to realize that Wesleyan was defining anew the possibilities of liberal education—Vic, with a most unusual lady at his side, who was easing their way when appropriate and laying a goodly allotment of love on him in all seasons.