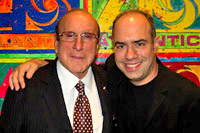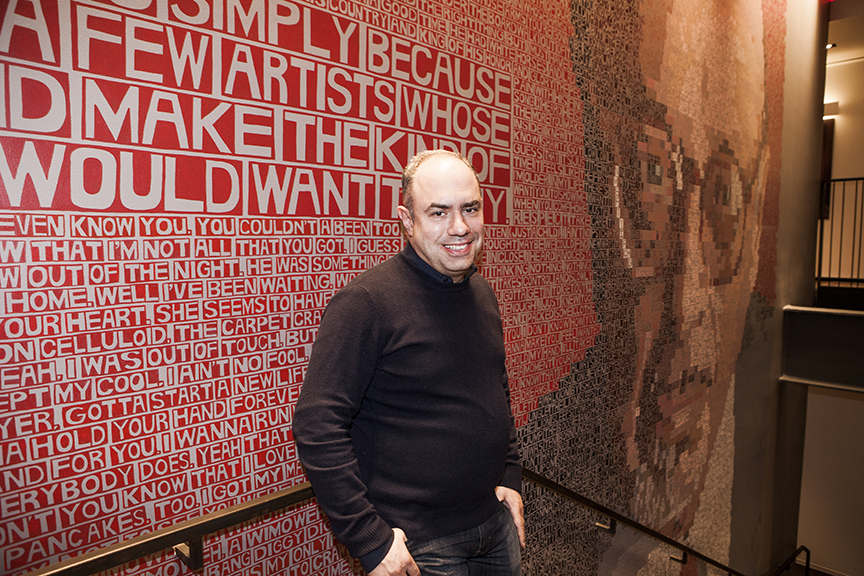 Music is Pete Ganbarg's passion.
"When I was growing up, if you wanted to hear a song, you had to listen to the radio. And if the radio didn't play a song you wanted to hear, you had to go out and buy it," says Ganbarg '88, executive vice president and head of A&R (Artists & Repertoire) for Atlantic Records. "As a kid, I listened to anything I could get my hands on. I didn't have a favorite band or a favorite song—I liked everything."
Ganbarg's passion for music was nurtured during his years at Wesleyan, where he took full advantage of opportunities to get involved by serving as music director at WESU, booking the annual Fall Ball and Spring Fling concerts, and managing campus bands, all while majoring in English and Educational Studies. "Wesleyan gave me the opportunity to pursue my future. I was able to study things that really interested me and get my hands dirty in the music business—even if it was a micro version of where I am now," says Ganbarg. "Wesleyan also made it possible for me to meet people who later ended up making introductions that changed my life. Any other school, and it would have been a different future for me."
After graduating, Ganbarg wasted no time proving he possessed the Midas touch. "The very first project I ever worked on, as a 22-year-old kid at SBK Records, was the soundtrack to the original Teenage Mutant Ninja Turtles film," says Ganbarg. "I gave the script to a new rap group I was working with, and they wrote a song that became the end title theme to the movie, sold millions of copies, and went to number one in a dozen different countries."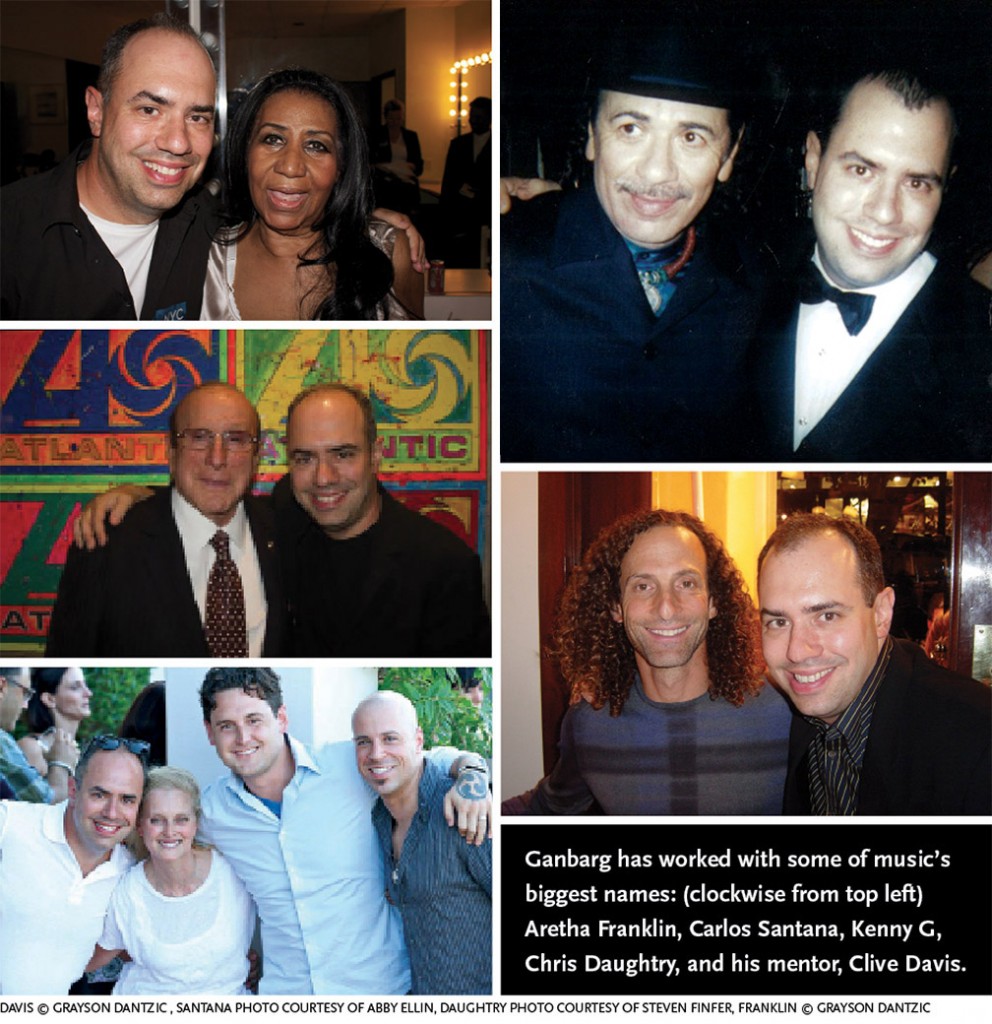 In the more than 25 years since that cowabunga moment, Ganbarg has worked in A&R at Arista, Epic, and, since 2008, Atlantic Records, helping artists from Santana to Daughtry achieve multiplatinum success. "I've spent my whole life studying songs and trying to figure out why people like something or why people don't like something," says Ganbarg. "Any time I work with an artist, we have the same conversation: We have to find out what they want to accomplish creatively and who their audience is. My job is to connect the dots between the artist and the audience by finding the right songs and the right producer and understanding what the audience will want to hear."
Ganbarg honed his craft alongside his musical mentor, Clive Davis. "I worked for Clive, on and off, for 11 years. Every day, sometimes up to 12 hours a day, we'd listen to songs together, in a group with some other A&R people. Clive would always listen the same way: with a lyric sheet and a purple felt pen, underlining potentially problematic lyrics. I feel like I earned my doctorate in the music business by studying with Clive."
Still, Ganbarg is the first to admit that no one can match the legendary Davis' ability to craft a pitch-perfect pop song. "One time, when I was working with Clive on a project for Kelly Clarkson, I sent him a song I thought would be perfect for Kelly. When he called me the minute he received it, I thought he wanted to congratulate me," laughs Ganbarg. "Instead, he said, 'Have you read these lyrics? Don't you see the problem in this song?' He was right, of course. We changed a total of six or seven words in that song and it became a smash hit, 'Already Gone.'"
In a career full of chart-topping moments, one in particular stands out for Ganbarg. "The song I'm probably most proud of is one that was birthed in my office," he says. "It started off as one song, and I threw away the lyrics and was left with an instrumental track. I asked someone to write new lyrics to the track, but I didn't like what he did, so I challenged him to write a new chorus. Now I knew I had a great song, but the artist hated it. I actually had to convince the artist to record it, which he begrudgingly did. And the rest is history."
That song, "Smooth," by Santana featuring Rob Thomas, became one of the biggest records of all time, spending 12 weeks at #1 on Billboard's Hot 100 and winning three Grammy Awards, including Record of the Year and Song of the Year, in 2000. "For me, it was one of those surreal It's a Wonderful Life moments," says Ganbarg. "It dawned on me that if I hadn't been born, that song would not exist."
Ganbarg experienced similar success with the band Train. "At the time I was working with Train, they hadn't had a hit in a while, so I said, 'Let's figure out who your audience is and what they want to hear from you,' " says Ganbarg. "The song 'Hey, Soul Sister' was a bull's-eye aimed at Train fans who were 10 years older than they were when the band's first songs were released." Written by lead singer/songwriter Pat Monahan and two outside songwriters brought in by Ganbarg, the song went on to sell more than 6 million copies in the U.S. alone and to win the 2010 Grammy for Best Pop Record of the Year.
It's that opportunity to shape an artist's success that continues to stoke Ganbarg's passion, even after all these years. "We, as A&R people, claw at these songs and lyric sheets, these artist performances, and we're bringing an outside ear to the producer and the artist to let them know what the song needs. If we do our job right, the audience never knows what goes on behind the curtain. They just have their new favorite song. If we get it wrong, no one else at the label can do their job right: the radio promotion people can't get it on the radio, the salespeople can't sell it, and the publicity department can't secure press coverage for it."
Whether Ganbarg is working with new artists like Christina Perri and Twenty One Pilots or heritage artists like Donna Summer and Chaka Khan, each project presents its own puzzle-like challenges and rewards. "With a heritage artist, I'm usually working with a great artist who hasn't necessarily been making current music their audience wants to hear. My job is to figure out where the disconnect is," says Ganbarg. "When I worked with Santana, we imagined that 'Smooth' would appeal to older Santana fans who would appreciate the timeless guitar work Carlos brought to that track, but also that it would appeal to the younger fans of Rob Thomas and Matchbox Twenty. It was risky at the time, because Carlos hadn't been on pop radio in more than 20 years. But we brought him back."
Working with a new artist presents a different set of challenges—especially when that artist is an untested yet already ordained pop star like American Idol also-ran Chris Daughtry. "Chris is an incredible singer and a really good songwriter," says Ganbarg. "The challenge was to find the right songs—making sure every word and every note were right—secure the right producer, put together the right band, and record the right album—all in less than two months, while Chris was on tour, away from the studio." And then there was that promise.
"In our very first creative meeting, Chris said, 'I know I just met you, but I'm going to ask you a gigantic favor. I've been waiting my entire life to do this. You have to promise me, right now, that the album I've waited my entire life to make won't suck.' We shook hands, and I said, 'You have my word.'" The result, Daughtry, shot to the top of the charts, spawned six hit singles, and sold more than 5 million copies in the U.S. alone. "We made the right record for his audience," says Ganbarg. "It's the album his audience wanted to hear him make." And how did Daughtry feel about his musical debut? Ganbarg laughs. "In the liner notes, he says to me and my creative partner on that project, Ashley Newton: 'Thank you for doing everything you promised and for making this not suck.'"
Over the years, Ganbarg has maintained a front-row seat in an ever-changing industry. "It's an exciting time in the music business, because of how the future is evolving," says Ganbarg. "Today you can hear any song you want to hear within seconds. The question is: How will that be properly monetized for the content creators—for the artists, the songwriters, the musicians, the publishers, and the labels? Once that's sorted out, the future isn't just bright, it could actually be a new golden age for the music business."
Pete Ganbarg '88 is executive vice president and head of A&R for Atlantic Records in New York. During his more than 25 years in the music business, Ganbarg has worked with artists including Santana, Run DMC, Kelly Clarkson, Train, Halestorm, Daughtry, Christina Perri, Twenty One Pilots, Donna Summer, Chaka Khan, and Aaron Neville, at SBK/EMI, Arista, Epic, Pure Tone Music (his own A&R consulting business), and, since 2008, Atlantic Records. 
THE GANBARG INTERSHIP PROGRAM AT WESLEYAN
Pete Ganbarg has turned his lifelong passion for music into a solid gold opportunity for Wesleyan students interested in a career in music with the Ganbarg Internship Program—an endowed internship he established three years ago to help Wesleyan students explore and begin their careers in music. The program's goal: to empower students who have a passion for music, in whatever form that passion may take. "You don't have to be a future record company employee or a future A&R executive to be eligible," says Ganbarg. "If you want to teach music therapy in a developing country or run a community music program, you can qualify. The only thing you need to have is a crazy, insane passion for music."
The crucial role his Wesleyan experience played and continues to play in his life and his career is something for which Ganbarg is forever grateful. "We all need help achieving our goals and getting a foot in the door to where we want to be," says Ganbarg. "Wesleyan made my dream come true. Now I want to give back, in some small way, to help other interested students start off on their path towards a life in music."
For more information on the Ganbarg Internship Program, visit http://bit.ly/ganbarg.
NOTE BY NOTE
Favorite professor: Marjorie Rosenbaum was my absolute favorite. When I told her I was pursuing a career in music rather than in teaching, she was disappointed—but only for a second. Then she looked me in the eye and said, "You know, we all teach."
Favorite classes: Joe Reed's class on Faulkner was like being in a weird, beautiful dream. And being a TA in Neely Bruce's Rock Music and Rock Film was a lot of fun for a future music business executive.
First album: Bob Seger's Stranger in Town in 1978 was my first piece of vinyl ever. I literally wore out the grooves on it. To this day, every time I hear "Hollywood Nights" on the radio, I hear it with a skip.
First concert: The over-the-top Canadian rockers Loverboy in 1981. I bought the gaudy T-shirt and proudly wore it to school the next day.
Favorite concert: I saw Prince in concert a few years ago. In an entire three-hour show, he didn't do a single thing wrong. It was perfect. I walked out with my mouth hanging open.
TOP 3 professional hits: Santana's Supernatural sold 28 million copies worldwide, Daughtry's debut album was huge coming off American Idol, and Train's "Hey Soul Sister" was literally the biggest song of the year.
most exciting new project: I just helped Atlantic land the Original Broadway Cast Recording for the hit musical Hamilton, by Lin-Manuel Miranda '02. Not only do I get to work with Lin, but with director Tommy Kail '99 and album co-producer Bill Sherman '02. A veritable Wes reunion!
Favorite "should've been": Black 47 was a labor of love for me in the mid-'90s. They were like the musical love child of Bruce Springsteen and the Pogues: Irish ex-pats living in NYC. Larry Kirwan, the lead singer/songwriter, is a genius.
#1 tip for Wes students interested in a career in music: Be passionate. Know that this is truly the only thing you could imagine yourself doing, and once you know that it is, don't take no for an answer.