"EMPLOYEE OF THE MONTH" LAZARUS '99 GETS TO THE "HOW AND WHY" OF WHAT PEOPLE DO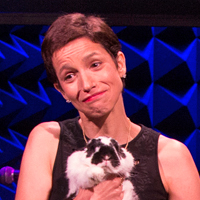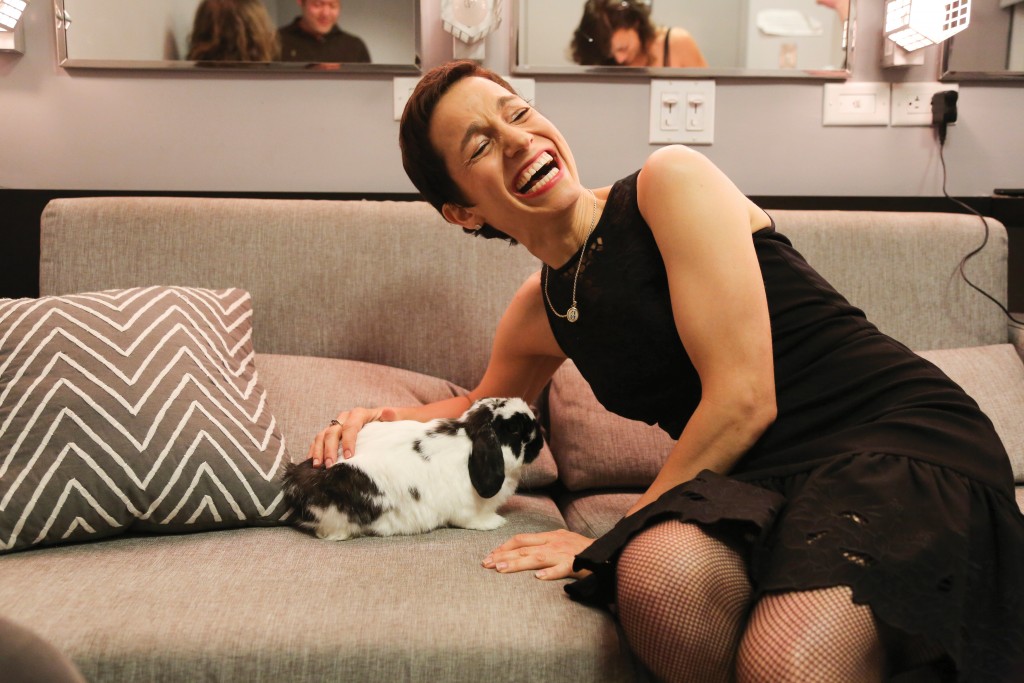 By Todd Stone '05
She was applying for TV writing jobs and it felt to her like no one, not even the Home Shopping Network, would hire her. Then she started to apply for whatever jobs in the industry that she could, just to get her foot in the door. "At one point, I got rejected from a job at Viacom as a Talent Wrangler #2—which I hadn't even applied for," said Catie Lazarus '99.
But now Lazarus is in a very different place. She is the creator and host of Employee of the Month, a live monthly talk show and weekly podcast that has been going strong since 2010. Guests on her show have included luminaries such as activist/writer Gloria Steinem, comedian Lewis Black, and TV show host Rachel Maddow.
With a background as a writer and a standup comedian who had also worked briefly in public health and, for a time, was studying for a doctorate in clinical psychology, Lazarus was at a crossroads: "I needed to figure out what I wanted to do when I grew up.
"While I wasn't getting interviews for the jobs I wanted, I could get informational interviews with some fascinating people," Lazarus recalls. "Then I decided to share these interviews with other people. That was the genesis of the show."
Back in 2006, Lazarus had been hosting a show called Fresh Meat at Comix, a now-defunct New York City comedy club, before bringing it to Ars Nova. What made Fresh Meat unique was that Lazarus interviewed the performers during the second half of the show. She'd ask questions like: "What was your worst experience in the biz?" or "What makes you a special snowflake?"
While Fresh Meat no longer exists—she stopped when she was hired for a writing job—it was the precursor to Employee of the Month, the show for which she is now well known. Employee of the Month is in the style of a late-night talk show, except that Lazarus's interviews are more candid and in-depth. Gloria Steinem described Lazarus as "like Charlie Rose, but funny." A fan said that "her interview style feels like if Tina Fey and Stephen Colbert had a baby, it would be Catie Lazarus."
Arising from Lazarus's genuine search for meaningful work in her own life, the show is about people and their careers, including the rewards and challenges.
"How do balance your mission as a journalist with the reality that your financial backers may have a different agenda and may not want you to publish certain things?" Lazarus asked Kurt Andersen, former editor of New York magazine. "Or, a shorter way to say it is: 'What was it like getting fired from New York magazine?'"
"I can be blunt," Lazarus said. "And I try not to ask questions that I already know the answer to."
Andrew Bancroft '00, a member of the successful Wesleyan-born improv team, Freestyle Love Supreme, who is the emcee of the Employee of the Month house band, said that watching Lazarus isn't like watching others hosts: "With Letterman or Conan, it feels like the host is looking for a quick sound bite or a funny story. Catie's style is more like, 'Who are you?' 'What makes you tick?' 'What's hard for you?'"
Still, Lazarus' tone is undoubtedly playful.
In her interview with Gloria Steinem, Lazarus asked Steinem to speak about her frequent use of the "F" word. Steinem responded, "I realized long ago when I saw Hair for the first time that—" Lazarus interjected, with feigned seriousness, "The musical, right?"
Lazarus' playful sarcasm is present both onstage and off.
Regarding her show, Lazarus said: "It's a perfect amalgamation of everything I enjoy doing and am good at—which is hugging and cuddling and napping. And I felt like that combo really set the stage for a very quiet, but sensational experience."
Lazarus' initial interviews for Employee of the Month were with high-profile people—such as veteran comedian Steven Wright, muppeteer Kevin Clash and Elmo, and comic actress Rachel Dratch, from Saturday Night Live—as well as those who are less well known, such as Ricky Van Veen, who co-created CollegeHumor and Julia Bacha, a documentary filmmaker. The first two live shows were held at the 92nd Street Y in New York; then Lazarus moved to Upright Citizens Brigade Theater (UCB), where she had gotten her start. She hosted the show at UCB, both in New York and Los Angeles, for four years. The show was selling out so she needed a bigger venue. Initially, she chose the Bell House in Brooklyn, but when the artistic director of Joe's Pub, housed in the prestigious Public Theater, offered to give her show a monthly residence, she said yes. "I like to be a part of a community; both UCB and Joe's Pub at The Public value that as well."
With an endearing chuckle and a wide smile, Lazarus has onstage presence, and she's also the reaping rewards of hard work in previous careers. The years she spent as a standup comedian and freelance writer (The New York Times Magazine, Slate, Cosmopolitan) have paid off in her ability to get both high profile guests and ones who rarely do interviews.
Last winter, Lazarus invited to the stage perhaps her most famous guest yet: Jon Stewart. Lazarus, who had had a small part in a video that aired on The Daily Show several years ago, enjoyed a nearly 45-minute one-on-one conversation with Stewart in February. Moreover, the interview received significant attention because it was the first time that Stewart spoke publicly about his decision to step down as host of The Daily Show. 
The subject was right on point: work. As one would expect of any conversation with Stewart, the interview was riddled with jokes. Lazarus' first question was: "Now that you've said you're leaving The Daily Show, do you feel like you have a zillion Jewish moms saying: 'What are you doing? He says he's eating. What are you eating? What about the next meal?'"
Yet Lazarus managed to elicit serious answers to key questions: why he chose to leave the show, what he'll miss about it, why he's proud of his staff, what's in his professional future, and how his Daily Show work influenced Rosewater, his directorial film debut. To Lazarus, Stewart explained, "I think I got to a certain point where I thought 'You shouldn't stay somewhere just because you can.'"
Lazarus takes her own job seriously, doing in-depth research on guests. For an interview of Obie award-winning playwright Adam Rapp, Lazarus read 10 of his plays and four of his books and saw four of his plays performed live.
At Wesleyan, Lazarus—who grew up in D.C. with sibling Ned '95—double-majored in sociology and psychology. She also got a master's from the university's one-year, accelerated psychology program.
So how did Lazarus's time at Wesleyan influence what she's doing now?
"I think I learned a lot about modern dance, which really enabled me to know the difference between my elbow and other people's elbows. And what is the experience of the other elbow?"
All kidding aside, Wesleyan alumni play a regular role in the monthly production of Employee of the Month, including emcee Bancroft, (AKA "Jelly  D") and film-maker and photo-grapher Adam Abel '97, who films the shows.
Lazarus also seats a number of Wesleyan alumni in her interview chair, including writer and actor Mike White '92, writer and stage performer Lin-Manuel Miranda '02, actress Lynn Chen '99, and producer Michael Gottwald '07.
"When you go to a place like Wesleyan," Lazarus said, "you not only meet exceptional people, but also you see how they carve out these really individual tracks for themselves."
It seems that people with exceptional careers, including Wesleyan alumni, inspired Lazarus in the days when she was a little lost, professionally. Nowadays, Lazarus is very much found.
"I'm so privileged to be able to do this," Lazarus said. "To find what I love." — TODD STONE '05
Todd Stone, who lives in New York, has written for Inc. Magazine, Ad Age, and Business Insider. He and his brother, Adam '05, form the comedy duo Stone and Stone, which they created together at Wesleyan.