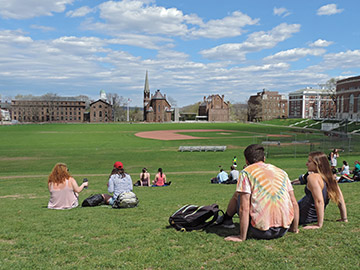 Claude Smith's ('66) note in Letters [Issue 3, 2014] brought back a flood of memories from the mundane to the sublime from my years at Wesleyan ('61–'65):
I started the snowball on Foss Hill that eventually found its way to the intersection of High and College streets between Fisk Hall and Psi U. There must have been at least 20 students involved as we eased the 10-foothigh monster over the bank down onto High Street. I think we realized late the hazard we had created when the ambulance squeezed past. I had no idea that Dean Barlow came to our rescue, as he often did. It took a front end loader and dump truck to remove it.
Clark Hall often had spontaneous spring water balloon fights. Unaccountably (there had seemed to be a "hands off" understanding with the university) local police showed up with a squad car, lights flashing, in the parking lot. We lifted the baseball batting cage over the top, trapping the vehicle. Dean Barlow encouraged us to lift it back off. We did! No harm done! The officer soon departed, leaving us to our harmless fun.
We discovered that rubber tubing inflated at a Foss Hill water fountain spigot was much more effective than balloons. It took three people to transport it, but the recipient was totally drenched. Should the tubing break, you were left with a welt across your arms and chest.
Impromptu wrestling matches in a mattress-padded Foss Hill dorm hallway broke the stress of studying for finals.
I remember shouting out my North College dorm window to help a blind classmate (Richard Young '65, now deceased) navigate 12 inches of new snow as he crossed the football field and passed through College Row. "Fifteen degrees to the right, Rich." "Thanks, Fred," he shouted back. He challenged us to find our way through the Foss Hill tunnels blindfolded. Fortunately the pipes were padded. We were both math majors and I made carbon copy notes for him which were later transcribed by his "reader."
Knowing that Dean Barlow entered North College at the north end on the way to his office, we spent most of a night filling the stairwell with crumpled New York Times newspapers. Every window was full of heads at 8:00 a.m. when he arrived. There was a very satisfying giant endless cascade of paper when he opened the door. He looked up, smiled, chatted for a while, and said, "I'll have the grounds crew over later with a truck to help you fellows clean this up." We did.
Speakers: James Baldwin, Malcolm X, John Foster Dulles. Performers: John Cage, E. Power Biggs accompanied by accomplished student organists on our new chapel organ second console. Performers: Diana Ross and the Supremes, Ike and Tina Turner, and Jerry Lee Lewis, all at the Deke House (my girlfriend from Mt. Holyoke broke her ankle on my skateboard in the dark before the party began). Productions: John Pendleton's theater and Richard Winslow's choir Christmas Candlelight Concert and other major choir performances.
I'd throw a tennis ball for Dean Barlow's golden retriever. He would sit by the sidewalk near the dean's house between classes, hoping for a playmate. Occasionally he would be fooled (someone would throw the ball the other way) but he would go over Foss Hill to the tennis courts and find another ball in the bushes. He was soon back at his post, waiting for another friend.
Skateboards were new: a piece of oak plank with roller skate trucks screwed on the bottom. We had the "Little Three" skateboard contest on the sidewalk below South College in the spring of 1965. The place was packed. I was chagrined to later find my picture in Life Magazine, the Hartford Courant, and The New York Times.
Once we were stopped by the local constabulary for making too much noise in a residential area as we skateboarded down College Street late at night for a snack at O'Rourke's Diner and a beer from a bar on the way back. I got a smile from the cop when I said, "You grownups ruin everything." It was much faster going down than coming back up.
My parents couldn't afford to travel for Commencement, so rather than go through graduation I took part in the music performance. We performed an original Richard Winslow piece from four amplified locations—Foss Hill, Olin Library, Fayerweather tower, and the Chapel bell tower.
I didn't realize at the time how Wesleyan fulfilled and enriched my life as a college student. It is also "the gift that keeps on giving." I'm sure we all have memories. These are some of mine.
Fred Newschwander '65, DVM
Ellenberg, Wash.